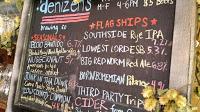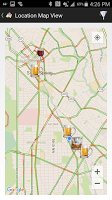 The land along Washington DC's red Metro line is being revitalized - or if you prefer - gentrified and one benefit is the rise of local breweries in these neighborhoods. Silver Spring, Maryland is unrecognizable now from the days when I commuted through that metro stop. And Denizens Brewing Co. has leveraged the new community by opening a brewery\restaurant last year. This Sunday I returned to the brewery and see that they no longer rely on other breweries for stock - there's a wide selection of everyday and seasonal beers. Knowing it was the first stop in the day, I started with a low abv Born Bohemian Pilsner which is characterized by a tasteful hoppy and salty finish. The brewery also was pouring two sours, the Low Country Common and Bocho Bandido.  Both with different levels of tartness and sourness. Give them a try. I also look forward to trying a local winery that just opened close by, The Urban Winery.  The winery\restaurant carries local beer, wine, cider, and mead as well as their own wine produced from American and Maryland grapes.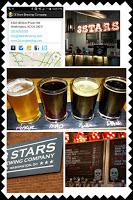 Denizen's is adjacent to the DC line and a few miles down the red line sits 3 Stars Brewing Company and Hellbender Brewing Company. I've tasted the former's over the last couple of years at the stadium or other venues. However this was my first visit to the brewery and I arrived on infant day - as there were at least half dozen families with small children playing or sleeping quietly. The facility was also unusually busy for a Sunday with employees cleaning tanks and hoses. And I can see why, there's a large inventory to fulfill. A went with a sampler of Peppercorn Saison, Southern Belle Imperial Brown Ale, Pandemic Imperial Porter, and Madness Old Ale. To be blunt, these beers were phenomenal, especially the Madness. This is a big beer, sweet like chewy dates, but completely dry and smooth at the finish. The Pandemic was next, a bigger more chocolaty beer than your average Porter. Next time I'll stay longer with the help of Uber and also visit on a Saturday so that I can segue a trip to nearby Don Ciccio & Figli and their artisanal liqueurs. Glad to see another DC distillery open.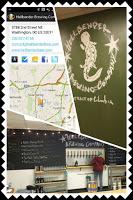 Hellbender was my final destination and the most fun as I was drafted into an hour long UNO game in a company of strangers. This is a neighborhood brewery and it shows as everyone seems more inclined to talk to whomever is sitting nearby. The beer is attractive as well and the brewery had extra on hand after celebrating their one year anniversary the night before my visit. I went with another sampling ranging from a Kolsch to a Stout with the Compass Coffee Stout being spot on the style. Nice name too. The Paw Paw Wit was also representative of it's style, whereas the Bare Bones Kolsch was a little on the maltier side. Like I said, this is a place to just hangout whether watching a game on TV, playing card or board games, or just talking to strangers. Cheers to that. And theCompass Winery, Brewery, Distillery Locator Mobile App will guide you to these locations.