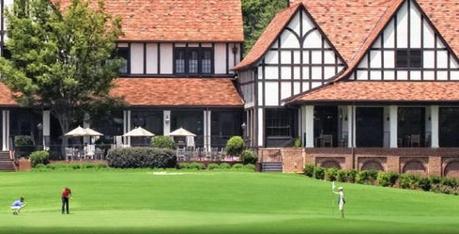 The TOUR Championship by Coca-Cola kicks off this week at the East Lake Golf Club in Atlanta Georgia.  This historic course, which has been in operations for over 100 years, promises to challenge the pro's in the days to come.  Playing at 7,154 yards, the course layout will give the long hitters plenty of opportunities to unleash their driving fury.
As expected this late in the season, it's an unbelievably talented field, which I've looked over and have picked out my favorites for this weeks Fantasy Golf.  Here's who I'll be keeping an eye on...
Rory McIlroy - This choice really needs no explanation.  Rory has been roaring along this season posting some amazing results.  I'm expecting him to keep right on rolling throughout the end of the season. The FedEx Cup leader has been making birdies like they are no big deal, winning the past two playoff events with a total combined score of 40-under par. This is his first visit to East Lake.
Bo Van Pelt - Only one man at the Tour Championship has as many top-10s this year (9) as Bo and that guy is leading the FedEx Cup playoffs. If you play fantasy golf, this guy could be your workhorse (15 top-25s in 19 cuts made). This is the third year in a row he has made the final 30 and after a ninth-place finish last year, it's a place he is very comfortable.
Phil Mickelson - Lefty's resurgence of late comes after two top-5s in the past two playoff events. It's the best golf he has played since the beginning of the year. Phil has also won this event twice in past years and I'm sure would love to make this year number 3.  He's been hitting the ball really well and is a clutch player when the pressure heats up.
Jim Furyk - No one wants to feel like they have to justify their selection as a Ryder Cup captain's pick, but the reality is, most people usually do. So I suspect Furyk will have a little extra motivation this week and next. It doesn't hurt that he won the Tour Championship back in 2010.
Here's a look at my complete fantasy picks...