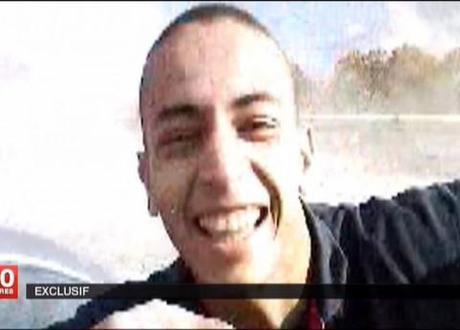 Mohammed Merah. A screen grab from French TV.
Mohammed Merah, the 23-year-old gunman who claimed links to al-Qaida and was (allegedly) responsible for the shooting at a Jewish school in Toulouse that killed seven people, including three children, has been shot in the head by a sniper. He died as he jumped from his first-floor window, firing his guns and injuring five policemen. The 32-hour siege of his block of flats has ended. Merah was thought to have gone on the rampage three times since 11 March: he shot a Muslim paratrooper, three paratroopers, a rabbit and three children. The latter was the first school shooting in France. Police, reported The Guardian, found weapons and equipment for making petrol bombs in his flat. Merah was French, but had parents with Algerian roots. Merah's family, reported Le Figaro, is being questioned.
Commentators are saying that questions of multiculturalism, integration and immigration have never been more relevant, particularly with relevance to the London Olympics, which are about to happen; however, it must not be forgotten that communities should be involved, not alienated. The effect on French politics seems to have been that president Nicolas Sarkozy is resurgent; others say that far right politicians such as Marie Le Pen will now be able to take the stage.
Though offered negotiations, Merah "wanted to go down in a hail of bullets. He got his final wish." (The Guardian)
The crackling of bullets.Angelique Chrisafis in The Guardian described the scene: "there was a loud volley of gunfire, followed by two thudding explosions and the crackling of bullets ringing out across the gray sky."  She said that the French had been thrown into confusion, asking questions about "social cohesion." The effect on the forthcoming Presidential election is paramount.
Sarko's moment? Sarkozy's played it perfectly, though, said Anne-Elisabeth Moutet in The Daily Telegraph. He's "never better than when he has his back to the wall." It's reminded everyone of his early career, when he "focused on law and order", and when he was 28 and negotiated with a madman who'd "taken hostages at a primary school", and Sarkozy offerred himself "in exchange for the children." Sarkozzy was this week "vowing to fight racism and terrorism", and to "keep France's communities together." Contender François Holland, however, was "mostly silent. Sarkozy "may look back at this week as the moment his luck turned."
Vigilance is needed. And Sarkozy has acted "properly", said a Guardian editorial, in not condemning certain sections of society. That is how to beat the Islamic extremist threat: by involving all communites. "Alienating any group for an easy soundbite during a vituperative election campaign only makes counterintelligence after a horror like Toulouse that much harder." A Telegraph editorial warned that we shouldn't think jihadism an empty threat any more: "vigilance and diligent intelligence work are essential."
Time to ask questions. Now that he's dead, said Agnès Poirier in The Times, perhaps the French "will feel that they can at last speak freely. Or perhaps not." Commentators and politicians have been mentally paralysed, as if "we were too afraid to utter certain words such as Islamist." The French Muslim Council said Merha "had nothing to do with Islam." Rather than calling him a "terrorist or an Islamist", he's been called "a criminal and a mad man." But Merah was not mad. He acted as you would expect a jihadist to act. He "chose to execute his compatriots, one by one, in the name of Islam." Of course, it's a "perverted vision" of Islam. France has lost its way, and it must face up to some facts: Merah was "a French national; he was also an Islamist radicalised in France and trained abroad. France had a strong Republican model based on integration. Let's go back to basics."
It's not the time to analyze politics. All this analysing of politics is "unseemly", said Adrian Hamilton in The Independent. It doesn't have anything to do with "the facts of the case, the question of religion or the future of society in France." But "it does matter in electoral terms. Hamilton disagreed with Moutet, suggesting that Marie Le Pen is rallying; Sarkozy is on the back foot. But he's always been opposed to immigration, and rejected multiculturalism. "France remains a deeply racist country." The French have simply transferred their "resentments" from Jews to Arabs. Merah's attacks "belie generalisations." But why wasn't he stopped sooner? Intelligence knew about him. He should have been stopped "even before his first murder." Proper policing, "not draconian legislation", is what is needed, and Sarkozy would do well to remember that.