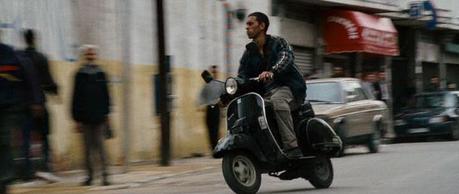 black scooter from THE BOURNE ULTIMATUM (2007)
what do we really know about who is doing/did the heinous murders in Toulouse?
Currently, a 24 years old man, named as Mohammed Merah, of Algerian origin, is involved in a siege situation in Toulouse, right now. The man had previously been arrested in Kandahar, Afghanistan claiming that he was acting for Al Qeada. Arrested in Afghanistan might mean TORTURED. And we all know that TORTURE is used to 'put information in' rather than get truth out.
Meanwhile, SkyNews is
reinforcing the myth
by claiming that these murders are in revenge for the innocents murdered (by Israel) in Palestine and they're reminding You The People that, "The perpetrators of the September 11th 2001 event were also Salaafist members," and they're also reminding people that this could be the first wave of a potential London Olympics terror campaign that will leave the UK under martial law. There's a French presidential election on the way, Le Pen's
Front National
are really making the most of this
home grown terrorist
event. Mohammed Merah is reported as using a GoPro video camera recommended by Anders Brevik in his manifesto.
Wow, really?  All that, tied together? Very neat, very clean, "Never let a good crisis go to waste."
Anyway, one imagines this Toulouse siege is EXACTLY what the public retirement of a CIA covert asset might look like. An image of the explosion of the hide-out of the 'terrorists' connected with the Madrid bombings just flashed into my head.
Remember Lee Harvey Oswald; a clean (public) kill.