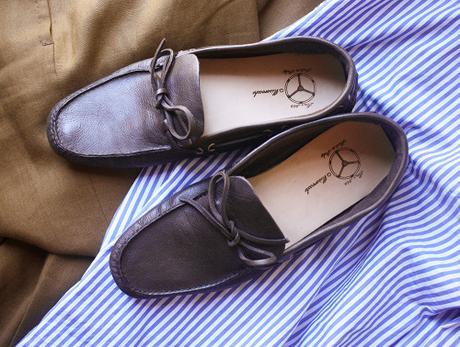 Small companies are often backed with charming stories and interesting provenance, but sadly, sometimes the quality just isn't there. That's the case with Miserocchi, the original car shoe company that invented driving moccasins back in 1942. Their most famous customer, Gianni Agnelli, was known for wearing them with soft-shouldered suits and spread-collar polos. After a driving accident left him permanently injured, he found their slip-ons to be much more comfortable than anything stiff or welted.  
In the world of driving moccasins, Miserocchi is dwarfed by Della Valle's Tod's and Prada's Car Shoe. Those companies produce their shoes by the thousands in Eastern Europe and Italy. Miserocchi, on the other hand, still operates out of a small workshop in the small alpine village of Domodossola. Supposedly, the two brothers who founded the company had a falling out many years ago. One took the company name, which he later sold to Prada. The other kept the factory, which is now run by his sons. As the marketing line goes, the company still produces everything the way they did fifty years ago, even with a bright red model named after Agnelli (which is what the industrialist wore). 
All that means little, however, once you actually order from them. Back when he was still writing, Will at A Suitable Wardrobe complained about how it took months to get his shoes, and how there were tons of unanswered emails and missed delivery dates in that period. My experience, unfortunately, was the same. It took about three months to receive my order and once I did, I was disappointed with the quality. The leathers are cheap and thin; the soles have loose stitching; and there's visible glue at the heel. Perhaps worst of all, these just aren't terribly comfortable. The insoles are made from a hard rubber – much harder than what's used in my Car Shoes – which makes these feel like Italian getas. 
The only thing I like about them: they have a soft, slouchy look when worn, which gives them a charming, slightly more casual sensibility. If the quality were better, I admittedly would be using these as my go-tos, but I find I still reach for my Car Shoes. 
If you're interested in getting a pair of Miserocchis, go through a store, rather than buying them direct from the factory. The quality will be the same, but at least you'll get better service. Better still if you can find a pair ready-made, as then you won't be left in the dark for months about your order. 
(photos via me, Daniel Custard, and Finaest)