Kinship in design is often viewed as simply a matter of showing relations, both formally and historically, between objects that share color, pattern, and local craft strategies. Totemism, however, often takes a "system of belief" one step further by introducing supernatural connections and avant-garde expressions that blend the folkloric and iconic in stirring ways. In this spirit, we reached out to Li Edelkoort, world-renowned trend forecaster, to describe some of the layered creations in her artfully curated exhibit ,'TOTEMISM: Memphis meets Africa' at this past weekend's Design Indaba Expo.
The Memphis movement burst onto the scene in 1981 when its designers made waves at the Milan Furniture Fair with irreverently bold, Pop-style designs that challenged Modernist notions of good taste and functionality. Created as a language that challenged the aesthetic of clean lines, the market appeal of the understated, and the usefulness of design coherence, Memphis rippled out to ceramics, glassware, furniture, interior design, and urban architecture, specifically building facades. The movement embraced the unexpected in design as well as the ubiquitous in life.
Slideshow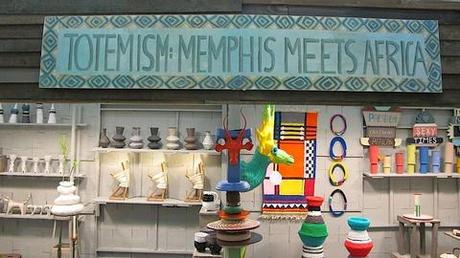 For Design Indaba, Edelkoort channeled a bit of Italian master Ettore Sotsass who declared that "Memphis is everywhere and for everyone." Edelkoort highlighted that Sottsass often referred to the movement itself as being "like a hard drug"—a phenomena that one could not take too much of. It remains to be seen what long term impact an overdose of Memphis elements, like colorfully patterned laminates, printed glass surfaces, loud celluloid, and sculptural neon tubes will have on design. Thirty years on, one can only be reminded of Memphis's unprecedented energy when discovering South Africa's design talent.