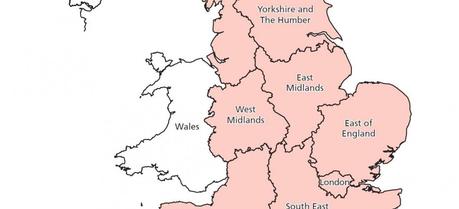 East Midlands region shown within England. (Credit: UK Office National Statistics). The full map is available here http://www.ons.gov.uk/ons/guide-method/geography/beginner-s-guide/maps/index.html
France's Total announced that it has acquired a 40% interest in two shale gas exploration licenses in the United Kingdom. The interests are in Petroleum Exploration & Development Licenses 139 and 140 in the Gainsborough Trough area of the East Midlands region of the UK which cover an area of 240 km2 (59305 ac).
Commenting on the acquisition, Patrice de Viviès, Total's Senior Vice President for Northern Europe, said: "This opportunity is an important milestone for Total E&P UK and opens a new chapter for the subsidiary in a promising onshore play. The Group is already involved in shale gas projects in the US, Argentina, China, Australia and in Europe in Poland and in Denmark, and will leverage its expertise in this new venture in the UK."
On completion of the transaction, Total's partners in the project will be GP Energy Limited (a subsidiary of Dart Energy Europe) (17.5%), Egdon Resources UK Ltd (14.5%), Island Gas Ltd (IGas) (14.5%) and eCorp Oil & Gas UK Ltd (13.5%). IGas will be the operator of the initial exploration program, with Total subsequently taking over operatorship as the project moves towards development.
According to the company's press-release, with investments of approximately 2 billion dollars each year in the UK, Total E&P UK will become the largest oil and gas producer in the country by 2015. Current developments include the West Franklin Phase II project (operator, 40,000 boe/d capacity), and the Laggan-Tormore project (operator, 90,000 boe/d capacity) in the West of Shetland area, both of which are scheduled to start up in 2014.
With coal consumption in Europe generally increasing since 2011 and natural gas imports from Russia to Western Europe up more than 30% when comparing September 2013 to September 2012, shale gas development in the UK could help bring energy bills down and reduce the greenhouse gas emissions. As we reported in August 2013, the UK public increasingly approves of the exploitation of shale gas as an energy source.