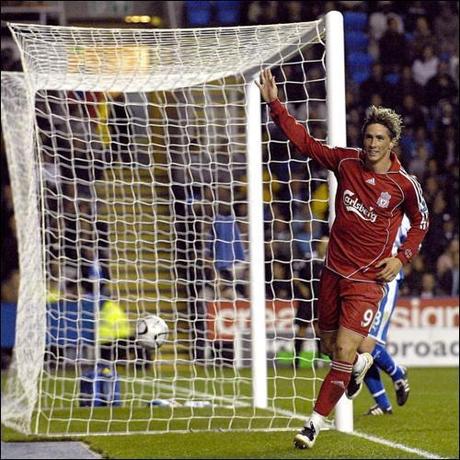 A sight we may well get more accustomed too? (But in Blue!)
You may not know it following yesterday's match headlines at Old Trafford – but Fernando Torres has made an impressive start to this season. An abundance of journalists and onlookers chose to highlight the glaring miss late on from the Spaniard which may well have made the closing stages interesting, and in retrospect would have galvanized the strikers reputation in an instant. It's funny how the margins of error in football are so slight that they can turn one outstanding individual performance,  into a moment in time which now defined the 90 minutes.
Much has rightly been made of the strikers £50m move to Chelsea which has for the most, been unsuccessful, but could Andres Villas-Boas' faith in Torres' ability and his footballing approach revitalise the striker? Early indications are positive – a Man of The Match performance away to Stoke, two assists in a Champions League win against Bayer Leverkusen and a goal yesterday, to cap off a not too shabby six appearances in a Chelsea shirt this season. His manager rightly backed El Nino after the game yesterday and even drew comparisons with Rooney's penalty slip to his own players' off balance gaffe.
ATLETICO: 249 games /91 goals

LIVERPOOL: 142 games / 81 goals

CHELSEA: 24 games / 2 goals
Since that transfer at the end of January, it took Torres 903 minutes to capture his first goal in a Blue jersey and for some fans, they thought it may never have come.  Toward the end of the 2009/10 campaign with Liverpool,  the striker went in for his second knee operation in five months. The ongoing problems on that right appendage since Christmas told the story of an uncomfortable and inept few months when Rafa Benitez still regarded Torres as the talisman – a weight of burden which was too heavy on his shoulders. He went straight from the surgeons table to the World Cup and was again visibly not ready to compete at the highest level, he made only two starts as Spain went on to become champions with no scoring assistance from their one time star man.
The following twenty-six appearances for the Reds' under new manager Roy Hodgson, in which he found the net nine times, did not bode well for player or club and at the start of January, the former Fulham man left the hotseat. Torres decided to cut out this disastrous spell in his career by moving to Stamford Bridge and only now after Villas-Boas' appointment has any sign of a resurgence been noted. This early run has also coincided with an injury free period in the side and a full pre-season without any niggles or major international competitions to contest with. The new look Chelsea dynamic with Torres at the head of a three-pronged attack (Juan Mata & Sturridge yesterday) can reap rewards and I believe the Spaniard could have one of his most productive seasons in the Premier League and Europe – El Nino ready to take the country by storm again?