I recently had to fly to Sri Lanka (Colombo) from Canada (Toronto), and usually I fly by Air Canada but this time I decided to change the carrier - to Emirates Airlines.
Like Air Canada, the optimal route from Toronto to Colombo was the Toronto-Dubai-Colombo route.
Timewise, Air Canada takes the least amount of time - about 21 hours while Emirates takes five hours more. This is because of the eight-hour layover in Dubai for the Emirates Flight as against just a three hour layover for the Air Canada-Sri Lankan Airlines flight. However, Emirates provides a hotel for the layover.
Toronto-Dubai
This is a long flight, lasting about 13 hours.
Emirates deploys the massive Airbus 380 for this route and the plane was packed. However, the staff ensured the zone-based boarding was being properly maintained. My zone was 5, the last one, but I managed to get a spot on the overhead bin to put my backpack. I usually check-in my only luggage and fly with just my backpack but on past occasions the bins have been so full that I did not have space even to store that.
I had reserved an aisle seat which it did not have a power outlet, just a USB charging outlet which, I found out, is not the fastest one, either.
I had a blanket and a cushion, and later was given a headphone. There was also an amenity pouch with an eye mask, socks, toothbrush and a small tube of toothpaste.
The Emirates Entertainment System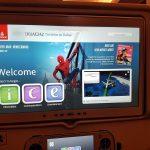 The Emirates Entertainment System (ICE which stands for Information, Communication and Entertainment) is a labyrinth - a pleasure-filled labyrinth to be sure.
It has hundreds of movies, documentaries, TV shows etc., in a number of languages - from English and Arabic the various Indian languages, Mandarin, German and even some Scandinavian languages. Then there are games which I did not try (as usual, the backside of the remote control functions as the keyboard) but what is interesting is that there was also live TV - with channels like BBC, EuroNews, NHK, CNN International available. Interestingly, there was no Al Jazeera. I guess the political tensions do play a part.
Food
About an hour after takeoff dinner was served. Besides the appetizer and the dessert, there were two options for the main course, and I opted for the first one - chicken in black bean sauce served with egg fried rice, steamed bok choi and red peppers.
As the photo shows, it was a plentiful plate, with bread, butter, cheese etc.
I also decided to treat myself to whisky and they gave me Red Label.
About four hours later, there was a round of vegetarian pizza.
And yet another four hours later, we were served breakfast. Again, there were two options and I went for the second - classic omelette with pan fried chicken sausages, creamy spinach and potato wedges. Seasonal fruits and croissants were also served.
General Comments
The washroom was always clean. The wooden toilet seat was a game changer in the economy class.