Productivity at work is what every employer dreams of and it should be yours too. To grow and become your own person, you need to lean how to be productive without feeling burned out from your activities. This gives a sense of who will strive to succeed at what ever task they might be assigned to.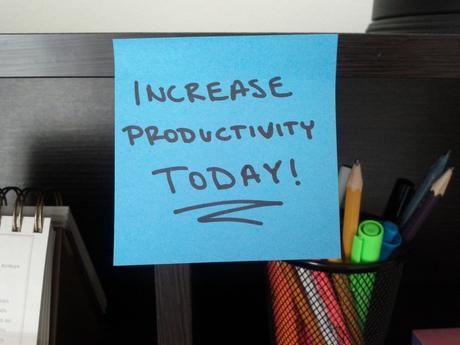 Productivity has different approaches. Rather than taking long strategy methods, sometimes the simplest things can make us more productive than way know - especially today where less is more with technology. 
Here are simple ways that can be taken into account as to stay on top of our productivity agenda. After working on multiple projects, I have found a few productive ways to include in your work day.
Here are 20 productive tips you can incorporate into your day (or not haha!) 
1. As humans, we are at peak energy both physically and mentally in the morning. So, it's better to engage in those things that count, and need more energy in the morning.
For example; Check your emails after you have completed your tasks set aside for the morning, in most cases - you might get distracted and overwhelmed if you check emails first thing in the morning. Best time will be after clearing your morning checklist. 
2. There are no perfect conditions to launching a great project. Immediate action fuels a positive feedback loop that drives even more action and can start moving your project ahead before you actually put in time.
Waiting will only give you more excuses to put it away for some other future date and eventually it will never happen. (This is one of the biggest offenses in productivity). 
3. Ambitious goals release energy tremendous amounts of energy. So make sure they are written down clearly and then revisit them every morning for 10 minutes to update any new finding or ideas. In plain site, stick to you guts and keep you goals. 
4. Make it a habit to be organized, this goes a long way in being productive and keeping goals. I had to learn this the hard way, when I found out that (putting my keys where i usually don't put them, took away 5 to 10 of my time looking for them) in turn this can disrupt your day and kill you momentum. 
Once you make being organized a habit, you will find it much easier to do a lot more with the time being saved.  
5. Make your TV a pass time not a regular stable of you day. Start working on things that will get you to your dreams, rather than spending time building fantasies. That said, just spend more time on your projects, than hours watching t.v burning away time. 
6. Don't waist time with people who drain the energy out of you. They have nothing better to do than drain you to become a loser just like they are. 
7. Build a habit of routine. I did s research on three super successful entrepreneurs and found one thing in common - they have vigorous daily routines. (E.g wake up times, when they start work, exercise and relax).
This proved to me, Productivity is not about luck or being a super being. It's about devotion to what you want to accomplish. 
8. Get up by 6:00 am or before your alarm goes off. This habit will strengthen your determination to grow, so it serves you more dutifully in the key areas of your life as you get use to going it over and over. 
9. Long or too many meaningless meetings burn time. Do all meetings standing for urgency. It makes meetings shorter, keeps you alert, and it's effective since the scope is smaller. 
10. Don't be a yes man. You don't have to be liked to be respected, so long as you know you are on the right track. If you are a yes man, that will mean yes to everything in order to avoid conflict. This will be the end of creativity and productivity you need to succeed. 
11. Outsource things you can't do to stay productive. We don't know it all and you should try to strain yourself by doing everything. Focus on your best qualities and have the rest outsourced to experts you can trust. 
12. Contrary to what you might think, multi-tasking is a productivity killer. Develop a mental and physical discipline to have a mono-maniacal focus on one thing for many hours. (Start practicing). One thing at a time. Multitasking reduces productivity and is counter-intuitive to your mental growth.
13. Staying fit is very important. Build your stamina and tolerance will increase endurance giving you high energy levels, creativity. Since everyone can workout at their own pace, I'll recommend 30 minutes/day even if broken up into two 15 minutes workout plans. 
14. Drink more water and always keep you self hydrated. Dehydration can affect you productivity. 
15. Schedule Work in 90 minute blocks with 10-15 minutes intervals to rest. Just take some air, have a deep breath, and drink some water.
16. Start your own (Stop Doing List). Every productive person understands that they don't have to do everything that comes their way. Write down what you will stop doing and stick to it. 
17. If you drive to work every day and spend a consumable amount of time, let's say 45 minutes, you will be spending almost an hour thirty minutes every day commuting. Though that might look like nothing, you are losing time you cannot gain back.
The best way to utilize this time is making sure you keep learning and growing your skills. The quickest way to final freedom is continues learning. 
18. Don't be a showman. Why go to the gym when it packed or a restaurant at lunch without a reservation (if you need one). Do these things when these places are less busy, you will save a lot of time and be more productive as an outcome. 
19. Try to get things right when you get started without repeating or re-trying. Distractions wither our every day life, so does mistakes. To make sure your productivity, become one of the special performers who have the mindset of doing what it takes to get it right the first time.
This saves you days of having to fix problems that shouldn't have been there in the first place.
20. Just change you availability. Don't always be readily available to everyone, unless it's an emergency. Go to a community library, get lost and build your future.
Conclusion
Tomorrow no one will care if you were working hard or sleeping. What you do today is for you and only you. Stay focus, be creative, work out a plans and be productive. 
---
 Divine Tumenta is an entrepreneur and professional digital marketing expert based in Los Angeles. He has worked in digital marketing for more than 8 years. He is currently founder and CEO of backlinkfy.com and a go to consultant for startups and small businesses in the USA.