Top UK Wedding Blogs 2017
Where should you strut your stuff?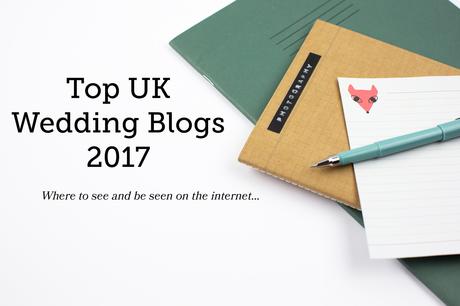 > For Photographers" />
As photographers, we are always looking to "pimp" our work and increase our exposure because more exposure means more bookings! And who doesn't love booking an awesome wedding?
One of the best (and most rewarding) ways to see and be seen by potential brides and grooms is on top UK wedding blogs.
As British wedding professionals, we sometimes are faced with an annoying challenge when searching for the "goldilocks" blog to feature our work. There are fewer blogs to choose from than our US counterparts and they are frequently inundated with submissions from both UK and US suppliers. So it is always a good idea to cast a wide net and if a wedding is passed over by a first choice wedding blog* – consider trying out a newer or smaller blog instead.
To make life a little easier for my UK wedding photography pals, I have put together a handy little list for you of the Top UK Wedding Blogs for 2017.
Listed alphabetically, I have also rated these top UK wedding blogs by "influence" (eg – popularity, Alexa score, social media following) as well as including a few other handy metrics such as their submission/editorial criteria and whether they accept only exclusive content. The latter metric can be really helpful when looking to get good mileage out of a particularly "on brand" wedding as blogs listed as "no" will accept weddings which have already been featured or blogged elsewhere.
The "influence" metric rates top UK wedding blogs from 1 to 3.
1  … a small up & coming blog with a small following or a medium blog with an infrequent publishing schedule.
2  … a medium blog with a medium sized following – a solid choice for good, reliable exposure.
3  … a highly influential blog seen as an industry influencer.
Additionally, I have chosen to include a few non-UK blogs which are regularly frequented by UK couples and therefore still very much worth pursuing.
*remember, submission etiquette says you should shop a wedding to only one blog at a time and give up to 10 days for a response before shopping it elsewhere.
Top UK Wedding Blogs 2017
Blog Name Country Exclusivity Focus Influence
Boho Weddings UK Yes Boho, Hipster, Modern, Stylish 1
Braw Brides UK – Scotland Yes stylish, quirky, beautiful, and romantic Scottish weddings 3
Brides Up North UK Yes No Style Guidelines but northern location implied 2
Creative Brides UK Unknown Bright, Colourful, Editorial 1
Cwtch the Bride UK – Wales Unknown No Style Guidelines but Welsh location (or couple) implied 2
Easy Weddings UK No No style guidelines 2
English Wedding Blog UK Unknown Clean, light, Detail Heavy 2
Festival Brides UK Unknown Festival Styling, Outdoor, Bohemian 2
Gay Wedding Blog UK No Same Sex Couples 2
Green Wedding Shoes USA Yes Chic, Fashionable, Bright, trendy 3
Junebug USA Yes Stylish, detail heavy, LLF "look", Hipster, Bohemian 3
Juno & Joy UK Unknown creative, luxe, flower heavy 2
Love My Dress UK Yes Vintage, Stylish, Detail Heavy 3
Marry Me Ink UK No Tattooed Bride and/or Groom 1
Mr. & Mrs. Unique UK No interesting, diverse, colourful and amazing weddings 2
Nu Bride UK Yes Modern Diverse Weddings (ethnicities, cultures, shapes, etc.) 2
Offbeat Bride USA Yes Alternative, Funky, Quirky 3
Pearl & Pear UK/USA Yes Events Planning – Heavy on Details particularly design focused 1
Plans & Presents (P&P) UK Yes Story Driven (Details not required) 2
Rock & Roll Bride UK Yes Colourful, Alternative, Unusual & Quirky 3
Rock My Wedding UK Yes Stylish, Detail Heavy, Clean, Bright 3
Ruffled USA Yes Stylish, Detail Heavy, Modern, Clean, Bright 3
Secret Wedding Blog UK Yes Multicultural /Fusion Weddings 1
Smashing the Glass UK Yes Jewish & Jewish interfaith Weddings 2
Snap Photography Festival UK No Story Driven (Details not required) – Open to the snap community 1
So You're Getting Married UK No Stylish, Some Details 2
Style & The Bride UK Yes Stylish, Some Details 1
Style Me Pretty USA Yes Stylish, Detail Heavy, Clean, Bright 3
The Natural Wedding Company UK Unknown Country / Natural / Bohemian Weddings 2
The Un-Wedding UK Yes Stylish, Quirky, Fun 1
The Wedding Affair UK No Traditional, stylish, fine-art 1
Want That Wedding UK Unknown No style guidelines 2
Way Out Wedding UK No Primarily Quirky/ Alternative styled shoots but also real weddings 2
We Fell In Love UK – Scotland Unknown Cannot find submission guidelines. Scotland Specific. 1
Wedding Sparrow UK No Fine art, Film Photography ONLY 2
Whimsical Wonderland Weddings UK Yes Colourful, Modern, Quirky 2
Join in the conversation!
Did I miss out your favorite blog? Do you have any corrections for my list? Did I make terrible choices?
I tried my best to wade through all of the sites but I may have missed out some information and I would love to keep this list up to date.
Leave me a comment in the comment box below and share this post with any photographer friends you think might find this kind of actionable content handy!