Bahrain is a small island country located in the Persian Gulf and is surrounded by Saudi Arabia, Qatar, Kuwait, Iraq and Iran. The country used to be an important maritime trade post in the medieval era and still continues to be a key city in the Persian Gulf, thanks to its petroleum based industry. Today, Manama the capital of Bahrain has heavily invested in banking and tourism sectors. Manama still lacks the glitz and glamour of its regional rivals like Dubai and Doha but it has enough attractions to keep tourists interested. Bahrain tourism is growing in stature, thanks to its climate, friendly culture, liberal outlook, world class shopping, dining and water sports activities.
Bahrain hotels are renowned for its luxury and high quality services, ensuring a holistic experience for the visitors in this island nation. Bahrain flights are also available widely in the region. Bahrain International Airport is a major aviation hub in the country and receives flights from the regional airports as well as several international destinations. There is plenty of attractions to see in Bahrain, check out some of them.
Al Fateh Grand Mosque, Manama
Al Fateh Grand Mosque was built in 1988 and is considered as one of the most beautiful and largest mosques in the world. The mosque has a capacity to host 7000 people and is made of marble, glass and teak wood. The beautiful central dome is made of fiber glass and allows natural light to filter in the sanctorum. The library of Ahmed Al-Fateh Islamic Center has around 7000 books, some of them are over 100 years or more in age. The library includes copies of the books of the teachings of Prophet Muhammad, the Global Arabic Encyclopedia, the Encyclopedia of Islamic Jurisprudence and Al-Azhar journals. Al Fateh Grand Mosque is one of the key tourist attractions of Bahrain.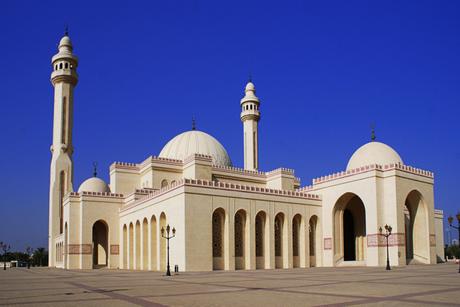 Bahrain National Museum, Manama
The Bahrain National Museum is a sensation architecture, opened in 1988 with a wonderful patio stretching to the sea front. It is the first museum of the country and chronicles the 5000-year-old history of the country. The museum has a large collection of archeological, historical and cultural artefacts. The museum includes Old Quranic manuscripts, notes on astronomy and historical documents and letters, specimens of Bahrain's flora and fauna and a tableau among others. The building was designed by KHR Arkitekter of Denmark and is one of the must visit attractions of Bahrain.
Bahrain International Circuit, Sakhir
Bahrain host an annual Formula One race each year as a part of the annual F1 World Championship. The race is held at the Bahrain International Circuit in Sakhir. The world class racing track was opened in March 17, 2004 and has hosted several motorsports events including drag racing, grand prix, V8 super cars, desert 400 and many more. It receives plenty of locals and tourists during the exhilarating races round the year.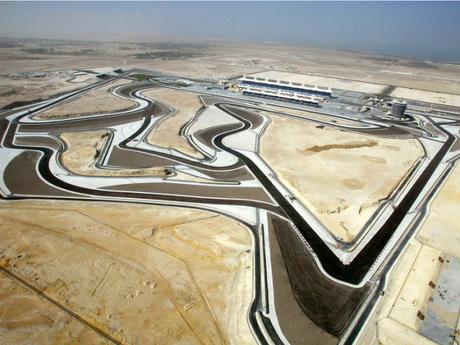 Also read: Your Ultimate Road-Trip Guide from Abu Dhabi
Jebel Al Dukhan
Jabel Al Dukhan is the highest elevated hill in Bahrain with an altitude of 143 meters from the sea level. It's also known as mountain of smoke and is filled with many caves and caverns. The mountain is a good place to enjoy camping under the stars and exploring the desert landscape of Bahrain.
Al Areen Wildlife Park, Sakhir
Al Areen Wildlife Park is located in Sakhir and takes around 40 minutes of drive from Manama. The wildlife park is the one of the popular tourist spots in the country. The environment includes a lush green park with a large number of diverse flora and fauna. The wildlife park has more than 500 species on animals and close to 10,000 plants.
Tree of Life
Tree of Life is a historic sight of Bahrain which is located just 2 kilometers away from Jebel al Deckhand. It is a 400-year-old tree surprisingly standing alone on a top of a 25- foot-high sand hill. This tree is located in the middle of desert without any source of water and is simply a miracle of nature.
Qal'at Al-Bahrain
The Qal'at Al-Bahrain is also known as the Bahrain Fort, is a key archaeological site and used to be the capital of Dilmun civilization. Today, it is a UNESCO World Heritage Site which has unearthed several important artefacts from its artificial mounds. The fort has seven stratified layers which is spread across an area of 10,000 square feet and has a height of 12 meter.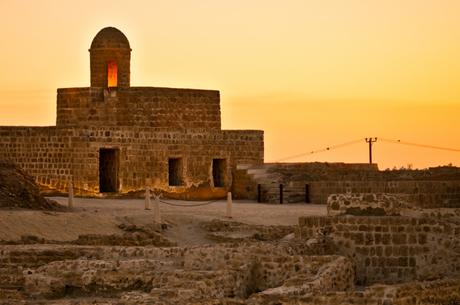 Al Khamis Mosque, Tashan
Al Khamis Mosque is one of the most unique and historical mosques in Bahrain. The mosque has 2 minarets standing at the corners and has extensive use of limestone slabs, wood and stone. The main prayer room has a flat roof supported by wooden pillars and is surrounded by trees.
Bab Al Bahrain, Manama
Bab Al Bahrain is a historic building located in customs square in Manama's former central Business District. It's a modern souq designed by Sir Charles Belgrave, adviser to the Emir and was completed in 1949. Today, it is one of the most beautiful markets in Manama and has number of stalls filled with vegetables, fruits, crafts, gold, silver and pearl jewelry.
Bahrain World Trade Center, Manama
The Bahrain World Trade Center is an inspiring sight and a dramatic trade center which has an elevation of 787 feet above the ground. It is a twin tower which looks like sail of a traditional boat and is connected to each other by sky bridge. The Bahrain World Trade Center has also received two prestigious awards for its architectural design and innovation.