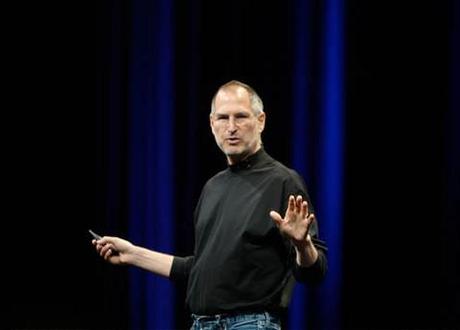 Steve Jobs: Inspirational. Photo credit: acaben http://www.flickr.com/photos/acaben/541420967/
Steve Jobs was a prodigious orator and inspiration to many. As best-of quote compilations spring up all over the internet, The Periscope Post newsroom has read (almost) the lot and selected out own definitive top ten quotes list from the late, great, Apple co-founder.
On death. "Remembering that I'll be dead soon is the most important tool I've ever encountered to help me make the big choices in life. Because almost everything — all external expectations, all pride, all fear of embarrassment or failure — these things just fall away in the face of death, leaving only what is truly important. Remembering that you are going to die is the best way I know to avoid the trap of thinking you have something to lose."
On (how to live your) life. "Your time is limited, so don't waste it living someone else's life … Stay hungry. Stay foolish." -2005 Stanford commencement speech. Watch the whole speech here.
On progress. "Things don't have to change the world to be important." -Wired 1996
On simplicity. "That's been one of my mantras – focus and simplicity. Simple can be harder than complex." - Business week 1998
On design. "Design is not just what it looks like. Design is how it works." - The New York Times 2003
On contentment. "Being the richest man in the cemetery doesn't matter to me … Going to bed at night saying we've done something wonderful … that's what matters to me." -Wall Street Journal 1993
On what people (really) want. "You can't just ask the customers what they want and then try to give that to them. By the time you get it built, they'll want something new." -Inc Magazine 1989
On saying 'no.' "It comes from saying no to 1,000 things to make sure we don't get on the wrong track or try to do too much. We're always thinking about new markets we could enter, but it's only by saying no that you can concentrate on the things that are really important." -Business Week 2004
On conformity. "It's more fun to be a pirate than to join the navy."