For those born and raised in the northern hemisphere, Australia often seems like a wild and dangerous place.  While you may not get lucky enough to see a venomous snake or a wild crocodile, chances are good that you'll have plenty of opportunities to try these six delicious Australian foods.
Vegemite
Vegemite is one of the quintessential Australian foods.  The production process isn't pretty; to make Vegemite, the thick, gooey layer of dead yeast that accumulates on the bottom of a beer fermentation tank is scraped out and flavored with celery and onion extracts.  The spreadable paste is high in B vitamins like thiamine, niacin, and folic acid, and it's considered a healthy food.  You can even find a version for babies that's "just a touch milder" called My First Vegemite.  Most Australians recommend spreading a thin layer of Vegemite onto toast over a generous amount of butter or margarine.  It might take a little getting used to, but the salty flavor is actually pretty good.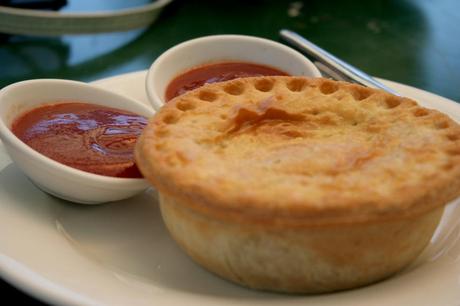 ©Mica
Kangaroo/Wallaby
Much to the surprise of many visitors, kangaroo meat is easily found in most grocery stores.  You can buy kangaroo burgers, kangaroo steaks, ground kangaroo meat, kangaroo snags (sausages), and so on.  The meat has a slightly gamey taste, and it's very lean, but if seasoned well and not over-cooked it has great flavor.  Wallaby, the kangaroo's smaller cousin, is more tender and delicious, but often can only be found in restaurants.
Crocodile
Crocodile is one of those food items you try once simply for the sake of saying you've tried it.  It tastes like chicken, but it's more greasy.  Crocodile is usually served fried or deep-fried, so it's not particularly healthy either.  You won't find this at the grocery store, but many restaurants in northern Australia carry crocodile meat because that's where the crocodile farms are located.  Eating crocodile is not an Australian-only experience—you can also try it in some southern states of the USA—but it's fun to try with a sampling of other Australian foods.
Meat Pies
Meat pies can be found elsewhere, but nobody does them like the Australians.  The wide variety and availability of meat pies here is astounding, as is the range of quality.  Cheap meat pies filled with a meaty substance resembling dog food can be bought for less than a dollar, while bars and pastry shops sell more appetizing pies for just a few dollars.  No matter what's inside, they're always delicious.  Try a few while you're here, and make sure to get one with cheese and/or bacon inside.  Yum!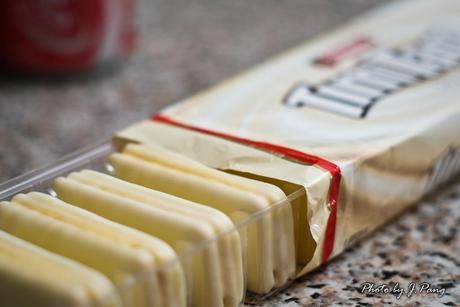 ©j_pang
Tim Tams
The popularity of Tim Tams around the world is growing, but it's rare to find anything but regular chocolate Tim Tams outside of Australia.  They come in a variety of flavors, including caramel, dark chocolate, mint dark chocolate, strawberry, white chocolate, honeycomb, chocolate orange, and even Turkish delight.  The dark chocolate and mint dark chocolate are especially good for the "tim tam slam," which involves biting the ends off a biscuit and using it as a straw to suck up milk, coffee, or hot cocoa.
Cherry Ripe
Touted as Australia's oldest chocolate bar, there's a good reason this treat has survived since 1924.  The Cherry Ripe is a little slice of heaven that combines cherries and coconut inside a dark chocolate shell.  It's similar to a Mounds or Bounty bar, but with real cherries.  You may want to bring a spare suitcase to fill up with Cherry Ripes, because it's nearly impossible to get them outside of Australia.