Do you love watching spooky and creepy movies? Well, I equally love and scared until my breathing takes away, that's why I never watch horror movies alone. Also, I use to prefer cinema halls to watch these bone-chilling horrific movies as the thrill becomes more exciting.
But with the new era of digital cinema, we can experience high-quality movies at the comfort of our home.
There are many horrifying scary movies available on Netflix; I am sharing a few of them, which you can watch when in a mood to have some adrenaline rush.
1)  The Ritual
It is the Netflix original 2018 film based on the life of four friends going for a hiking trip into the Swedish wilderness, where the past haunts them and the forest evil makes their trip terrifying.
The movie is scary and the horror set in the forest makes it more nerve-racking.

2)   The Boy
The Boy is a 2016 horror movie, which tells the unusual story of a couple and his son. The old couple hires a nanny to look after their son, soon she comes to know their son is actually a doll and when she treats it like a non-living thing, she is shocked to find that it is alive and now behind her forever.
It is a gripping, frightening movie which you can't miss to watch.
3)   Before I wake
Imagine! Your entire dream comes true- Beautiful and the worst. What will you do? Try not to sleep right?
Same things happen with a child Cody, who is adopted by his foster parent, Jessie, and Mark after they lost their own son.
The movie is both scary and beautiful, at one point you feel sorrow and the other side fear. The story is unique and the climax is worth-watching.
View this post on Instagram

Starlight, starbright…Evil is haunting dreams tonight #FearYourDreams

A post shared by Before I Wake (@beforeiwakemovie) on Aug 3, 2016 at 8:58am PDT
4)   Bird-Box
Bird Box is a 2018 Netflix post-apocalyptic horror thriller film starring Oscar winner, Sandra Bullock.
The film shows the story of a woman, who is trying to protect herself and two children by blindfolding the eyes so that they can't see this unseen malicious supernatural evil that makes people who look at them go insane and commit suicide.
This movie has received rave reviews by both critics and the audience. The craze had gone so much that people started performing Bird Box challenge.
If you haven't watched this movie yet, then tune in now!
5)   Train to Busan
If you are looking for something less scary, then you can go to this movie, which is based on a zombie.
This Korean zombie movie tells the story of A father and daughter, who are traveling on a train to Busan, and then suddenly there is a zombie outbreak across the country.
Released in 2016, Train to Busan got famous worldwide and was successful.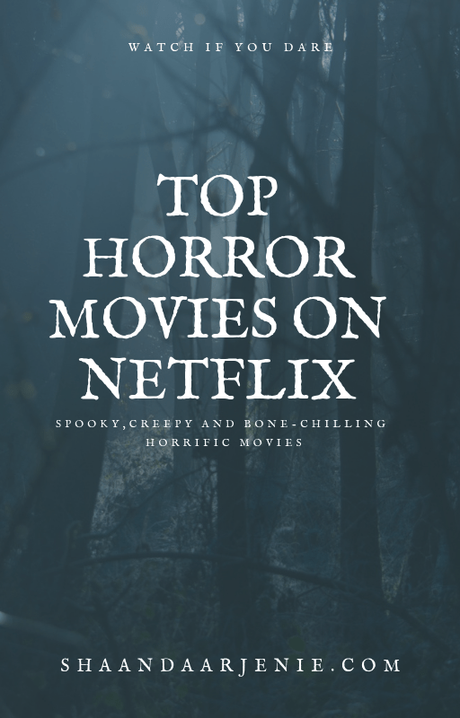 Pin It
What is your favorite horror movie?
 If you would like to watch movies from other genres, then check this out:
5 Best Comedy Movies to Watch on Amazon Prime
My Amazon Picks
*Disclaimer: The movies listed are temporarily available on Netflix.
*Disclosure: This post contains affiliate links and I may receive a small commission if you purchase through them at no extra cost to you.
*PC:Unsplash,Canva,Google