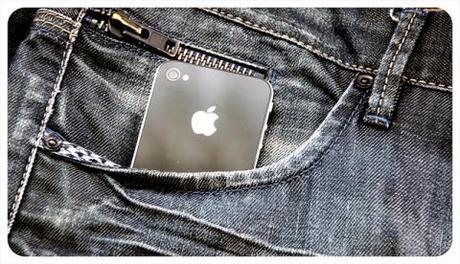 Photo credit: twicepix, http://flic.kr/p/9rLzp8
The iPhone 5 is the most hotly anticipated launch since … well, since the launch of the other iPhones. Apple has been characteristically secretive about the details of the new iPhone, but that hasn't stopped speculation mounting across the internet. Here, we bring you the top five things you need to know.
Harder, better, faster, stronger? Mark Duell reported in The Daily Mail that designers Giga Netzwerk have released a suggested mock-up of the device. The mock-up features "a 'teardrop' design, aluminium back instead of glass and an oval rather than a circular 'home' button", and is wider than the iPhone 4. Duell also wrote that the iPhone 5 is expected to have a faster operating system. Meanwhile, Gizmodo reported that there is a rumour that the new iPhone's internet will be three times faster.
What's in a name? There is, however, an alternative idea doing the rounds: that instead of launching the iPhone 5, Apple plan to launch an upgraded version of the iPhone 4 – or the iPhone 4S, as it will apparently be known. Over at Techradar, Gareth Beavis highlighted the rumour that the iPhone 5 will be delayed until 2012, with the iPhone 4S coming out as a stopgap. However, Beavis also pointed out that a more "credible" suggestion is that Apple will launch both a 4S and a 5.
Prepare to be disappointed? Writing for The Wall Street Journal, Geoffrey A. Fowler pointed out that Apple may struggle to "dazzle" consumers, due to over-inflated expectations and competition from other smartphones.
Can I help you? However, Fowler also pointed out that Apple's acquisition of Siri Inc, a company that has developed a "voice-activated personal assistant", may hint at an exciting new iPhone feature. 9to5Mac also focused on the Siri software: according to Mark Gurman, the "Assistant" would allow iPhone users to send texts using voice control, among other features.
Are you ready for love? According to Martin Lindstrom at The New York Times, the most accurate word to describe users' feelings for their iPhones is "love". Lindstrom wrote that he has carried out several experiments to determine the appeal of the iPhone. The results are in: "The subjects didn't demonstrate the classic brain-based signs of addiction. Instead, they loved their iPhones", he revealed.