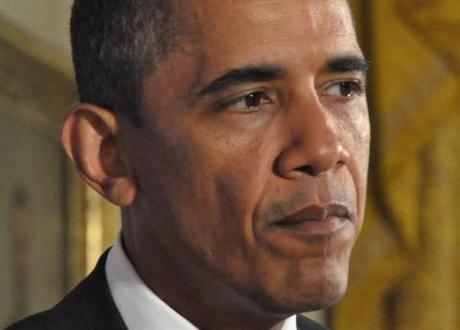 President Barack Obama, July 2011. Photo credit: Geoff Livingston
US President Barack Obama turned 50 this week. Obama marked the occasion with a White House barbeque and a fund-raising concert in Chicago. But it's not all fun and games for the birthday boy: there's panic in the world's financial markets as shares slump amid fears the US is facing another recession. What's more, Obama has had to field considerable criticism over the recent debt-ceiling negotiations and subsequent deal.

Happy birthday, Mr President. Oscar-winner Jennifer Hudson sang "Happy Birthday" to Obama, in a performance The Daily Mail considered "more low key" than Marilyn Monroe's famous serenade to President Kennedy. Tickets to Obama's birthday fundraiser cost $35,800 for dinner, but a more reasonable $50 for the concert. According to Politico, guests included rapper Jay-Z and actor Tom Hanks; presumably, Donald Trump was not in attendance.
Birthday burger. If $50 still seems too expensive for a birthday celebration, how about 50 cents? According to The Los Angeles Times, a Washington burger restaurant was offering a special deal to customers who uttered the magic phrase, "Happy birthday, Mr President": a burger and a birthday cake-flavoured milkshake for $0.50 each.
Yes we can. The Guardian asked readers for gift ideas for the US president; suggestions included a Bob the Builder DVD (originator of the phrase "Yes we can"), a motorbike, a framed copy of his birth certificate, and "some gardening trousers". Meanwhile, The Washington Post went for a more personal tribute, asking readers to provide advice to the president on what it means to turn 50. According to Pamella Taylor, "My advice would be to enjoy the fact that you can now relax because the things you use to feel were so important all of a sudden are nothing compared to just being happy."
It's all about the money. Sadly, it seems unlikely Obama will be able to follow Ms Taylor's advice in the immediate future. Fox News, never exactly Obama's greatest supporter, celebrated the president's birthday with the headline: "Dow Plunges Over 500 Points, Obama Parties". Fortunately, the subsequent article did make clear that Obama wasn't actually partying because the share index fell. But there's no escaping the fact that Obama's birthday was all about the money, with the US press focusing on the debt deal, the global market crisis and the amount of cash his celebrations have raised for his re-election campaign.
Hair today, gone tomorrow. Indeed, financial woes may well be taking their toll on Obama. According to The Associated Press, Michelle Obama emailed supporters to ask them to sign an electronic birthday card for her husband – and also mentioned his greying hair: "I see Barack make choices he knows will affect every American family. That's no small task for anyone — and more proof that he's earning every last one of those gray hairs," she wrote. The Daily Mail argued things would only get worse: "President Barack Obama, who turned 50 yesterday, may still look young for his age. But he has been aging quickly – and according to one doctor, this is a fate shared by every U.S. president." But The Huffington Post UK attempted to ease Obama's stress with film suggestions for the embattled US President, including Justin Bieber's Never Say Never.