There are two types of food enthusiasts in the world… One
s
who love to gorge on all the delicious fanfare that the different cuisines have to offer, even traveling to places only to experience the local food specific to that region. Then there are the other kinds that will not only indulge in scrumptious meals but
also
prefer to be the hands
that makes it too.
Knowing how to dish up a few grandma recipes or follow the ones demonstrated on YouTube is for
the
home cooks, but to take your love for the pot & the ladle to a different level, you would need something more than just that.
There are a number of culinary
schools &
colleges that offer various culinary courses for
the food
enthusiasts who do not want to just cook, but cook with a degree of professionalism to add that punch & finesse that only a professional cooking training can offer!
If you are looking at joining a
serious
vocational cooking school in Dubai, we have listed the top three names below to ease it up for you.
Dubai is certainly a food destination because this is where you will find a potpourri of mixed cultures & cuisines, lot of learning along with a lot of good food.
#3 McQueens – Culinary & Hospitality Training
A British institution McQueens Culinary Institute is located at Dubai Knowledge Park and offers signature 1-day programs and a 200-hour Professional Diploma program in Hot Kitchen and a 120-hour Professional Diploma program in Patisserie accredited by City & Guilds. 
The professional program comes along with 3-day F&B Entrepreneur workshop and a 2-day training on media skills. 
#2 SCAFA – School of Culinary & Finishing Arts
Located within JLT community, SCAFA is a full-service culinary arts training institute that apart from the part-time basic programs in the fundamentals of culinary and pastry, also offers City & Guilds accredited Level 1, 2 & 3 Professional programs. 
What's more is that the students of the advanced professional program get to train at Scafe, SCAFA's own teaching restaurant
The school also has a Mini Master Chef program for kids aged 6-12 years over the summer and winter breaks to get them learning some cooking skills.
#1 ICCA – International Centre for Culinary Arts
Featured amongst the
Top 10 Culinary Institutes in the World
, The ICCA is a City & Guilds Approved Centre and the recipient of many International Awards & Recognition.
Awarded
the "Recognition of Quality Culinary Education" by the World Association of Chef Societies (WorldChefs), it was also recognized as The ProChef ME Cooking School of the Year 2016 and also adjudged as the International Centre of Excellence Award-Middle East- 2016 & International Centre of the Year Award- 2016 by The City & Guilds Lion Awards.
The ICCA also bagged The ASBU BroadcastPro Best Digital Initiative of the Year 2016 for its cutting-edge online culinary training program in association with Fatafeat, the food channel of Discovery TV.
Furthermore, The ICCA is an official licensed Knowledge and Human Development Authority (KHDA) institute. It is also registered with the National Qualification Authority (NQA) UAE and boasts of a sprawling state of the art award winning facility at the Dubai Knowledge Park.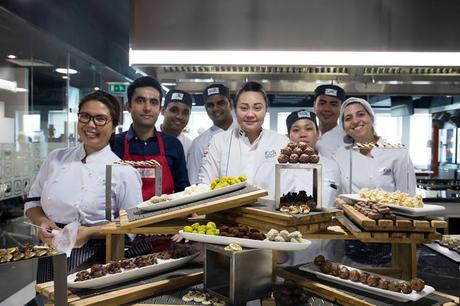 It has a wide array of cooking courses to choose from, catering to higher secondary school students to the amateurs to the professionals. The artisan courses in Pizza, Gelato & Sugarcraft are worth every dime and it is also the only training institute in Dubai that offers a Barista program for the coffee connoisseurs.




The 620-hour intensive Professional Programs here assure a career start in the Hospitality & International Cruise Line Industry. It proudly maintains a track record of 100% work placement for its students and has serviced over 86% of the Hospitality Brands in the UAE.




The Industry Work Experience & Placement (IWEP) program offered at

ICCA

is an industry integration program specially designed for students wishing to join the industry as Professional Chefs and includes all aspects of employ-ability training to help the Student Chefs to seamlessly integrate, effectively deliver and excel in the workplace.




For entrepreneurs & experienced professionals looking to work at the supervisory levels, the advanced Level 3 City & Guild diploma equips them with all the necessary know-how and finer nuances of the business & operations.




Its strategic partnerships with many world leading Original Equipment Manufacturers (OEM's), Suppliers and Training Resource Providers, exposes the student chefs to latest technology and international operation trends. Major events like the Taste of Dubai, Taste of Abu Dhabi, Gulf Food, besides many other are powered by students of ICCA giving them the edge and exposure that sets them way ahead on their culinary journey.




For food lovers who will be happy just taking up cooking classes for beginners, there are some good options listed on W

h

atson Dubai and can be read about here: 

http://whatson.ae/dubai/2017/07/cooking-classes/