Halloween is less than a month away. Usually by now my kids have an idea of what they want to dress up on Halloween night. However, they haven't decided yet. I was browsing the Internet today looking for costumes for my youngest son and I found some very cute costumes. Here are some of my favorite Halloween Costumes and I have a feeling that they are going to be super popular this year too.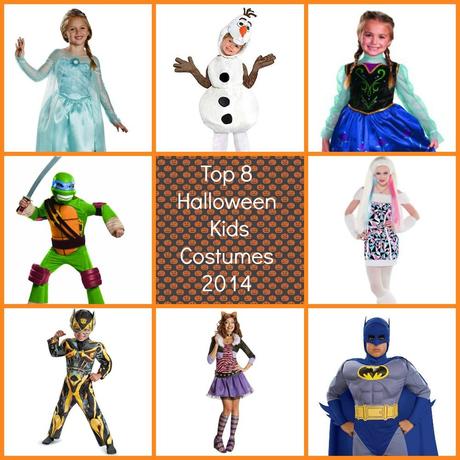 Disclosure: This post may contain affiliate links and Uplifting Families earns a small commission if you buy products from clicking on our links. Don't worry this doesn't change anything on your end.
Disney Frozen Elsa Halloween Costume – If you have a young child, you probably have watched Frozen with your child at least a dozen times if not more. When we first bought the movie we watched it at least once a day for a few weeks. If you have a young daughter, I am sure that she wants to be a princess for Halloween and Elsa is a great choice. Find this beautiful icy blue dress with elegant sheer sleeves, a satiny blue skirt and sheer blue overlay printed with white snowflakes and icicles. Don't forget to get the crown, Elsa's hair (wig) and shoes too.
Disney Frozen Olaf Halloween Costume – My youngest son loves Olaf and smiles every time that we say, "Hi, I am Olaf and I like warm hugs.".  My youngest son would love to have this costume for Halloween. This is a great choice for the young man in your life who enjoys the Disney's popular movie Frozen. Find this cute jumpsuit with plush overlay and soft character headpiece.
Disney Frozen Anna Halloween Costume – If your young daughter doesn't want to be Elsa this year, who could resist being Anna and her cute charming smile. This Disney princess enjoyed playing with her sister but after an accident in the movie they were no longer able to play together. She runs off to the mountain in search of her sister, who wants to continue being alone. Find this beautiful petticoat and a black vest trimmed with gold sequins and printed with green vines. This costume would be great for sisters too. Don't forget to get Anna's hair (wig) and black shoes.
Ninja Turtle Halloween Costume – The new Teenage Mutant Ninja Turtle movie came out a few weeks ago. My boys still haven't seen it yet but it is on our list to rent as soon as it comes out on DVD. My boys enjoy watching the old Teenage Mutant Ninja turtles and they love it. If you have a Teenage Mutant Ninja Turtle fan in your house, this costume would be perfect for your young man. Find the Deluxe Turtle Costume complete with molded chest jumpsuit, elbow and knee pads, belt and mask. You can even stuff the turtle shell with newspaper, plastic grocery bags, or anything else that you can recycle. Don't forget to buy the sword, Sais, Bow Staff, or Nunchucks depending on which costume your child wants.
Monster High Abbey Bominable Halloween Costume – I have heard that Monster High is popular with the older girls. I haven't personally watched the television show but my daughter has mentioned it to me in the past. I think the dolls are cute and look similar to the Bratz dolls that my daughter enjoyed when she was younger. So if your daughter is a fan of Monster High, check out Abbey The Bominable costume. Find a 

complete costume all in one, just add boots and the wig.

Transformers Bumblebee Halloween Costume –  Transformers have been around for many years and have continued to interest boys for long time. So if you have a transformer fan in your house. You should check out this cute Transformer BumbleBee costume. Find the jumpsuit with muscle arms and torso plus soft character headpiece. Don't forget to grab your son a cute Halloween bag to go with his costume or the cannon.
Monster High Clawdeen Wolf Halloween Costume – Here is another cute costume in the Monster High collection that is popular among the older girls. So if you have a Monster High Fan in your house, check out Clawdeen. Find the cute jacket with attached shirt, skirt, belt and choker. Don't forget to pick up the wig, braclettes, boots or fishnet thigh highs too.
Batman Halloween Costume – Batman is another character that is popular among boys of any age, including the grown ups. If you have a young boy who is a fan of Batman, you should check out this great classic Halloween Costume. Find the cute jumpsuit, headpiece, cape and belt. The muscles are built into the jumpsuit. Don't forget to pick up a cute Halloween bag too!
Which costume will your child wear for Halloween this year?