So I've just come back from a week in Corfu, Greece. I actually visited there many years ago when I was 15, but can't remember a thing. Low and behold this time round, we ended up staying in exactly the same village as last time, or so my Dad tells me.
After an amazing visit to Skiathos last year, I was so excited to explore another Greek island and tick it off my list!
Here are my top 5 tips when visiting Corfu....
1. Visit Corfu old Town
So there's a difference between Corfu town, and Corfu old town. I was worried that I wouldn't know the difference once I was there, but after a quick google, I knew I was in the right place. Corfu old town is where the real traditional quaint Greek streets are, full of little shops, selling an array of items from jewelry to handbags and soaps. Some of the streets are really narrow but add so much character to the place - I could have photographed every street if I had the chance! There's a slightly different vibe there to the actual new town - it feels less cosmopolitan and more laid back and a slower-paced vibe.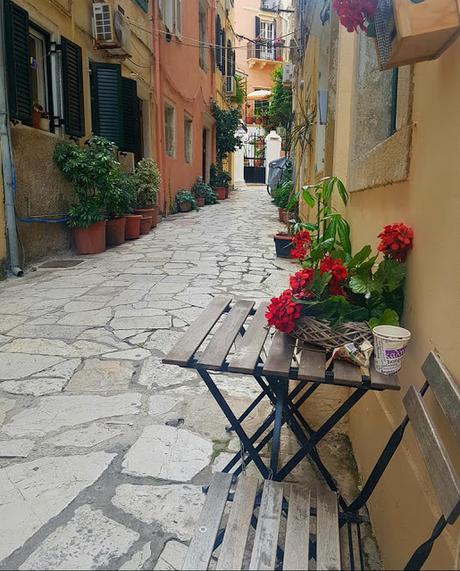 Corfu Old Town
2. Choose wisely on where you stay
We ended up staying in a cute village called Moraitika. It had enough taverna's and supermarkets to meet your needs, with a handful of shops amongst them, and a beach to go with it, but there wasn't much more going on. To get to Corfu town was approx 30 minutes on the bus each way, which after a few trips got a little tedious. Although our hotel was amazing, I would definitely look at staying closer to the town if I was to return.
Hotel Grounds
3. If you are into culture, avoid Kavos!
On our last day we spontaneously decided to take a trip to Kavos on the bus, mostly because Mike had visited here on an 18-30 holiday when he was 18, so he wanted to reminisce and see what had changed. I envisioned a rather cosmopolitan place with lots of swanky beach bars (I was thinking Ibiza style), white sands, and lots going on. I couldn't have been more wrong. It was a complete let down and just reminded me of an English seaside resort that just couldn't
quite
get it right. There was no atmosphere, it lacked the traditional Greek touches such as the tavernas and all the lovely bright flowers they have everywhere. The main 'stretch' of Kavos just looked so tacky and cheap, and I'm so glad I've never chosen to go there as a holiday destination. Luckily though, Mike found his old hotel he stayed at, and even spotted the kebab guy that served him all those 17 years ago after all those drunken nights out! All was not lost!
4. Avoid going all inclusive/half board.
I feel that Greece is a place that has to be explored on all levels, including their restaurants/food. It's not often that we go half board/all inclusive, but I found a really good deal at the time, so on this particular trip we had our breakfast and tea included, which is something I regret. On the night of my birthday we ventured away from the hotel and visited a taverna in the mountains that had really good reviews. When we sat down and had our food brought to us it was then that I realised how much I've missed this side of things. Being able to sample different restaurants is a big thing for me when I'm on holiday, so being half board can get quite repetitive. Greek food is to die for, and their 
meats literally fall off the bone, and I really missed the excitement of knowing I was dining out every night.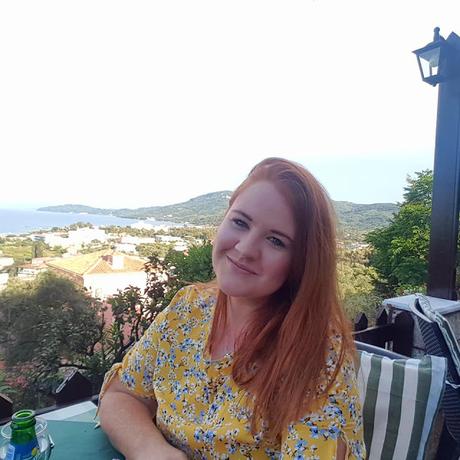 Birthday meal with a view
5. Book a boat trip!
Because we were away for my birthday, I wanted to do something a little different, so we booked a boat trip. These enable you to visit gorgeous lagoons and caves that you wouldn't have been able to get to otherwise. The colours of the water are mesmerising and we had the opportunity to sample another Greek cafe up in the hills with a great view over the ocean. These little nooks and crannies you wouldn't have known about if not for the boat trip. It's a really good way of seeing more of the island and I always make a point of doing at least 1 boat trip on our Greek holidays now. There are of course lots of different boat trips to book, itineraries varying slightly, so you have the opportunity to pick whatever suits you.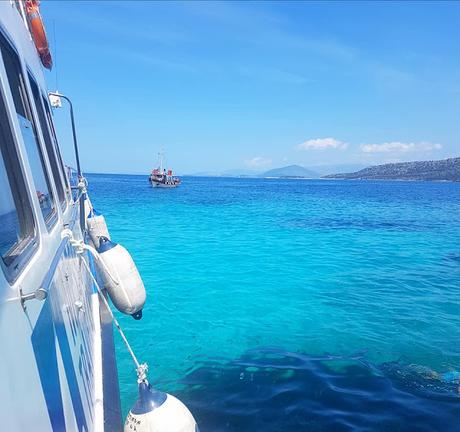 Blue Lagoon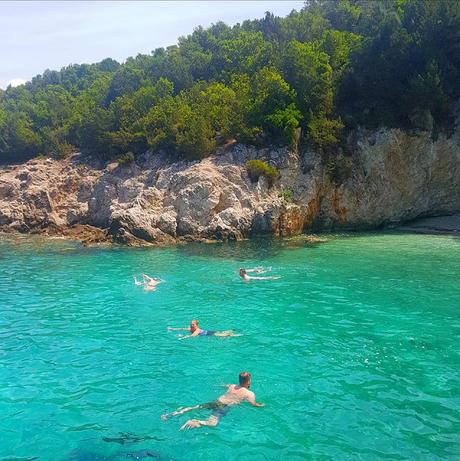 Have you been to Corfu before?