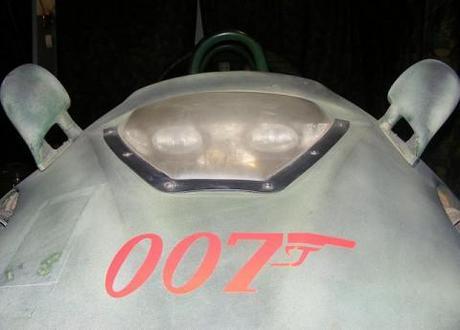 An exhibit at the James Bond museum. Photo credit: Dave McLear http://www.flickr.com/photos/dmclear/4845904073/sizes/z/in/photostream/
Bond is back – again. Fans of the suave super-spy can get ready to be shaken and stirred once again as the twenty-third instalment in the film series is slated for release in November 2012. That may be over a year away, but why not whet your appetite with our handy guide to the top five things we already know about the mysterious Bond 23?
1. It will be filmed in India. The Indian government has given the Bond crew permission to shoot in Mumbai, Delhi and Goa, a production company confirmed to the BBC. There is speculation that the Indian Railway Minister has been asked for permission for a sequence to be shot aboard a train, and he is quoted as saying that "I want Daniel Craig to be the brand ambassador for Indian Railways." Bond 23 will be only the second Bond film to be shot in India. Let's just hope it's better than Octopussy.
2. Sam Mendes will direct it. Variety confirmed that Bond 23 will be directed by Sam Mendes, who his better known for ponderous dramas such as American Beauty and Revolutionary Road, and for being separated from Kate Winslet. Will he have Bond soulfully contemplating a plastic bag caught on the wind?
3. It might star Ralph Fiennes (and some other people). Rumours about who will star in Bond films – especially at this distance – are notoriously unreliable. However, buzz seems to be building around the idea that Ralph Fiennes is going to pop up in this one, with SlashFilm naming him alongside Javier Bardem and Naomie Harris as good bets for the new film.
4. It's going to have loads of product placement. The Bond franchise has never been shy of hawking itself to the highest bidder and Bond 23 looks like being no exception. The Australian reported that an entire third of the budget for the new film will be contributed by brands paying to be featured in it, resulting in what the paper called "the biggest product-placement bonanza in cinema history." Doesn't that sound exciting?
5. It will not be called Carte Blanche. A story appeared in Serbian newspaper Blic this week claiming that Bond 23 was going to be based on, and named after the '007 continuation novel' Carte Blanche by Jeffery Deaver. This story isn't true, apparently. Scarily well-informed fansite MI6-HQ quoted one of the film's producers, who shot the story down. "The new film is not going to be called Carte Blanche and wil have nothing to do with the Jeffery Deaver book," they said, which sounds pretty categorical. The real name will no doubt emerge in the next couple of months.