The winter months can cause havoc on your skin and a good body scrub can help to keep dry and dull skin at bay. If, like me you are a fake tan fanatic or simply want to whip your skin into tip-top shape, a powerful body scrub can offer results at speed.
Forget expensive massages and spa treatments, I've found five body scrubs that will leave your body looking supple and smooth from top to toe. Not all body scrubs are equal. They differ in consistency and range from a few sparse grains immersed in shower gel to generous portions of chunky grains mixed with luxurious body oil. If you have ever bought a shower gel that is masquerading as a scrub, you will know the disappointment that comes with some beauty buys.

Fat Girl Scrub
Bliss-Fat Girl Scrub-At £26.50 for a 170ml tub, this is one of the priciest on the list but it is also one of the prettiest. The pretty pink tub is guaranteed to be loved by girly girls but rest assured there are brains behind the beauty. A rich blend of Red algae, Himalayan pink salt mixed with grapefruit and peppermint extract leaves skin feeling refreshed and invigorated. This product is packed full of antioxidants to give tired skin a welcoming detox. This is an oily scrub and you do have to mix it up before you begin, as the oil tends to gather at the top.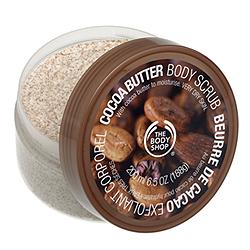 Shea Butter Scrub
Body Shop Shea Butter Scrub-If you want a cheaper scrub that works as well as the pricier products, this tub is perfect at only £12.50 for 200ml. If you have dry skin you'll love the soft buttery texture. It is not as harsh as the other scrubs as it contains Shea butter that gently buffs the surface leaving skin feeling dewy and moisturised. This is a great scrub to use regularly to maintain smooth skin that glows and the sweet scent is simply heavenly.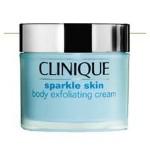 Sparkle Skin Exfoliating Cream
Clinique Sparkle Skin Body Scrub-This is a scrub with substance and it is guaranteed to whip your skin in to shape fast. It's the perfect solution for tan disasters and is guaranteed to erase every bit of fake tan from those extra dry knees, elbows and ankles. At £18 a go, this is suited to those who take the little and often approach to scrubbing but luckily a little goes a long way. For girls who like to tan it's worth every penny which makes this my personal favourite.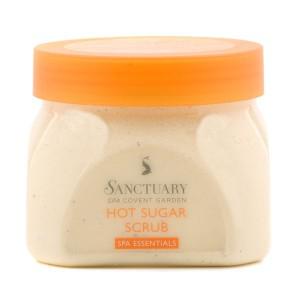 Hot Sugar Scrub
Sanctuary Sugar Scrub-This is pure luxury in a tub and at only £13.50 for a 400 ml tub you can't afford not to try it. Part of the Sanctuary's signature spa range, the luxurious hot sugar scrub is great for those who prefer baths to showers as it provides an experience to be savoured. When massaged into the skin, the scrub offers a warming sensation that soothes tired muscles and leaves skin feeling rejuvenated and relaxed.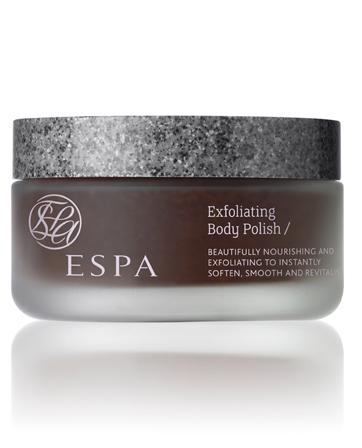 ESPA Body Polish-For the ultimate spa experience this invigorating salt scrub ticks all of the boxes. Used in some of the UK's most exclusive spas, this luxury scrub is a beauty must have. This product offers the full package and not only exfoliates but calms both body and mind with the intoxicating aroma of Lavender and Rosemary. Eliminate toxins with this divine scrub and make dull skin a thing of the past. At £32 for 180 ml this is the most expensive beauty product of the bunch.
Top tips for buying body scrubs:
Know your skin type and be wary of scrubs that could irritate sensitive skin.
Massage your chosen body scrub in pre-shower. For maximum results, apply and massage the scrub prior to bathing.
Using circular motions starting from the ankle moving upwards to boost circulation.
Love lotions and potions? What's your favorite body scrub? Leave your comment below!