In today's world, where email communication is the most preferred way of communication for business purpose,  correct English is must. It can be to impress your boss or to create memos that would sound more professional or writing a perfect essay, grammatical correct English is must.
Here we are with top 5 grammar check apps for Android smartphone those can help you in improving and enhancing your English grammatical skills.
1.    Oxford grammar and punctuation – With Oxford grammar and punctuation app, Oxford brings the best in class Grammar checker apps for your android smart phone.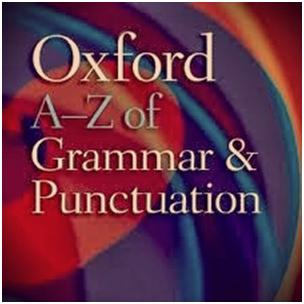 About Oxford grammar and punctuation app for android
– It is undoubtedly one of the most comprehensive and easy to use grammar learning and checker app for your android smart phone. This app includes varieties of entries that are arranged alphabetically. It helps you in learning each and every grammatical topic very easily with the help of useful illustrations.
Features:
•    Check out more than 250 easily explained grammar questions
•    Get an overview about various grammatical terms.
•    Quick access to answer of any question.
•    Install it on your SD card
•    With History feature, you can easily check last 50 words you have looked up.
•    Widget shows word of the day on your home screen.
Get rid with your often grammatical mistakes with this Ginger keyboard + page app. It is one of the best Grammar checker application for Android smart phone in the store.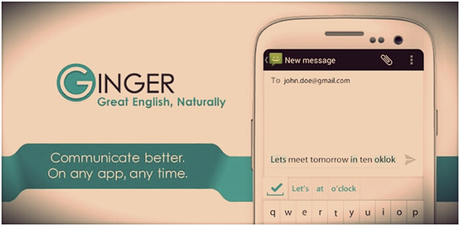 About Ginger keyboard + page application – With replacement keyboard and basic word processor, Ginger keyboard + page application takes very good care of your English. Moreover, it also suggests you alternative phrases to make your English more fluent. It comes with a standard QWERTY keyboard which highlights any spelling mistake and correction in the bar.
Features:
•    Write faster with advanced word prediction and stream
•    Discover alternative ways to write your text with advanced rephrasing
•    Translate your text between more than 40 different languages
•    Contextual synonyms and definitions
•    Easily export your text to any writing or social app
•    With Phrase of the day, get fun tips to spice your English and you can even share it with your friends.
3.    Grammar checker academic –
Grammar checker academic provides you with quick and easy spelling and grammar reference gude for your Android Smart phone.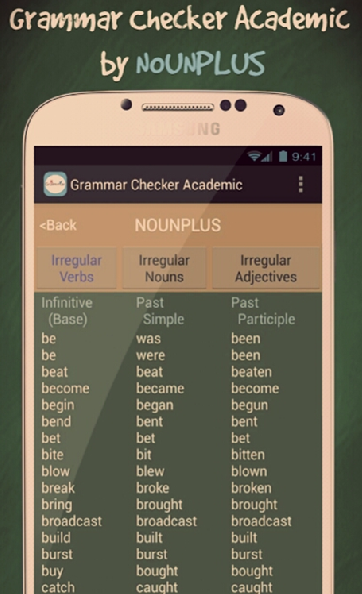 About Grammar checker academic app – It is basically a grammar checker dictionary that checks your work for you. It has also got very polishing look that simplifies your English learning.
Features:
•    Each and every type of tense
•    Everything you need to know on verbs and nouns
•    It also covers different topics like article, clauses, adjectives, adverbs, etc.
•    By changing the settings, it also works as spell checker and grammar checker app for your android smart phone.
4.    Spell checker PRO -
Claimed as Number #1 spell checker for English, Espanol, italiano, etc, Spell checker PRO is a definitive grammar checker app for Android.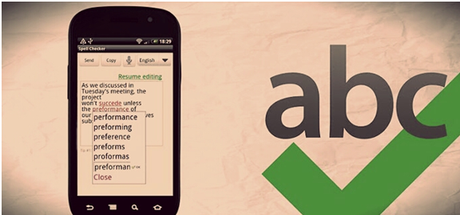 About Spell checker PRO – The PRO version of spell checker supports many different languages including Ukrainian, Hebrew, Turkish, etc. It has over 20,000 premium users.
Features
•    Input text via voice
•    Long press the search button to open the spell checker right away
•    Free from annoying ads
•    No limit characters
•    Corrects your grammar and spellings in English, Spanish, etc.
5.    English Grammar (Transdental) –
English Grammar brings you the most comprehensive and grammatically clear approach to your English learning. Learn English Grammar like never before.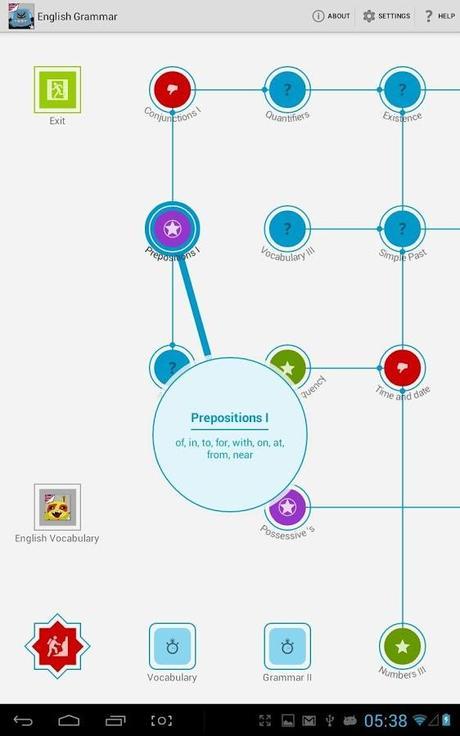 About English Grammar app – English Grammar app makes your English learning more fun and enjoyable with features like Leader boards and Saved games by which you get to compare and share your scores with your friends.
Features:
•    Optimized for tablets, phablets
•    Makes extensive use of voice synthesis
•    Buying premium version will help you learn English grammar offline too.
•    Uses network only for Google services
•    Easily synchronizes all your learning progress between all your Android devices.
•    Fun part- It has Leaderboard enables where you can compare your scores with your friends.