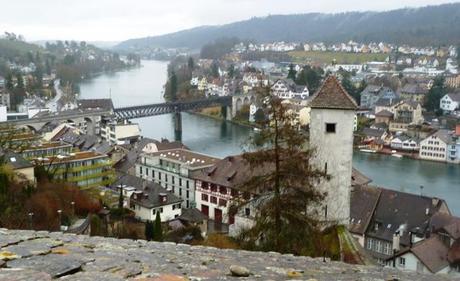 View of Schaffhausen Switzerland from the Munot Fortress
Schaffhausen Switzerland is a charming medieval town, located just 51km north of Zürich near the German border.  But like the rest of Switzerland, food and accommodation are expensive.  Fortunately you can save money on sight seeing in Schaffhausen since many of the more popular sights for free.   And as the city is relatively small, you can walk or bike everywhere, saving even more money on transportation costs.  Here are my top 5 free sights in Schaffhausen Switzerland: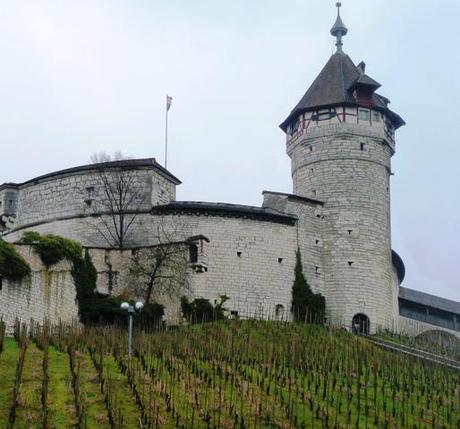 Munot Fortress which overlooks Schaffhausen and the Rhine River
#1) Munot Fortress
The Munot Fortress is Schaffhausen's best known landmark looming over the city and the Rhine River.  The circular fortress was built between 1564 – 1589 by Schaffhausen locals under mandatory labor.  Walking into the fortress is an eery feeling as it's stone walls are dimly lit with only small traces of daylight squeezing in.  Once you made your way up the circular path of the fortress walls you are treated to a view of Schaffhausen and the Rhine River.  Surprisingly, admission is free.  If I had to pick one favorite sight in Schaffhausen, it would be the Munot Fortress.  Watch for an upcoming post of more photos of the Munot Fortress.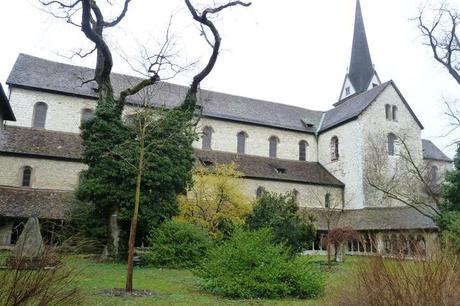 All Saints Cathedral and Cloister in Schaffhausen
#2) All Saints Catherdral and Cloister (Münster zu Allerheilligen and Monastery zu Allerheiligen)
The All Saints Cathedral  was built circa 1100 in a Romanesque style, of which the clean simple lines are reflected inside the church as well.  The church tower is also worth a look as it is considered to be one of the most beautiful church towers in Switzerland.   Located directly beside the All Saints Cathedral is the Cloister which was the largest cloister in Switzerland  until 1524 when it was closed.  Open archways of the cloister enclose the Cloister Garden and Cementary where important civil authorities were laid to rest from 1582 to 1874.  It is a very peaceful place and admission is free to both the All Saints Cathedral and to the Cloister.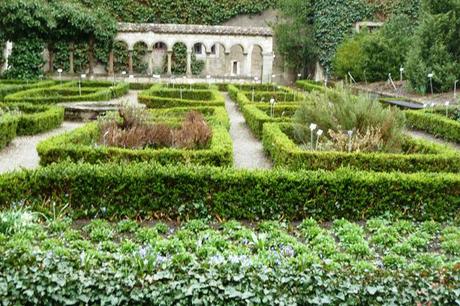 All Saints Herb Garden in Schaffhausen, a reconstruction of the medieval herb garden where medicinal plants and herbs were grown by the monks living in the cloister.
#3) All Saints Herb Garden (Das Kräutergarten zu Allerheiligen)
Located directly beside the All Saints Herb Garden and Cloister is the All Saints Herb Garden, which is a reconstruction of a medieval herb garden that was cultivated by monks  while living in the cloister.  Medicinal plants along those used for seasoning are grown there.  It is a very peaceful place which we had all to ourselves and I could have easily crawled up on one of the benches with a good book.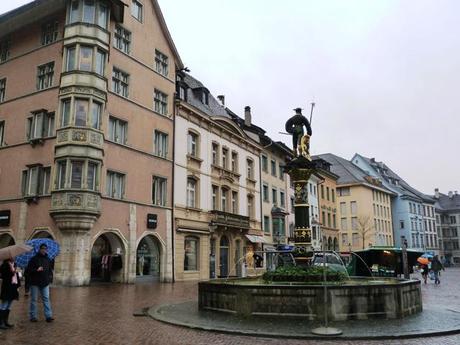 The medieval Old Town in Schaffhausen is lined with gild houses and interesting statues.
#4) Old Town Schaffhausen (Allstadt Schaffhausen)
Walking in the  pedestrian only streets of Old Town Schaffhausen is a treat for the eyes with all the guild houses, statues and 171 oriels (bay windows protecting out of an upper level for those who don't know what an oriel is – I confess that I didn't until I looked it up).  Old Town Schaffhausen is full of life and one of the cafes is the perfect place for people watching.  I enjoyed my time here very much and was even fortunate enough to stay in Old Town as I was staying with a friend who lived there.  You can stop by the tourist office for a free city map marking all the tourist attractions or download the General Brochure.   The map of Schaffhausen is on page 15.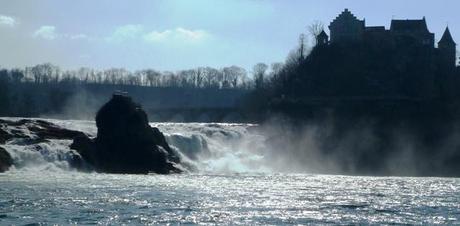 Rhein Falls in Schaffhausen Switzerland, the largest waterfall in Europe.
#5) Rhine Falls
A stop to Schaffhausen would not be complete without a visit to Europe's largest waterfall, the Rhine Falls.  You can take a boat across to the middle rock or a boat to the other side, both of which cost, or you can just enjoy the Rhine Falls from one of many different viewpoints along the Rhine River as we did for free.   The Rhine Falls are beautiful and powerful, but I guess being from Canada when I heard "Europe's largest waterfall" I was expecting something much bigger, perhaps not Niagara Falls, but bigger.   So if you go, expect a really pretty waterfall – just not the most amazing one you've ever seen.
You may also be interested in:
10 Ten Things to See in Odense Denmark
5 Reasons to Visit Strasbourg France
Snowshoeing in Schruns Austria