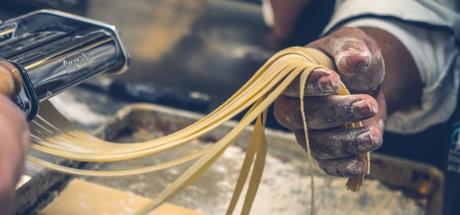 It's not just self-proclaimed foodies who think mealtimes are the most important part of the travel experience. Food is one of the most representative (and mouthwatering) parts of every culture around the world.
And if discovering new and delectable cuisines isn't the main reason you travel in the first place, it will certainly become so after a visit to these top five countries for amazing food in 2020.
1. Greece
Greek food revolves heavily around one thing: olive oil. But not just your run-of-the-mill olive oil. The olive oil here is made fresh from olive trees that have been growing in the country for thousands of years.
It's used for frying the beloved feta cheese to make Saganaki, it's drizzled over greek salads full of fresh tomatoes and onions, and it's essential to the crispy phyllo dough of beloved Greek baked goods like Spanakopita.
On the islands, enjoy a lunch of fresh fish by the beach followed by the beloved local spirits, Ouzo or Tsipouro. For dinner, Pastitsio is a must-try baked pasta dish with ground meat and béchamel sauce.
Need a quick snack on-the-run in Greece? There's nothing quite like a gyros pita, stuffed with fresh French fries and tzatziki.
2. Mexico
Imagine a dreamland where every day was Taco Tuesday. Well, that fantasyland exists and it's called Mexico.
And the most beautiful part about the Mexican food scene? You could spend years exploring it fully. Mexico City is at the top of the world's best cities for foodies for good reason. It encompasses all that is delicious and beautiful about Mexican food. From Michelin-star restaurant Pujol to the taquerias, churrerias, and trendy cafes of Roma Norte.
Beyond Mexico City, explore the state of Oaxaca for the best mole in the world, enjoy smoked fish tacos in Puerto Escondido, and try antojitos from the local restaurants in Tulum.
Mexico: because sometimes the best food is as simple as a corn tortilla and perfectly cooked meat.
3. Thailand
Peanut-y Pad Thai, curries of all colors, spring rolls, fresh papaya salads...
The Thai focus on fresh ingredients. And it shows in their dishes. Even the vegan restaurants of Chiang Mai or the simple sticky rice and mango of Bangkok's food carts still operate at the top of their game. And it's thanks to the fresh fruits, vegetables, and fish bought directly from the farmers selling at street markets or directly from their boats.
Don't be afraid to branch out with your culinary undertakings in Thailand. You don't have to eat the grilled scorpions on Khao San Road, but you might surprise yourself with the exotic meals you enjoy here.
4. Italy
You can find good Italian food in any of the world's big cities, but there's something different about the pizzas and pastas you'll enjoy in the country that made them famous.
Head to Napoli for the perfect pizza. Venture to Umbria for a tagliatelle with fresh truffles. Enjoy a glass of Montepulciano d'Abruzzo with cheese or chocolate in Torino.
The problem with stuffing yourself full of spaghetti in Italy? Not saving room for the insanely mouthwatering Italian deserts. From cannolis in Sicily to the decadent, extravagantly flavored gelato all over the country, Italian deserts give pizza a run for its money. Tiramisu and an espresso after chicken parmigiana? Si, per favore.

5. Japan
Sushi's popularity has skyrocketed around the globe in the past decade, but it's certainly not the only thing on menus in Tokyo or Kyoto. From noodle dishes like Udon and Soba to tofu cooked all ways, Japan is one of the best destinations for vegetarians and meat-lovers alike to indulge.
Yakatori, skewered chicken cooked over a charcoal fire, is simple but delicious. Donburi is a popular lunchtime meal of flavorful fish, veggies, egg, and/or meats served over rice. And when in Kobe, you can't skip the beautifully marbled beef, but make sure to also try the ramen and croquettes in this region.
Where is your favorite food destination?