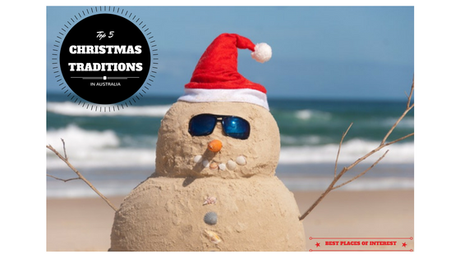 When we think of Christmas, the first things that come to mind are snow-filled Christmas trees with shiny ornaments, warm fireplace, and gifts brought by the fat old man in a red suit and hat. It is not unusual to associate Christmas with white, winter snow - unless you're in Australia.
I find it awkward to sing "Let it Snow" or "White Christmas" in Australia, for Christmas in the Southern Hemisphere takes place during summer. Australian's Christmas is when we watch Santa surfing in the best of beaches and the traditional hot roast dinner by the fireplace is replaced with cold turkey and "Barbie" by the beach.
Aussies' Christmas may not be as cold as the holiday season of the rest of the world, but the need for warmth from the presence of families, friends, and other fun and outgoing personalities remain.
If you are visiting Australia for a warm, unconventional Holiday season, here are special Australian traditions and destinations you shouldn't miss.
Australian Christmas Traditions
Carols by Candlelight is a Christmas event unique to Australia. It's a wonderful time of the Christmas Eve when people come out of their homes, gather outdoors, and sing and listen to beautiful harmonies of classic Christmas carols while holding candles.
The tradition of the Australian Christmas Eve carol service lit by candle lights began in 1937 in Melbourne. Today, it has spread far and wide. Carols by Candlelight today ranges from the smaller local community and church events to huge gatherings which are aired live throughout the country.
Aside from hanging wreaths and decorating with Christmas trees and Christmas light displays, families adorn their homes with ferns, evergreens, palm leaves, and summer blooms such as Christmas bush and Christmas bellflower.
Unlike most countries whose holiday feasts take place at night, Aussies' highlight of the day is the holiday midday dinner. Families gather during lunch time to share a traditional British Christmas dinner of roast ham or turkey as well as rich plum pudding doused in brandy.
Other families head to their backyards, beaches, and country sides to grill their meals. Aussies call it "barbie", or the Australian slang for the barbecue, often comprised of meat and fresh seafood. Some families also prefer a cold Christmas dinner of cold turkey or ham, and salad.
Gift giving doesn't stop after Christmas. Australia celebrates "Boxing Day" every December 26 to honor the country's hardworking servants and tradesmen. These workers traditionally receive gifts not only from their masters and employers but also from their customers. The gifts (Christmas Boxes), which may include tips, are presented as a way of thanking them for their labor in the past year.
"Father Christmas" is the traditional English name for the personification of Christmas - and the whole world calls this big, bearded bringer of presents in red suit "Santa Claus."
Since Aussies celebrate Christmas in summer, which is the opposite of the rest of the world's cold and snowy Christmas season, it's not unusual for Father Christmas to show up in shorts and flip-flops. During Christmas time, men dressed in Aussie-inspired Santa Claus costumes greet children at the beach, wearing slippers, red trunks, and red signature hat.
Stay tuned for Top Australian Christmas Destinations
Author:
Carmina Natividad is a writer who has always been passionate about giving in to her wanderlust and collecting mementoes from different places. She also enjoys writing for Holiday Inn, a modern hotel in Western Sydney known for their exceptional accommodation, service, and location, which appeals to travellers in Australia.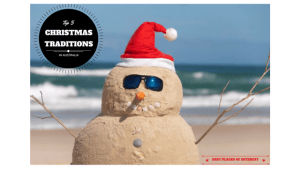 Pin it for later!
Top 5 Christmas Traditions in Australia was last modified: by