Real men know how to party well and they do not need a specific reason to do that either. Whether it is the big game tomorrow night or their bestie's birthday, all they know is to have fun and party hard. Recently, I went to a birthday bash with my brother. It was his friend's happy birthday party and one of the most happening night I have ever attended. From the ambiance to the cuisine and drinks, everything was just perfect to set you in the mood.
However, what did not understand was that the guys were not dressed for the occasion. They were dressed too casual for the event. These adrenaline-pumping moments take you away from the stress of your regular life and rejuvenate your body to face the world in a better way. I believe that the following men's fashion articles are a must-have for all the party freaks.
Graphic T-Shirt with denim: A bright colored graphic t-shirt with denim the simplest combination to be worn at any party. Well, every guy has a t-shirt which is bright, with a hearts or kisses or even floral print that will set the mood of the party. The best part about this combination is that you'll feel comfortable and can enjoy to the best of your ability. You can wear accessories like a leather bracelet and casual shoes with the same. Make sure you wear low waist men's underwear to prevent showing it to others.
Coat suit and trousers: If you are someone who's looking for a getaway from jeans pants, this is the best combination for you. A single-breasted coat will be able to keep you comfortable and looking different from the others. You can team it up with a contrast colored tee and a pair of Chino trousers or khakis. They are meant for the summer months and will not play any hindrance while you dance to the grooviest of the songs. This look will be your ideal one when you seek something casually formal.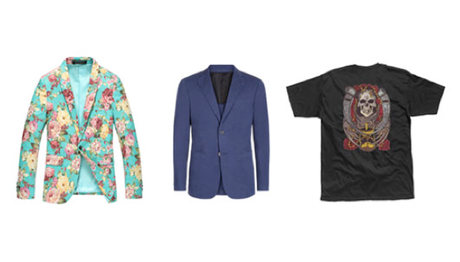 Floral Suit: Did someone just say that floral prints are for women? Hell no! If you are a fashion lover, you must know that floral prints are a must-have for every man this summer if you go with the trends. However, when it comes to incorporating something that is floral and very masculine (together), some men can go very wrong while doing it. Men who have a strong dressing sense with the ability to carry off the look with ease are the ones who should try them. Without going too loud and feminine, look up at a store with floral suits from which you can choose for yourself. One step wrong, the whole attire will come down, but if you take it right, you'll be the fashion icon of the night my friend.
Theme party looks: Well, this is my personal favorite and limited to the best friends group. When the mood is not to go anywhere and stay up all night having fun at home, themed parties are the best. You can dance till you drop and do whatever you want in those comfy and pieces. You can also have costumes like the ones available from brands like Candyman and Miami Jock. After all, it's a guy party and you can have all the fun you want.
Are you planning a party with your friends? Do adopt a style from the above and you'd be rocking through the night.
Comments
comments