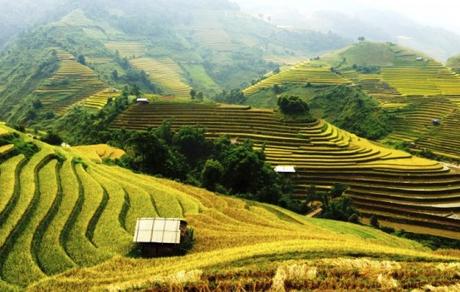 There aren't many places that offer a unique variety of adventure and relaxation, but there are a few - and they are so, so worth the trip. From famous sandy surfing beaches and terraced rice fields to amazing waterfalls and monkey sanctuaries, Bali has something to offer everyone. B ali , just one of more than 17,000 islands on the Indonesian archipelago, is located very close to the equator has a perfect climate for outdoor adventures. There are a plethora of options when visiting this picturesque area of the world, and here are three absolutely can't-miss things to do on your next visit to Bali:
Cliff Jump Near the Aling-Aling Waterfall
If swimming in crystal clear pools underneath 100-foot waterfalls sounds like your version of paradise, a visit to the Aling-Aling Waterfall is an absolute must! Located in the Sambangen Village area, the Aling-Aling waterfall is just one among six smaller waterfalls worth setting your sights on. To enjoy it best, come prepared with walking shoes (and be careful on the slippery rocks!), a bathing suit and towels. While you can't jump into the 100-foot waterfall, you can find a guide who will show you as many as four other waterfalls just downstream where you can slide down the fall like a waterslide or go for some cliff jumping. For the adrenaline junkies out there, there's a 40-foot cliff jump calling your name!
Bathe in the Holy Waters at Tirta Gangga
Following the adrenaline rush acquired by cliff-jumping and waterfalls, the Tirta Gangga water palace is exactly what you need to relax. Surrounded by large number of lush rice paddy terraces in the area, you'll partake in a feel of real royalty among the 11-tiered fountain and the many alluring, artistic statues. Keep your bathing suits and towels handy for your trip to Tirta Gangga because you can swim in a pools that, as legend has it (and local guides will be sure to tell you), are filled to the brim with holy water. If you're inclined to do some exploring through nature, you may also want to bring a change of clothes, as there's some scenic hiking in the area, too. Whatever you choose, you can't help but walk away from the palace feeling at least a little more zen.
Monkey Around at the Sacred Monkey Forest Sanctuary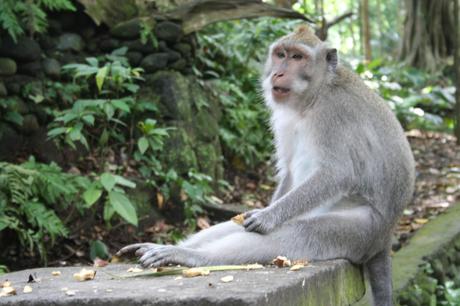 Home to three Hindu Temples, a visit to the Ubud Monkey Forest is an unforgettable opportunity to interact and play with the Balinese long-tailed monkey . These curious creatures will go through your pockets in search of gum or candy or really anything they can get their little paws on! Bananas are sold to tourists looking to feed the monkeys, but the park staff recommends to never pull back once you have offered food because, in that case, the monkeys can get aggressive (and then it wouldn't be much of a sanctuary at all!). A trip to the sanctuary will get you a first-hand look into the monkeys' daily life, including grooming, mating and fighting habits - it all takes place right in front of your eyes and is truly a memorable experience! We recommend booking Bebek Tepi Sawah, which is less than two miles from the Forest, via .
With so much to offer, Bali is sure to appeal to the longings of every traveler. In addition to these must-see sights, you'll find sun, sand and the sweet taste of Island life right at your fingertips!