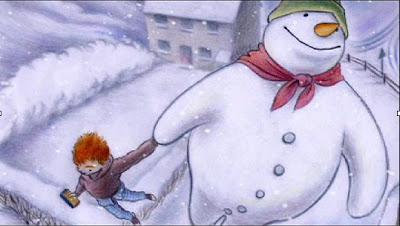 Don't look down: The Snowman
This is a commercial post, after all Christmas is coming. 
Christmas films provide the ideal entertainment over the festive period. A good festive movie will never fail to have the kids enthralled, leaving time for parents and adults to enjoy a glass of mulled wine in peace! Don't wait until Christmas Day and instead stock up now on seasonal DVDs to keep children entertained and content, and divert impatient excitement for the big day.
Why not de-clutter your home before making any new purchases, by sorting out unused items and selling stuff online? Brave that overflowing DVD cabinet and hunt out old or unwatched films, head to a site like Music Magpie and, once posted off wait for the money to come in! This extra cash will then come in handy for stocking up on vital Christmas entertainment for your kids. Some festive films are decidedly better than others, so if you're not sure where to start, begin with our pick of the top 3.
3. Elf
An ideal option if you have children (or hosting those of family and friends) of different ages, as this comedy is guaranteed to squeeze laughs from youngsters and teens alike. Starring Will Ferrell and Zooey Deschanel, this smartly-written story follows a human being adopted by elves, who returns to the real world to seek his father. After leaving the North Pole, he ends up in a department store working in a grotto alongside love-interest Deschanel. Set in New York, the film is well-acted and closes with an all-importance of Santa, who appears in a broken-down sleigh in Central Park.
2. Arthur Christmas
Released earlier this month,
Arthur Christmas
is a cute film with all the elements of a Christmas classic. Produced by
Wallace and Gromit
creators, Aardman Studios, the animated hit features the voice talents of Brit gems including Bill Nighy, Imelda Staunton, Jim Broadbent and Hugh Laurie amongst others.
Many kids are puzzled by how Father Christmas is able to deliver all his presents on such a tight schedule, and it is just this query which is tackled in
Arthur Christmas.
Gadget-loving kids will be pleased to know that this is possible through high-tech and precision planning, though Santa's work is thrown into disarray in the film, when one girl's present remains undelivered.
1. The Snowman
This film may be a classic, but it has been re-released this year to celebrate its 30
th
anniversary. Based on the children's book by Raymond Briggs, the beautifully animated tale is heartwarming and heartbreaking in equal measure! Children who've missed this film so far will be enthralled by the gentle storytelling and will no doubt be (attempting!) to sing the famous 'Walking in the Air' for days to come.
TV offerings can be unpredictable over the festive season, so make sure you get some peace and quiet and keep the kids entertained with a top Christmas film.