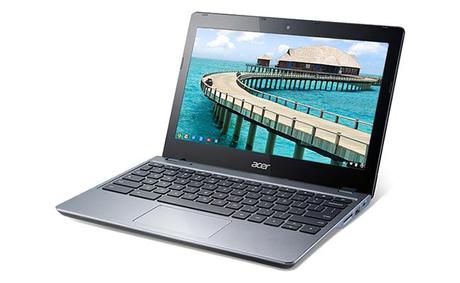 With a wide range of laptops available in the market it indeed becomes difficult to choose the right and appropriate laptop. There are numerous factors that need to be considered for choosing the best laptop. But since today almost every laptop is more or less similar with respect to features, design, utility, etc… making the final choice becomes all the more confusing. Hence, this article will give deep information of best 25 Laptops that can be considered for purchase intent.
Top 25 laptops for everyone:
1. Acer C720 Chromebook: There is no doubt for this laptop being the most affordable and budget oriented Chromebook for one and all. If you are only using laptop for basic Microsoft software, surfing sites and Youtube clips then this laptop is just for you. With 1.40 GHz Intel Celeron processor and battery life of 8.5 hours, makes it a great choice for a basic affordable laptop.
2. HP Chromebook 11: Light weighed, strong and stylish best defines this laptop. HP has smartly placed the features well in budget maintaining the focus on the aesthetics.
3. Asus X102BA: Bundled with surprising features and light weighed aesthetic, Asus X102BA is quite an ideal one to choose from. Easy to carry and operate, this laptop can be well operated even by a layman.
4. Acer Aspire V5: With a resolution of 1366 x 768, the display is quite attractive for the viewers. A stylish and well affordable laptop becomes a great choice for the youngsters.
5. HP Pavilion 15: HP launched this laptop specifically in red color. To flaunt a sporty look, this laptop has been aimed for people who are young.
6. Asus V550CA: Asus V550CA is a great example of balancing power with price. The laptop is nothing new for the generation today. It is a simple laptop with great storage, web browsing and casual gaming.
7. Lenovo G500s: A great laptop for daily purpose. Packed with great features, battery backup, storage and processor, Lenovo G500s is simply great for carrying it for office work as well as using it at home. It is ideal for youngsters, office goers, etc… for all.
8. Lenovo IdeaPad Z500 Touch: An all rounder laptop with excellent features and specifications for one and all. Well in budget and handy for all this laptop is ideal to own.
9. Lenovo Yoga 11S: The name itself denotes flexibility. The laptop can be folded with great ease. It is versatile and a mixed bag of all the features.
10. Microsoft Surface Pro 2: The laptop comprises of latest OS Windows 8.1 OS which has the latest processor Intel Core i5. Surface Pro 2 has been drastically improvised on features and performance.
11. Asus Transformer Book TX300: This piece can be easily transformed to Tablet. An easy way to detach it from the keyboard, can be carried anywhere anytime.
12. HP EliteBook 820 G1: A powerful and sturdy laptop with latest processor, memory and specifications is great in rough and tough situations.
The remaining Laptops are Fujitsu LifeBook E743, Toshiba Satellite P70, Samsung Series 7 Ultra, Dell XPS 13, 13 Inch MacBook Air, Samsung ATIV Book 9 Plus, MacBook Pro 15 inch, Lenovo ThinkPad Yoga, Alienware 14, Gigabyte P25W, Asus G750JX, MSI G570 Stealth and lastly Razer Blade.