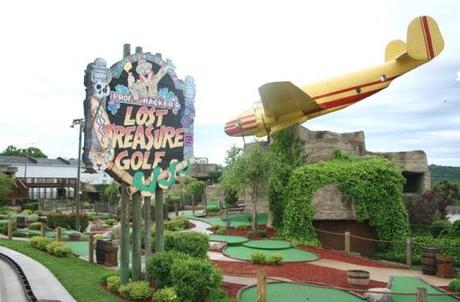 Top 10 Unusual Crazy Golf Courses
While I have never play real golf (and probably never will) I do love a quick game of mini golf. Some are themed, some courses are crazy and some are too bizarre for words. So grab a score sheet, pencil, putter and a golf ball and join me as we travel the world looking for…
Top 10 Unusual Crazy Golf Courses
..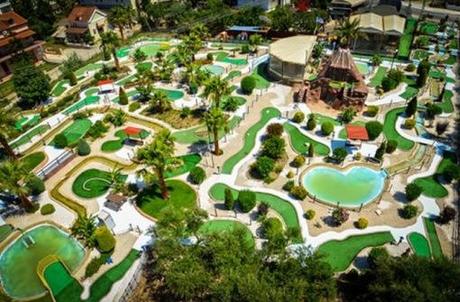 Virtual Zakynthos Fantasy Mini Golf Zante
10 – Greece
If you are looking for a true round of adventure golf then you need to have a round at the Kalamaki Crazy Golf course. With 36 holes featuring waterfalls, running streams, gardens, ponds, rivers, fountains even an erupting volcano! This is a movie experience more than a round of golf.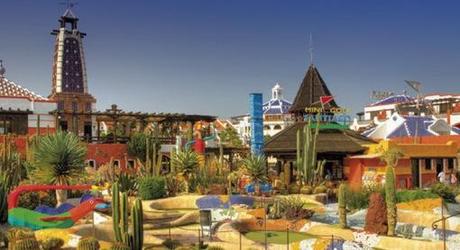 Parque Santiago Mini Golf
9 – Spain
One of the only dessert themed mini golf course in the world, but also one that millions of people have played on and enjoyed. With colourful mosaic lined pools, streams and real cactus plants, this is a tricky course if you end up in the rough.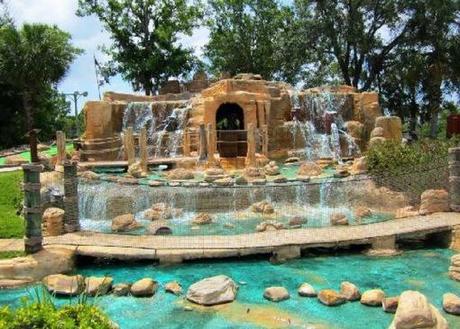 Pirate's Island Adventure Golf Kissimmee
8 – USA
While there are several Pirate cove themed mini golf courses located all over the world I can safely say that this is one of the best, because I have had the pleasure to play on it! The pirate style theming is amazing and every turn seems to bring about something new. Add to that you can keep the crocodiles as well. (Yes, real ones!)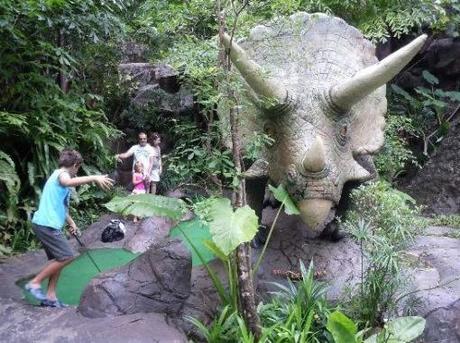 Dino Park Mini Golf Phuket
7 – Thailand
I am truly surprised that there isn't a lot more Dino/Jurassic Park themed mini golf courses out there. But this one located in Thailand will do for now because it does feature over 50 dinosaurs and attractions which does sound like a lot of fun.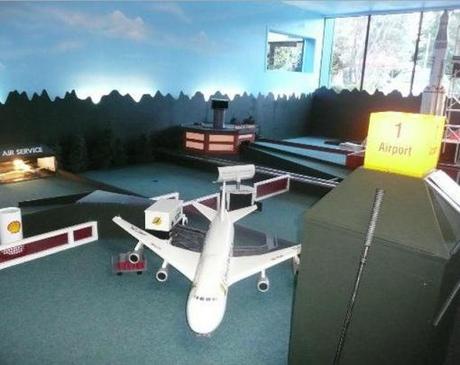 Caddyshack City, Christchurch
6 – New Zealand
Featuring a entire airport, church, docklands, theme park  and many, many other city themed buildings sounds like a good round of crazy golf to me, and the only one in the list from New Zealand.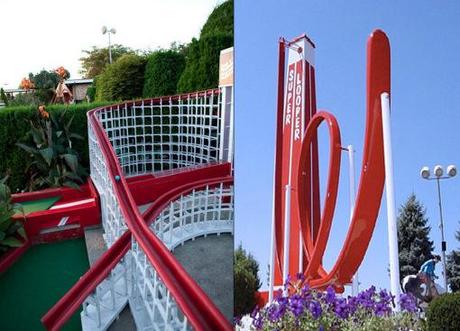 Par-King Skill
5 – USA
There are quite a few mini golf courses in this list that are part of a theme park. Then there are those that ARE the theme park. And that is where Par-King Skill
, Illinois comes into it. Featuring a elaborate roller-coaster hole made out of over 750 wood pieces, and a Sears Tower hole, rotating holes, a roulette hole and a loop-de-loop! Crazy golf indeed.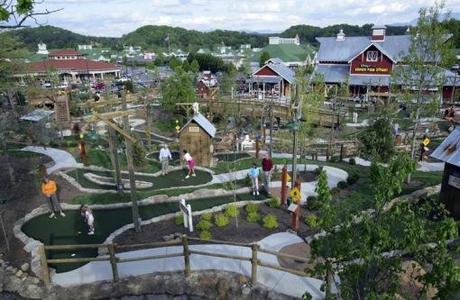 Ripley's Old MacDonald's Farm and Mini Golf
 Sevierville, Tennessee
4 – USA
Featuring farm animals, out houses, crops and wells this is as classic American farm as you are going to get while playing a round of golf. For the little ones this can be a welcome break from all the more adventurous thrill rids on the park.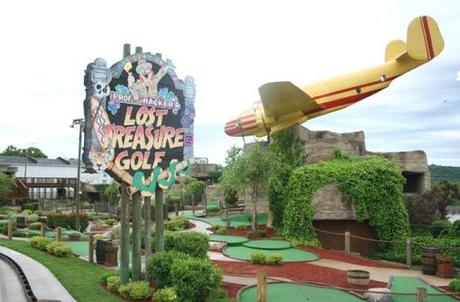 Professor Hacker's Lost Treasure Golf
3 – USA
Featuring some of the biggest props seen outside of a Hollywood blockbuster this is one lost treasure that is a big adventure from start to finish. Just make sure not to hit the golf ball into the waterfall!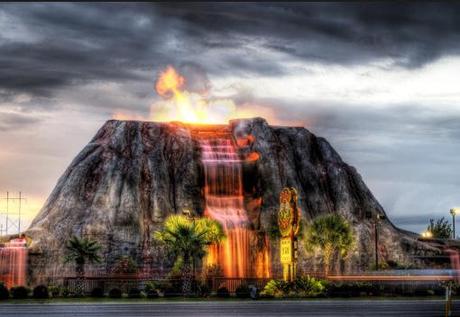 Molten Mountain USA
2 – USA
Not only does this crazy gold course have the exterior look of a volcano, it also erupts every 30 minutes! With flames and fireballs going up to 50 feet in the air, when the volcano erupts rocks fall around you and there is even a par 3 hole that challenges you to hit the ball over a lava stream! Now that is extreme. But of course it is not real lava, just orange coloured water.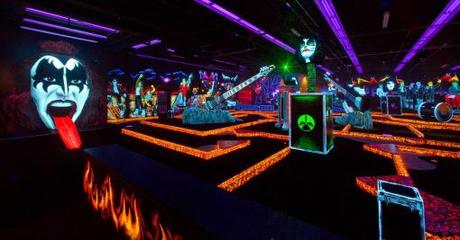 Kiss Mini Monster Golf
1 – Las Vegas
We have seen some rather unusual mini golf courses to say the least, but this has to be the worlds strangest and most unusual by far. Themed around rock 'n' roll band Kiss this glow in the dark course contains everything you need for a round of golf to remember.