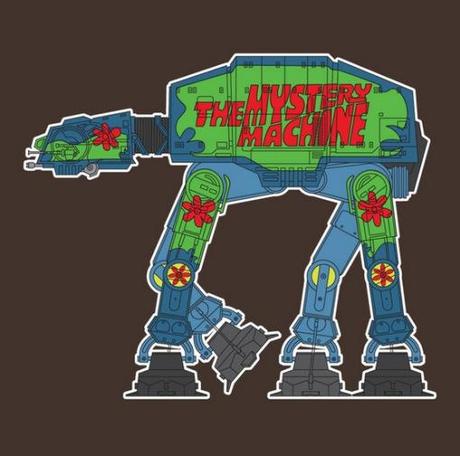 Top 10 Unusual AT-AT Star Wars Walkers
Everyone loves a AT-AT walker! But it seems a lot of people find them a little plain looking. So several different cartoon and digital artists have decided to add a theme to them as well. From dukes of hazzard to Dr Who, they might be a nerd mash-up but I love them…
Top 10 Unusual AT-AT Star Wars Walkers
..
PLEASE DO CLICK ON THE IMAGES BELOW TO SEE THE REST OF THESE ARTISTS WORK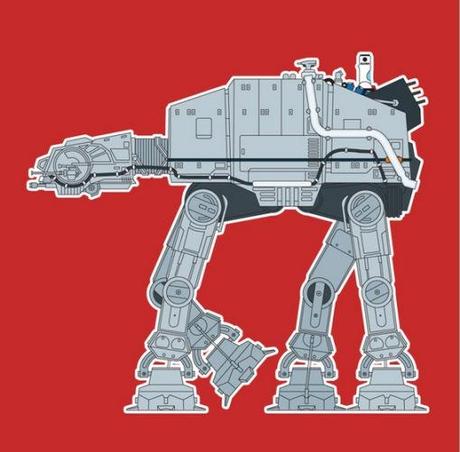 Back to the Future: DeLorean Themed AT-AT StarWars: Walker
10 –DeLorean
You will soon discover that most of these are made by an artist called Seven Hundred, and he or she doesn't sell them as art, but as crazy t-shirt designs. At first it is hard to work out the theme attached to this AT-AT until you reconise the back section from a DeLorean on top of it.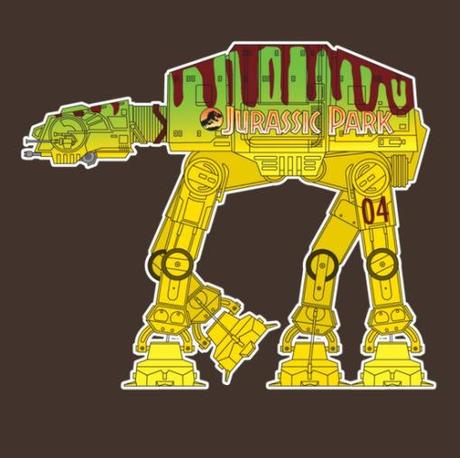 Jurassic Park Themed AT-AT StarWars: Walker
9 – Jurassic Park
Often with the designs made by Seven Hundred you will discover that it is themed around iconic vehicles at the same time the original Star Wars film was released. So 80's/90's or there about. So that is the reason of the theme of this Jurassic Park one, and worthy of noting is the number on the AT-AT's leg that is the same as the car Alan and team were in.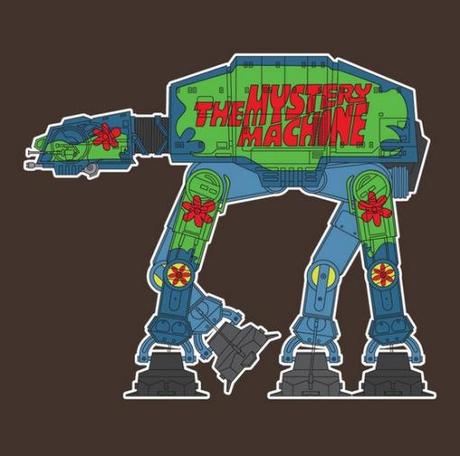 The Mystery Machine: Scooby Doo Themed AT-AT StarWars: Walker
8 – The Mystery Machine
This has to be one of my own personal favourites from Seven Hundred. It takes the silliness of the Scooby Doo universe and turns an otherwise menacing ATAT into a walking hippy!  And the flowers on the knee joints are just a great added bonus.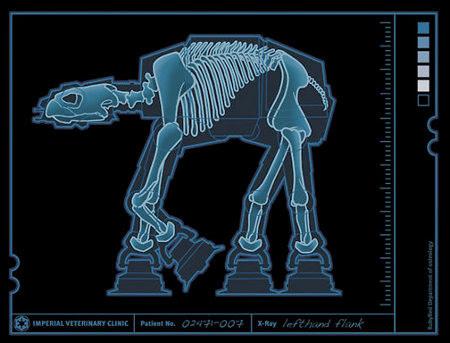 X-Ray Themed AT-AT StarWars: Walker
7 – X-Ray
This is the first one of two that are not made by Seven Hundred. Sadly I couldn't find out who made it which is a real shame as it is really good. But dare I say it is also slightly creepy and would have made for a better reason the machines only walk.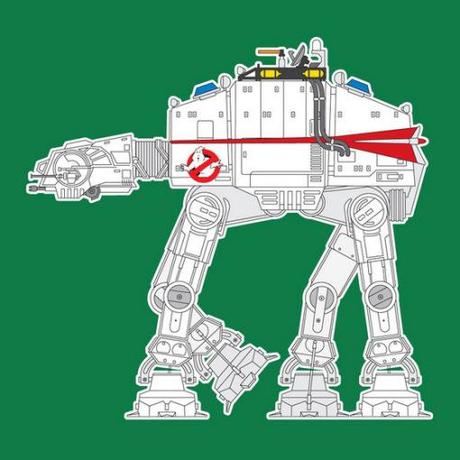 Ghost Busters Themed AT-AT StarWars: Walker
6 – Ghost Busters
Not much of a color change here, but the overall theme is very apparent. I really couldn't see the Ghost Busters using this as it would have taken them ages to get to the location of the ghost! By then all chaos would have broken out and the ghost long gone. But it might have made the film even funnier.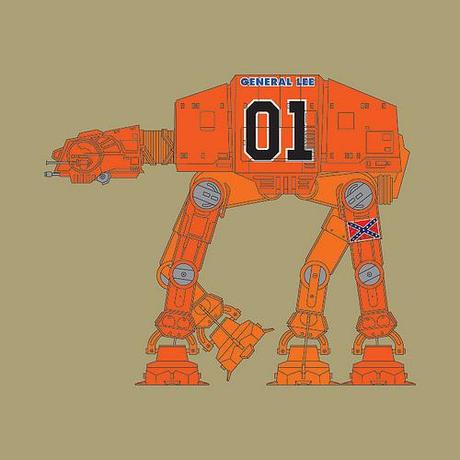 General Lee: The Dukes of Hazzard Themed AT-AT StarWars: Walker
5 – General Lee
Once again made by Seven Hundred this dukes of hazzard themed one makes the AT-AT look rather weird in bright orange, and you are hardly going to see a walker jump over cop cars and rivers. But it would have been funny to watch the Sheriff try and bash it down using his cop car.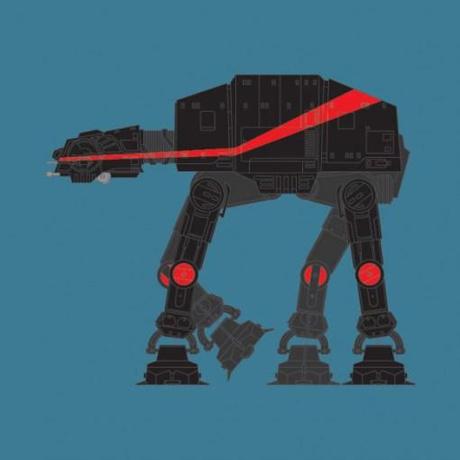 A-Team Van Themed AT-AT StarWars: Walker
4 – A-Team Van
I pity the fool who makes a walker in the theme on my A-Team van suckers! But in reality I think Mr T would love this AT-AT. This is one of the few walkers where the paint job actually seems to suit the AT-AT. Even the red streak has the ability to make it look even more menacing.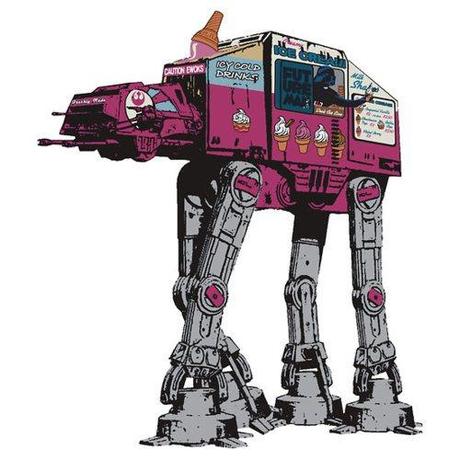 Ice Cream Truck Themed AT-AT StarWars: Walker
3 – Ice Cream Truck
Original made by Chunk clothing this is the 2nd art work that is made by someone other than Seven Hundred. It has an almost Banksy style to it and wouldn't look out of place on the side of a building somewhere.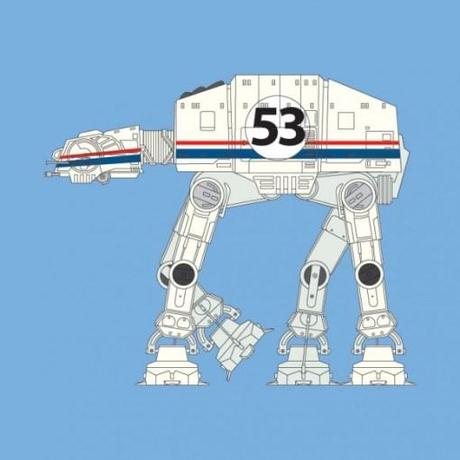 Herbie Themed AT-AT StarWars: Walker
2 – Herbie
This for me was a strange one. Because I instantly get the Herbie (The Love Bug) theming, it doesn't seem to make the walker any less scary! It just goes to show that is was the original VW Beatle shape that made Herbie cute, not his colours or theme.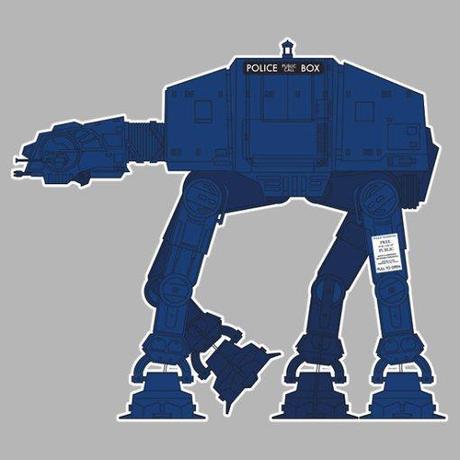 Dr Who Themed AT-AT StarWars: Walker
1 – TARDIS
The TARDIS normally gives out a safe feeling about it. (it is a police box after all.) but when you theme a AT-AT in the same style suddenly it looks even more scary than it was before! Not only can it squash whole army's it can now teleport through space and time! The Dark Lord would approve that is for sure.