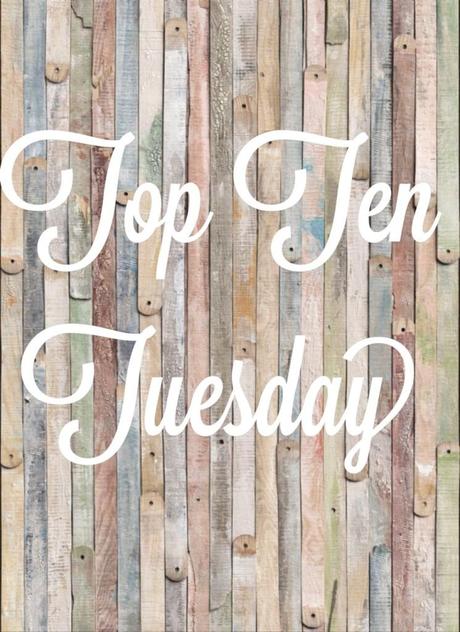 Once again we are here for another installment of "Top 10 Tuesday" as prompted by the wonderful bloggers at The Broke and the Bookish.  This week we're doing our Top 10 Books on our TBR (bookworm jargon for to-be-read) list.  This list was super easy for me to make because now that we're through the  bulk of the post-comic-con craziness of all the reviews and giveaways I can concentrate on my growing pile of books!  Also, the 2013 October's Month of the Macabre is just around the corner and I can't wait to start all these great horror books that we're going to feature.  So, you can also look at this as a mini-preview of some of the books 2013 OMM will hold

 Let's get started! All the link will go to the book's Goodreads page:
1.  Antigoddes by Kendare Blake
I had the immense pleasure of meeting Ms. Blake at Comic Con this year but unfortunately they ran out of ARCs of this exciting new novel!  So I am waiting for the release and it's killing me, can't wait to get this one in my hands!
2.  Siege and Storm by Leigh Bardugo
So I forced myself to wait until I could meet Leigh at Comic Con again this year to get a signed copy of Siege and Storm and it's STILL sitting on my TBR pile just waiting for my life to slow down enough for me to pick it up!
3.  In The Shadow of the Blackbird by Cat Winters
I bought this one from the publisher's booth at Comic Con simply because even just the synopsis freaked me out, and I'm hard to scare.  I love being scared, it makes the pages fly by.  Seriously, click on this book and read the synopsis!
4.  Veronika Decides To Die by Paulo Coelho
My dear friend Jen (she guest-reviewed once for us here!) bought this for me last Christmas because the amazing Sarah Michelle Gellar (always Buffy in our hearts!) was in the film version. I always have to read the book first and this one's been calling my name.
5.  The Spectacular Now by Tim Tharp
Seriously, have you seen the previews for this movie?  The marvelous Shailene Woody is in it and I really want to see her flex her acting chops if she's going to be Hazel from The Fault in our Stars and Tris from Divergent.  Again, I have to read the book first.
6.  Beautiful Ruins by Jess Walter
I'm doing this one for a book club!  I've never participated in a Book Club before so I'm really excited about it.  The meeting isn't until the end of September so I'm saving this one until right before so that it's fresh in my mind.
7.  Miss Peregrine's Home for Peculiar Children by Ransom Riggs
I've heard nothing but great things about this book and I will never forgive myself for not seeing Ransom Riggs earlier in the weekend at Comic Con because I waited until Sunday and by then they were ALL OUT of his book. Sigh.  Hopefully I see him again somewhere and I can get it signed!
8.  Altered by Gennifer Albin
I previously reviewed Crewel here and I'm really interested to see where she takes the story.  This title doesn't come out until October 29th but I got an ARC at Comic Con (signed too, not to brag or anything) so I'm hoping to get to it soon and I can share my opinion a little early!
9.  Doomed by Chuck Palahniuk
I previously reviewed Damned here and I was one of the last people in line to at Comic Con to get an advanced copy of Doomed, the sequel.  It doesn't come out until October 8th but this is another one I'm hoping to get to in the next few months.
10.  Under the Skin by Michael Faber
So maybe this is a little lame but have you seen the trailer for the movie version of this?  Someone we follow on twitter tweeted it out and it gave me the creeps.  So of course, I need to go pick up the book and give it a whirl.  If you haven't noticed yet, I like reading books before they become movies!
So now comes the best part: I want to see what's on your TBR list!  Share below in the comments: