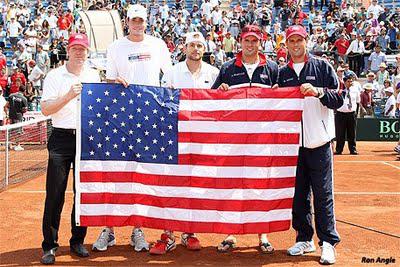 U.S. Davis Cup Team
I'm off to Austin for Davis Cup this weekend. Hooray! But the truth is - I don't know my Davis Cup rubber from my Davis Cup tie. And I'm pretty sure I don't know what a dead rubber is or why I should care about it. I just know it sounds like something I don't want to get within 10 feet of.
So, to make sure that both you and I can impress our tennis pals with our encyclopediac knowledge of tennis trivia and we can get this Davis Cup stuff straight once and for all, I've put together this quick and easy list of Top 10 Things To Know About Davis Cup. Give this list a once over and you'll know as much about Davis Cup as I do and possibly we'll be playing our own dead rubbers in no time.
1. The Davis Cup is the top international men's team tennis event. It is run by the International Tennis Federation and consists of teams representing their countries competing against each other in both men's singles and doubles.
2. The first Davis Cup tournament, held in 1900, pitted the United States against Britain and was played in Boston, Massachusetts. The United States won (yay!).
3. The tournament was initially called the International Lawn Tennis Challenge but soon came to be known as the "Davis Cup" after the trophy made for that first tournament, paid for by one of the American players - Harvard University student Dwight Davis.
4. Right now, there are four "groups" into which the Davis Cup teams are split. The top 16 teams are in the World Group and this includes the USA and Spain (which are playing this weekend in Austin!). The remaining teams are spread throughout the Zone Groups - the Americas Group, the Asia/Oceania Group and the Europe/Africa Group. Within each of those Zone Groups, are numbered groups with Group I being the highest-ranked teams and Group IV being the lowest. So a lot of groups - got it?
5. Okay - here's the part that most people don't get (including me) - the structure of Davis Cup play. The 16 World Group teams play and 8 of them win. Those 8 go on to play the quarterfinal, semi-final and final matches for the Davis Cup championship and are all guaranteed a spot in the next year's World Group.
6. The 8 World Group losing teams and the Zone 1 winning teams play each other for the 8 other spots in the next year's World Group.
7. Now, when teams play each other, those rounds are called "ties" and the matches played in a tie are called "rubbers." So a tie consists of five rubbers played over a 3 day weekend - two singles rubbers on Friday, doubles on Saturday and reverse singles on Sunday. Reverse singles means the singles players from the first day play again but they swap opponents.
8. A team has to win 3 out of 5 rubbers to win the tie. If a team wins the first 2 singles rubbers and the doubles, the third day rubbers are called "dead-rubbers." If those dead-rubbers are played, the captains may substitute in some of their lower ranked players to give them Davis Cup experience.
9. The format of play in a rubber is usually best of 5 sets, with tiebreakers played in the first 4 sets but no tiebreaker in the fifth - players keep going until one side wins by 2 games (just like Wimbledon!). In dead rubbers, teams may agree to play best of 3 sets with tiebreakers.
10. Finally, the winningest Davis Cup team is the United States!
You now know as much about Davis Cup as I do and we both know all we need to know for me to understand what's going to go on this weekend. I'll be watching the United States vs. Spain quarterfinal tie and, while I hope the United States wins their first three rubbers, I'd rather not have to watch dead rubbers on Sunday. But if I have to force myself to watch dead rubbers, I will (now there's a sentence I never thought I'd write). Stay tuned for more Davis Cup news!
All of my Davis Cup information comes from the Davis Cup website - www.daviscup.com - and  the Davis Cup Wikipedia page - http://en.wikipedia.org/wiki/Davis_Cup. Go to both of those sites for more great Davis Cup info.

© Kim Selzman 2011 All Rights Reserved