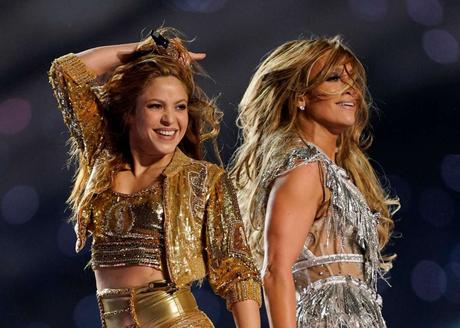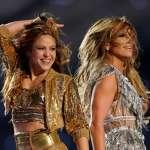 There are some strange twists and turns in the hall of records for Super Bowl halftime shows. It starts, as you might expect, with marching bands in the 1960s. But then somewhere along the way, Disney caught a whiff of a marketing opportunity (see: 1977 and the It's a Small World themed halftime show), and Hollywood was quick to follow. But even within that capitalism-driven progression, there are anomalies, unanswered questions; an Elvis impersonator, Mickey Rooney, 88 grand pianos, and Brian Boitano and Dorothy Hamill (yes, the ice skaters). In comparison, the pop stars of the 90s onward are a bit of a letdown, but here are the top ten.
Beyonce and Destiny's Child
Super Bowl XLVII, 2013
Obviously. What more can we say except reuniting Beyonce and Destiny's Child at any point skyrockets the event to epic proportions. There's a guitar with flames shooting out of it at one point. Queen Bey is a dynamic performer on her own, who eats venues like the Super Bowl and Coachella for breakfast. She's a global superstar for a reason. Still, when Kelly Rowland and Michelle Williams launched on stage (literally), no other halftime performance stood a chance in this top ten.
Prince
Super Bowl XLI, 2007
There's legendary, and there is legendary, and Prince playing Purple Rain in the Miami rain is the latter. Regardless of the weather, it's one of the best Super Bowl Halftime performances in the event's history.
J.Lo and Shakira
Super Bowl LIV, 2020
It was just a year ago, but it feels like a lifetime when J.Lo and Shakira tore up the halftime stage before COVID became our worldwide reality. Shakira opening her performance with She Wolf certified it as a bop. We'll hear no more discussion on the matter. If you want to feel miserable about the COVID-19 lbs you've gained, J.Lo was 50 during this performance.
Lady Gaga
Super Bowl LI, 2017
Gaga dove off the top of the stadium? Right into Poker Face and a bunch of deep cuts, the effect of which was an entire stadium full of people belting out her songs along with her.
Jessica Simpson, Janet Jackson, P.Diddy, Nelly, Kid Rock, and Justin Timberlake
Super Bowl XXXVIII, 2004
Sure, it's 2004, but it looks and feels like half a century ago. Remember when Jessica Simpson was a pop star? Come for the wardrobe malfunction, but stay for the aughts fashion. There's Janet Jackson's pirate-inspired ensemble–complete with tattered wedding dress train over trousers. And Kid Rock's American flag poncho, for starters, but don't miss that Justin Timberlake showed up in khakis and a t-shirt.
Michael Jackson
Super Bowl XXVII, 1993
People vaulting onto the stage at the halftime show will never not be a delight. Is it just us, or does everything look smaller back in 1993? The field, the stage, the entire production, it's all just a lot more quaint than the behemoth it is these days. There are some sparklers, some lighting changes, but mostly, it's just Michael performing (plus a marching band or two).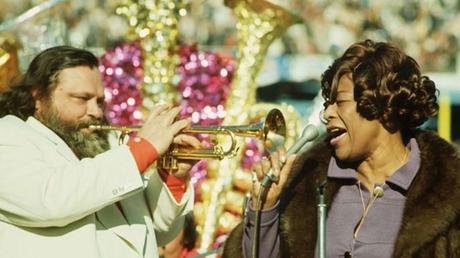 Ella Fitzgerald and Carol Channing
Super Bowl VI, 1972
The very first halftime shows, for the first five Super Bowls, were all marching bands. Ella Fitzgerald was the first jazz musician and the first Black woman to perform. The theme that year was a tribute to Louis Armstrong. Fitzgerald performed Mack the Knife alongside the bandleader and trumpeter Al Hirt. It was a different time, but you have to imagine that performance was revolutionary to those marching band loving nerds.
Aerosmith, NSYNC, Britney Spears, Mary J. Blige, Nelly
Super Bowl XXXV, 2001
MTV produced two Super Bowl Halftime shows; this is the first. The second included the Janet Jackson wardrobe malfunction and effectively ended their relationship with the NFL (for disrespecting the institution). Watch the opening halftime skit, starring Ben Stiller, Adam Sandler, and Chris Rock, and it seems like the NFL had a point about the lack of respect. The vocal performances are weak and lackluster, but Mary J. Blige and Britney's weird arm sock earned a place on this list.
Super Bowl XLIX, 2015
I mean, Katy Perry kicked off the show by riding a giant metallic tiger across the field. And we met Left Shark–potentially the cure for imposter syndrome we need. Plus, Missy Elliott seemed as excited to see all of us are we were to see her. It wasn't a mind-blowing show, but we're nostalgic for the innocent exuberance of the prior decade.
New Kids on the Block and Disney
Super Bowl XXV, 1991
We were without cynicism in the 90s. First, watch this performance and say that NKOTB isn't the ultimate word on boybands until BTS.
Featured Photo Credit: The Australian on Facebook