Buzzfeed is an extremely popular news and entertainment portal which keeps the audience hooked with amazing contents. If you are impressed with Buzzfeed and want to explore more sites like BuzzFeed, read this article till the end.
The Internet is vast and there are a variety of amazing things out there. And it's virtually impossible for any news and entertainment websites to cover all the contents trending on the internet.
Buzzfeed is indisputably one of the frequently updated websites.  And it indeed offers visually appealing and worth sharing contents. If you are seriously bored of life, Buzzfeed can keep you busy for hours with the interesting videos, stories, jokes and super amazing contents.
So definitely Buzzfeed is popular for pretty obvious reasons. But if you have got too much time to kill, why to stick around to just one entertainment website? That too when we have several other options available?
In this article, we will walk you through a list of top Buzzfeed alternatives which you explore when you are bored. These websites provide news, entertainment, and viral contents just like the Buzzfeed.  Let's get started.
Top 10 Sites Like Buzzfeed
Below are the top 10 sites like Buzzfeed which more or less, offers the similar contents and are big companions to Buzzfeed. Some of the web sites are even more popular than Buzzfeed itself. So let's go ahead and figure out which are those websites!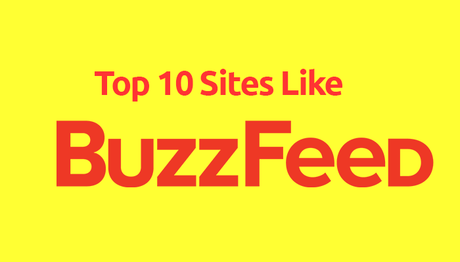 1). Reddit
Website: https://www.reddit.com/
Reddit needs no introduction. It's one of the extremely popular news aggregation and entertainment website. Any viral news, interesting story, video or anything similar that's there on the internet is on the Reddit.
In different words, you can call Reddit a front page of the internet. It's a full-fledged entertainment and news website which has contents of all type, be it funny, controversial, viral, news, movies, GIFs, Videos and what not!
The main reason for being Reddit so popular is its active user community. Reddit has millions of active users which frequently share their stories on Reddit, upvote or downvote for other stories and have fair discussions on any given topics.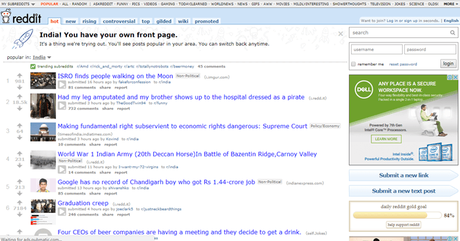 The stories with highest upvotes are featured on the top. This helps users find the most interesting contents on Reddit's home page itself.
Reddit gets about 500+ million monthly visitors which is tremendous. That shows how reliable and popular Reddit is. Due to its high popularity and visitors, content creator leverage Reddit as a place to get the audience for their shared contents.
So Reddit is not just one of the sites like Buzzfeed but it's a great replacement for Buzzfeed! I think you may be interested in exploring more sites like Reddit.
2). Viral Nova
Website: http://www.viralnova.com/
Viral Nova is the second site on the list of top 10 sites like Buzzfeed. It's one of the very popular websites on the Internet which gets over 70 million readers every month. Viral Nova is a hub of all the trending, informative and entertaining news that's breaking the Internet.
The interface of Viral Nova is extremely Intuitive. There are no chaotic ads, unnecessary widgets or any confusing elements on the website. The home page of Viral Nova features the latest contents that are currently in trend and breaking the Internet.
Viral Nova categorizes the stories in different categories like OMG, Videos, Life, Culture, Entertainment. And certainly, there are several other categories. It makes it really easy for the users to browse through the contents of their choice.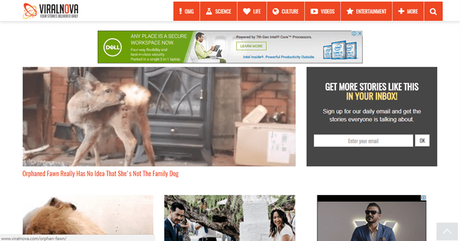 To surf the trending contents on the Viral Nova, no sign up is required. Viral Nova is different from Reddit but holds the extreme resemblance to Buzzfeed in terms of the working. That's the reason, Viral Nova is considered as one of the true alternatives to Buzzfeed.
3). Upworthy
Website: https://www.upworthy.com/
Upworthy is a slightly new website as compared to the other sites like Buzzfeed mentioned in the list. Ever since its launch in the year 2012, Upworthy has got immense popularity in the short span of time.
As per the claim by the company, the main mission of the Upworthy is said to be " change what the world pays attention to".
The Upworthy mostly delivers socially viral and engaging contents in terms of articles and videos. As per the claim by Upworthy, it engages about 50 million people every month.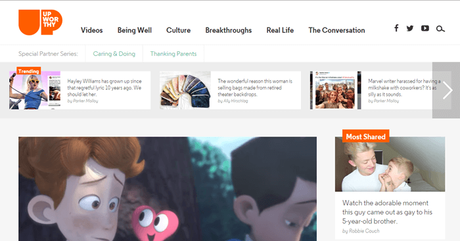 The Upworthy has a small staff that manages to get the awesome contents produced and posted on Upworthy. Every day new and interesting stories are posted on Upworthy which makes it a worthy website.
The stories that are covered on Upworthy mostly lies under the categories 'Being a Better Human', Citizenship & Democracy, Culture, Identities, and Science & Technology.
So overall, the Upworthy deserves to be mentioned in the list and I'm pretty sure, you will love exploring it.
4). Digg
Website: http://digg.com/
Digg is the next website in our list which is an alternative to Buzzfeed. Digg is known to provide the most interesting and talked about stories on the Internet. If you have a hunger for the trending news and interesting contents, Digg might the place for you!
Digg was initially a community for users where they could share their contents, upvote, or downvote them as per their like. But it got revamped in 2012 and since then, Digg has started to be considered as one of the sites like Buzzfeed.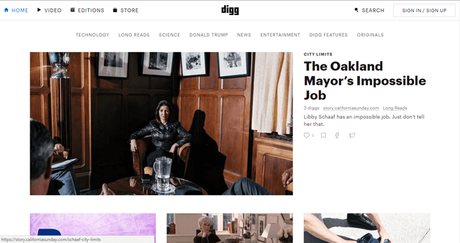 After the reformation in 2012, Digg was completely redesigned to be a news aggregation websites, which features the editorially driven front page. The stories on Digg's front page are the most popular stories on the internet.
These stories are selected by the team of Digg editors and not by the users. Digg initially didn't have the share options. But after its relaunch, a facebook and twitter share buttons were added below the contents to help users share the viral contents easily on their social mediums.
5). Funny or Die
Website: http://www.funnyordie.com/
If you're experiencing boredom and want some fun in life, Funny or die is the website for you. Funny or die is featured as a Buzzfeed alternative because this website also focuses on entertaining and trending contents.
While most of the websites mostly focus on the text contents, Funny or Die is basically a video based website. The videos posted on the website are mostly user-generated while some videos are original
These original contents are exclusively available on Funny or die. Besides that, there are several other  Funny Articles, Funny Images, Funny Pictures and Celebrity videos which you can browse through and get out of your boredom.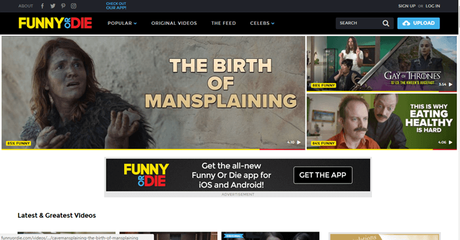 The name of the website "Funny or Die" explains the concept of its working. When users find any video, image or article funny, they vote for them as funny or die. The contents which generate most funny votes gets featured on the website and the contents that generated mostly 'die' votes tend to be eliminated.
6). Mashable
Website: http://mashable.com/
If you are keen to read latest news and trending stories on the Internet, perhaps you already know about the Mashable. Mashable is a highly popular digital media website which is referred as "One Stop Shop" for social media.
Just like Buzzfeed, Mashable is also known for providing news and entertaining contents trending on the Internet. The Content category ranges from technology to social media, viral news to entertainment and virtually any category that you can think of.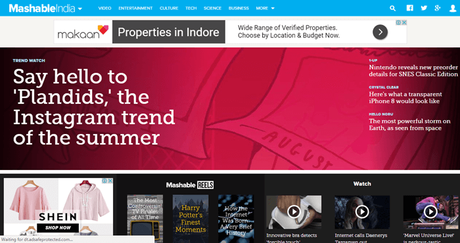 Mashable is hugely popular a websites and have been getting several awards ever since its debut. Besides getting millions of views every month, Mashable is a rich entity in terms of social media followers as well.
Mashable has about 6 million twitter follower and a hefty 3.2 Facebook followers. After going through a little introduction on Mashable, you must have understood why we have listed Mashable as one of the sites like Buzzfeed
7). Cracked
Website: http://www.cracked.com/
If you are looking for a Buzzfeed alternative that's basically Humor oriented, then Cracked is the website that you need to visit right now.
Cracked was initially launched as a magazine in 1958. But later, Cracked was launched as a separate website in October 2005. Cracked gets about 300 million page views every month. And it's highly popular among the humor lovers.
Cracked mostly features viral contents on the internet that are entertaining and possess humor.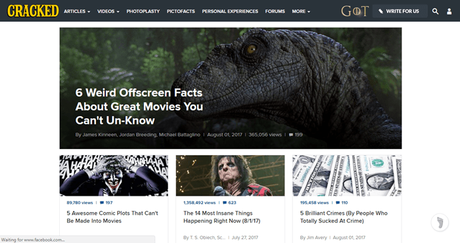 Cracked site also includes a blog, videos, forums, five weekly Image Manipulation contests called Photoplasty, Pictoplasty, Experiences, one-shot articles called Quick Fixes, and so forth.
Besides offering the hilarious contents, the Cracked also provides the writing opportunity to the users. If you think you have writing talent and you are funny, Cracked can turn out to be a job opportunity for you!
8). The Verge
Website: https://www.theverge.com/
The verge is yet another site like Buzzfeed which can be considered. The Verge is basically an American technology news and media network which is launched in 2011 in partnership with Vox Media.
The Verge was basically created as tech news site. But besides news items, it also provides the long-form feature stories, product reviews, podcasts, Videos and several entertainment shows.
According to the company, The Verge Site was launched with 4 million unique visitors and 20 million page views, which is obviously an appealing number. Besides that, the website is very well structured and visually appealing.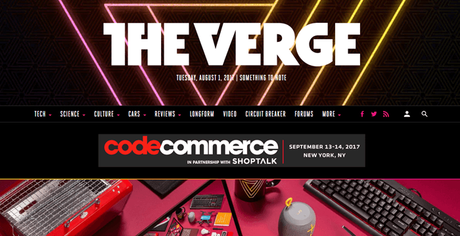 So if you have still not found your desired site which is like Buzzfeed, you can also go for The Verge. And if The Verge also fails to provide the type of contents you are looking for, move further and check out two other sites like Buzzfeed.
9). College Humor
Website: http://www.collegehumor.com/
If you are a teen or to be more precise, your age lies between 18-49, CollegeHumor will bring out a great laughter to you. It's basically a fun oriented website which focuses on the comedic contents instead of the other popular categories.
The content type on College Humor can be videos, pictures, articles, and jokes. The contents on Humor basically created and managed by the staff of College Humor to assure the utmost quality of the contents.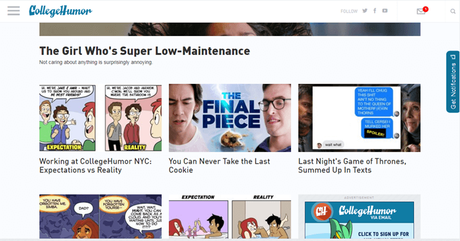 College Humor attains about 15 million unique monthly visitors and over 100 million monthly page views. So overall, you can consider Collegehumor if you want a daily dose of laughter in your busy and hectic life.
10). PlayBuzz
Website: http://www.playbuzz.com/
The last but not the least, PlayBuzz is our last pick for the sites like Buzzfeed. PlayBuzz is wildly popular in social media and generates thousands of shares on their contents.
The contents type on PlayBuzz is similar to Buzzfeed i.e entertainment, quizzes, viral news and so forth. The Contents on PlayBuzz is extremely engaging and keeps the audience hooked for hours.
Apart from providing engaging and worth sharing contents to the readers, PlayBuzz works as a commercial news and social media platform. Playbuzz helps the publishers, agencies, and brands to get the audience on their stories, products, and contents.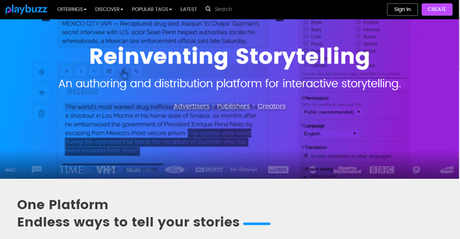 Due to its high popularity and reliability, various brands blind trust on Playbuzz for publishing their contents. And undoubtedly they get great results in terms of audience engagements, shares and even an increase in their commerce.
So Playbuzz is certainly a site like Buzzfeed which deserves to be given a try!
Besides that, bored panda, Fark, PPCorn etc are some more websites like BuzzFeed which you can go for. The core objective of all the website is all same i.e. Covering viral contents, news, and providing ultimate entertainment.
Conclusion:
If you are done with Buzzfeed or don't want to completely rely on Buzzfeed for your news and entertainment needs, this piece of contents might come out to be really handy to you.
The websites mentioned in the article are free to use and gets millions of visitors every month. By visiting these websites you don't only get the idea of what's happening on the Internet but also can get exposure to your own contents.
For bloggers, website owners or content creators, these websites turn out to be a relevant source to share their contents and get audiences. We hope you liked the websites mentioned in the list and the article was handy to you!
So now we have reached the end of the article and it's time for us to wrap it up. But before going off, don't forget to tell us which website you think is the best replacement for Buzzfeed!