You may have heard a lot of hype about how Scottsdale, Arizona, is a fantastic destination for golfers from all over the world to come test the world class golf courses that lie in the desert.  The weather is terrific and the breathtaking landscapes offer a "WOW" factor.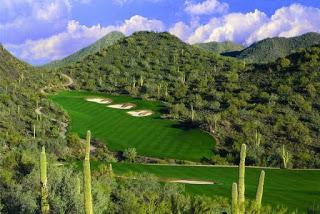 Many of the golf courses in Arizona feature that desert-style environment which can make a round of golf challenging due to the forced carries off the tee boxes and target style fairways - but don't fooled by it - there are many golf courses in the State that cater to the average golfer as well, featuring wide fairways and more links style golf.
Phoenix and Scottsdale are two destinations which cater to all level of golfer from intermediate to experienced.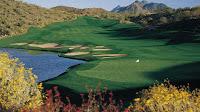 Below is a list of the top 10 golf courses in Scottsdale that are great for the beginning golfer to play while on an Arizona Golf Vacation.
These courses below are very playable for the average golfer and are recommended based on their quality and scenery.
1.Legend At Arrowhead Golf Club: an award-winning Arnold Palmer-designed championship golf course.
2.Superstition Springs Golf Club: Regional qualifying site for PGA Tour events, so you know it is in pristine shape!
3.McCormick Ranch Golf Club: Water in the desert? Palm trees and mountain vistas too!
4.StoneCreek Golf Club: Recognized by Golf Channel as one of Arizona's "Best Kept Secrets."
5.Wigwam Golf Club: Three Memorable Courses to Choose!
6.Arizona Biltmore Golf Club: Two courses with a choice of traditional or links-style Golf.
7.Camelback Golf Club – Padre Course: A traditional-style course with awesome views of Camelback Mountain.
8.Orange Tree Golf Course: Once an orange grove, now a desert oasis, this course is recognized as "green" with great Camelback Mountain views.
9.Starfire Golf Club: Formerly Scottsdale Country Club, this is a 27-hole Arnold Palmer designed facility.
10.Grand Canyon University Golf Course: A muni-golf course with state-of-the-art amenities.
Think we need to add a few more Phoenix or Scottsdale golf courses to this list? Use the comments section of this golf blog to state your case!