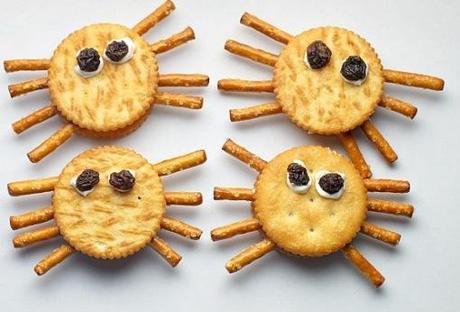 Top 10 Recipes for Healthy Halloween Treats
Halloween is sadly not a time of year to be talking about healthy treats and diets. But if you are looking to stop kids knocking on your door offer them fruit rather than sweets! But for those of us that are having our own Halloween parties these might just go down a treat rather than a trick…
Top 10 Recipes for Healthy Halloween Treats
..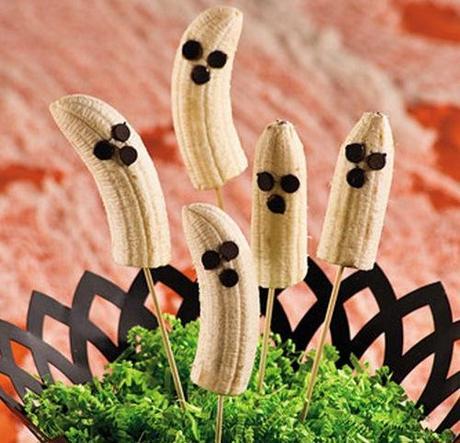 Banana Ghosts
10 – Ghosts
This idea for banana ghosts might be simple, but yet also deadly effective in its design.  Simply cut banana in half, put sticks in the flat, cut bottoms, and add some chocolate chips for their eyes! Best of all is that the little ones can make these as well.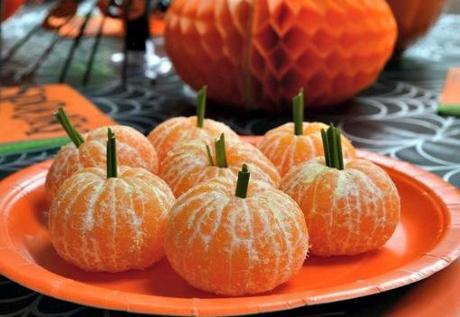 Tangerine pumpkins
9 – Pumpkins
These homemade mini pumpkis are often seen with the banana ghosts you have just read about. So why not make the two together and have a spooky Halloween fruit spread!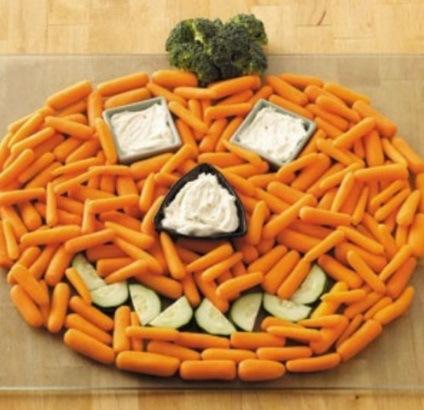 Pumpkin Veggie Tray
8 – Pumpkin
Featuring loads of carrot bits, some cucumber for the mouth, broccoli for the top, and some of your favorite veggie dip as the nose and eyes this is not only going to make people smile but make your Halloween party one to remember.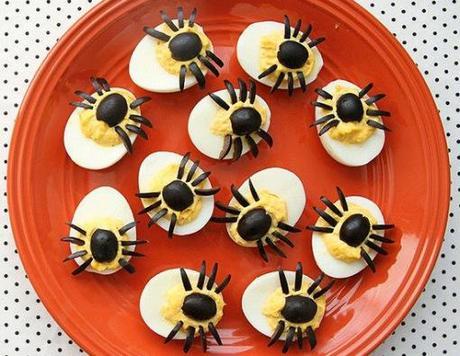 Spider Deviled Eggs
7 – Spider Eggs
As if Deviled eggs wasn't scary enough of a snack this Halloween, why not theme them with some olive spiders!  The kids can also help you to make these, but I would suggest you do the legs yourself as that is a little more detailed.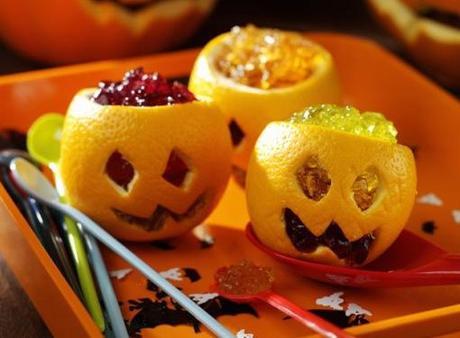 Pumpkin Jell-O
6 –Jelly Pumpkins
Simply scoop out the inside of a small orange or tangerine, then carve them very much like a pumpkin! Fill with some lovely jelly of various flavours and tell the kids they are pumpkin brains. Only a true Zombie would know the difference.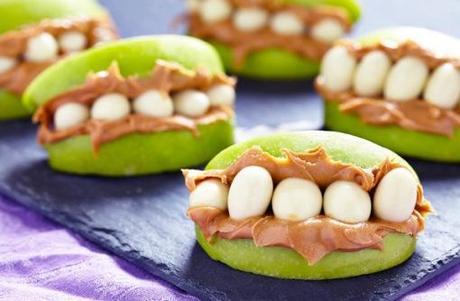 Halloween Monster Apple Mouths
5 – Monster Mouths
Simply cut the apple into a small slices, stick on some peanut butter, and use something for the teeth. This person has used peanuts to great effect, but it could just as easily be anything you want as long as they are tooth shaped.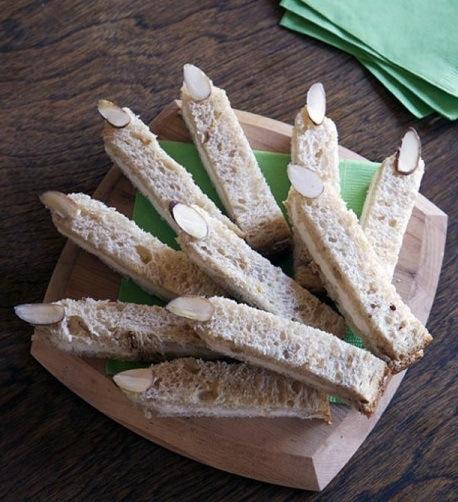 Cream Cheese and Banana Witches' Fingers
4 – Witches' Fingers
While the recipe here calls for cream cheese and banana filling I think these would look great no matter what filling was inside the sandwiches. While almond slices are used to great effect here for the nails, you could use anything, even a slice of white chocolate.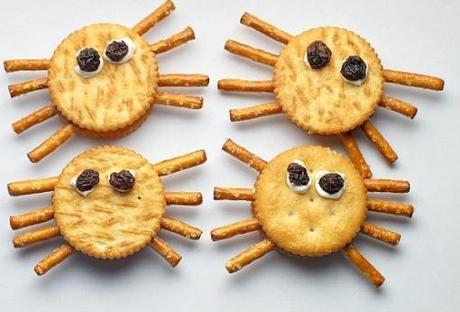 Halloween Spider Cracker Snacks
3 –Spiders
If there is one thing I will eat until my eyes hurt it is Ritz crackers. But did you also know they are rather healthy! With that knowledge in hand why not make some of these scary looking cracker spiders. Featuring Pretzel stick legs and some cream cheese innards they are sure to go down a right scary treat at any Halloween party.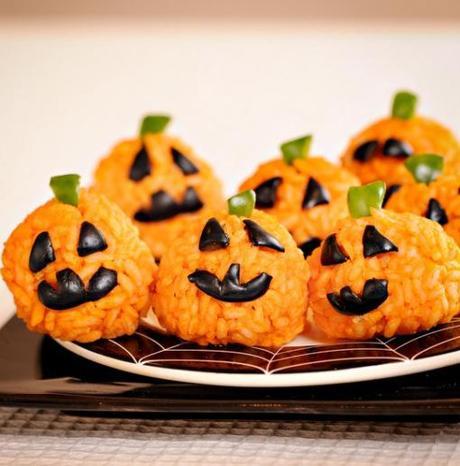 Halloween Carrot Rice Ball
2 – Jack O' Lantern
This is another pumpkin themed recipe idea, but this one is a little bit harder to make than most of the other ideas you will see in this list. Made using short grain rice and carrot juice, plus some black olives and bell pepper for garnish  they do sound had to make devilishly gorgeous to look at.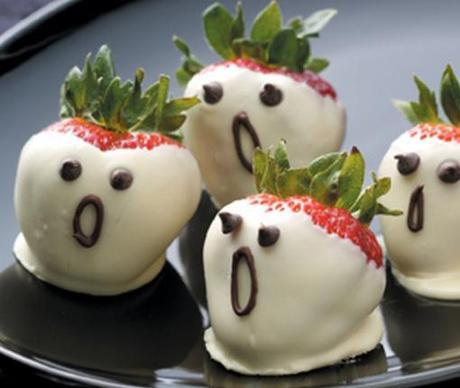 Strawberry Ghosts
1 – Ghosts
If your looking for a spooky treat that is also healthy for the kids (and yourself) you can do far worse than make these yoghurt dipped Strawberry ghosts.  You do get a little bit of chocolate for the face features, but overall a very healthy and scary looking snack.