If you're searching for the best video streaming services, follow this list of the top 10 most popular streaming services in 2022.
Streaming services have become the "new norm" when it comes to watching the media world. This genre has become so widespread in recent times that even the A-listed Hollywood celebrities try their hands at one or the other show, series, documentary, or movie.
With the margin of exclusivity being in the hand of streaming service providers alone, there is a clear indication of how have these services become super dominant and powerful in their respective arenas.
They are the most popular streaming media platforms out there when it comes to providing entertainment. It includes movies, tv shows, originals, reality shows, games, sports, etc. People are genuinely attracted to these streaming services because of the variety of tastes they can get in one place. The featuring of your brand across these platforms is quite easy given that you have the power to leverage social media. Maybe more Instagram followers or create consistent content but make sure you have an audience to share and learn with. Here are the top 10 streaming services that you need to experience.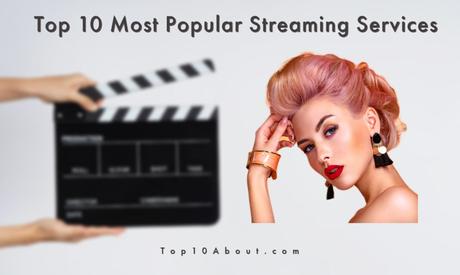 Top 10 Most Popular Streaming Services 2022
10. Spotify
Spotify might not fit the criteria of mainstream media platforms before they started featuring podcasts and audiobooks, but after this breakthrough resolution made by the board, we can surely say that Spotify is on its way to becoming one of the major streaming areas when it comes to music and audios. The database this place has created for itself is just tremendous and as worthy as one can imagine. Spotify is a game-changer streaming platform for real.
See also– Top 10 Best Popular Netflix Movies of All Time
9. YouTube Music
The way YouTube has emerged with its music streaming is just outstanding.
YouTube music is widely popular in over a population of 80 million people.
The world is not going to stop and so does YouTube. Their key strategy behind launching the platform was to showcase what artists from all corners around can do. Sure enough, they succeeded.
8. Hulu
Hulu is an American streaming service that offers us movies, tv shows, originals, and so on. There are 75 + channels including Disney+, Espn+, and many more. Hulu brings to the table unlimited sports, news, events, and a bunch of classic anime series. It is an alternative to your cable.
See also– Top 10 Best Popular Netflix Movies of All Time
7. Amazon Prime
Amazon Prime Video contains a ton of superhit movies, tv shows, and Amazon Originals. It collaborates with so many famous channels like ho!Cho!, Discovery+, Erosnow, Hayu, Sportstv, and many more. The best thing about Prime video is that its subscribers get a free Kindle book per month and unlimited access to Amazon Music as well. Prime gives you a 30-day free trial that's a very good way to vent your taste and see if it matches your taste or not.
6. Spotify
Music has a different place in the hearts of everyone. After those hectic meetings
and traffic honking just vanishes into the air when a song from our "favorite list" comes out and we start jamming.
Spotify has a worldwide catalog recognition and their contracts feature specifically user entertainment content.
5. Amazon AudioBooks
Audible is like that Fairy Godmother for Cinderella who loves listening books and gaining knowledge but in an unconventional human.
It is brimming with audiobooks from various genres for all kinds of age groups. You have access to over a million books for around $7 a month. Besides, you can listen to the books when you feel like this is the right time.
You can adjust the speed, the translation methods, and whatnot.
4. Twitch
Twitch is an American live-streaming gaming service that has been such a positive influence among Gen Z lately. You know those fans of YouTube around 10 years ago who ruthlessly and aimlessly created content and put it out there are earning more than the average pay rates of most of us.
The wildfire of Twitch is somehow similar to that.
In this platform, subscribers are allowed to see the players and their monitors through screen sharing. The streamers engage with their comments or they can stream various games, lives, and other sessions to start gaining a strong audience who actually cares about what you create.
3. Disney plus
Starting from a subscription of as little as around $6 a month, Disney plus offers all the high-end luxury feels of watching the animation live or from a theater in the comfort of your home.
You know their high key resolutions that have changed the watch quality of a normal princess anime story to become so influenced by her that your daughter wants to be treated like one.
Disney Plus has its own unique amalgamation of childlike feels and great picture quality.
2. HBO Max
Let's be honest this platform has some serious fanbase.
From watching all those science documentaries to getting addicted to shows like Friends, GOT and other such beautiful memories that live in our minds rent-free.
HBO MAX is probably the only platform that knows how the world of digital media works, how there's no "constant" and only growth is the parameter you can judge the success of your platform upon.
The up-gradation of HBO from the former to now "HBO MAX", has not only helped it to lay down a strong and firm foundation but also has increased its popularity in GenZ by like a thousand times.
1. Netflix
As we all are well aware that Netflix has always come up with the best streaming shows in the world of entertainment. Be it a tv series, movies, or originals Netflix gives us the best version of engaging HDR content. Despite its high prices, Netflix has snatched the 1st position among so many other platforms. The uniqueness of recasting the classic stories into tv shows is the best thing I found on Netflix. Anne with an E, Baby sitter's club, and Bridgeton are some popular titles.
Conclusion:
Having subscriptions to some streaming platforms is a trend and a wonderful way to experience entertainment as well as consume valuable content. But at the same time, this practice could be addictive and burn your pocket. So don't subscribe to any random apps and pick platforms according to your flavor.  Choose wisely and carefully to save your time and money.
&version;
The post Top 10 Most Popular Streaming Services 2022 first appeared on Top 10 List of Best Product & Services of Each Category.