Are you a picky eater? Then I have a fun (and delicious) New Year's resolution for you: expand your eating horizons by trying new foods you've never had before. You may be surprised at what deliciousness is in store for you if you order something other than the chicken. Here are ten dishes– in ascending order of craziness– that you can try at Portland-area restaurants that will blow your mind at how delicious they are, despite how weird some of them might sound! I'm a reformed picky eater myself, so believe me when I tell you these are the most adventurous dishes in Portland!
1. Peanut Butter Pickle Bacon Burger at Killer Burger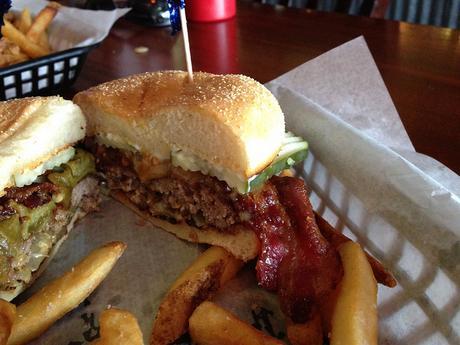 Picture by Francis Storr
Killer Burger is a Portland chainlet that serves up some of the best burgers in town. But the one that raises the most eyebrows is their Peanut Butter Pickle Bacon Burger, or as Kathleen likes to call it "the pregnant lady burger." Peanut butter? And pickles? With bacon? It's gotta be yucky! WRONG! What Killer Burger's signature creation does is open your mouth up to new possibilities of flavor combinations.  What I love about this burger is it totally sounds like a stunt burger, like something Salt and Straw would create as a crazy ice cream flavor just to get people talking. The big twist: it totally works! Even if you think you don't like pickles, or can't get your head around the idea of peanut butter on a burger, do yourself a favor and try this.
2. Breakfast Board at Tasty N Sons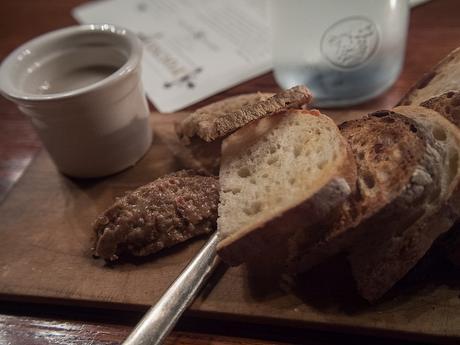 Picture by Edsel Little
Brunch in Portland is an Olympic Sport. It's not uncommon to wait 90 minutes or more for a table at the most popular spots. That includes brunch spot superstar Tasty N Sons, which has the kind of food that people talk about for weeks. Their steak and eggs platter is out of control (I mean it's steak and eggs, right? How good can it possibly be? Well… just order it). Anyway, they have plenty of adventurous-sounding options, but for the especially squeamish, I implore you to order the Breakfast Board so you can try some the best chicken liver mousse in town.
Now, I know what you're thinking: "Ewww! Gross!" That's because you've never tried chicken liver mousse. If you had, you'd be salivating at the thought of the rich, delicious spread.  Trust me and try this stuff. If you don't immediately think to yourself, "Holy cow, this is one of the most delicious things I have ever tasted! Why didn't anybody tell me?!? What else have I been missing?" then you don't have tastebuds!
3. Chicken and rice with chicken livers and skins at Nong's Khao Man Gai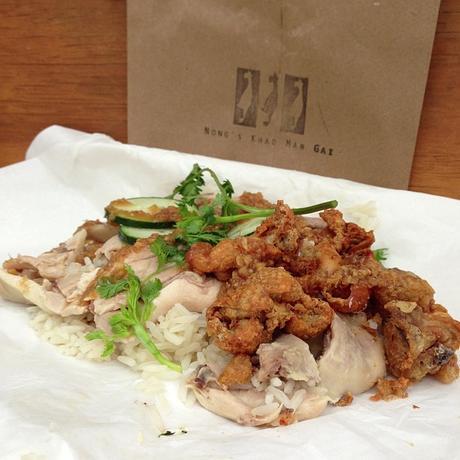 Photo by Arnold Gatilao
Chicken liver mousse is an easy one, honestly. It's such a slam dunk of deliciousness; everybody likes it. But now that you've sampled chicken liver in its most crowd-pleasing form, it's time to step up to the ropes course.
If people have time for only one meal in Portland, I tell them to eat the chicken and rice at Nong's Khao Man Gai. This is a dish so utterly delicious, Kathleen and I had it served at our wedding. But to adorn it with a bit of adventure, you'll need to add a few extras, namely the optional chicken skins and livers. You have to show up early to get skins (they almost always sell out within an hour of opening), but it's totally worth it. The livers here are cooked and chopped up, but not adorned in any other way. The key here is not to just eat the livers like a side, but mix them in with the chicken and rice to get an interesting flavor balance. If you get a bit of chicken + rice + skin + liver, then you have opened yourself up to a whole new flavor experience. Get there early and try it!
4. Fried Kale at Smallwares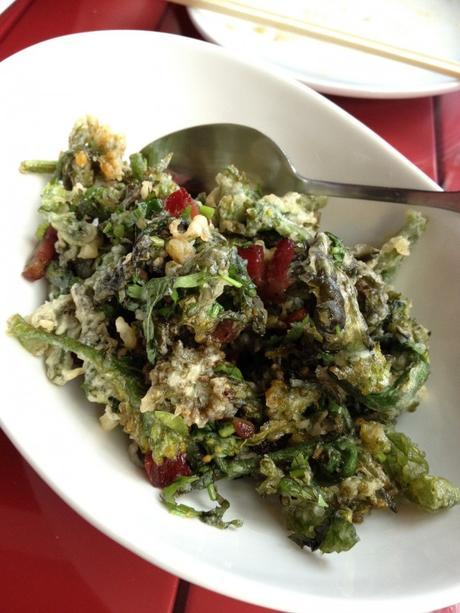 Photo by Pat Castaldo
I know, I know, enough with the kale. You hate kale. Well, that's because you've never had it tempura battered and fried and doused with bacon and a delicious fish sauce dressing like they serve at Smallwares. One of the best-kept secrets in Portland dining, Smallwares has great small plates of "inauthentic Asian cuisine." It's one of my favorite places to go with a small group of people.
5. Boar Collar at Pok Pok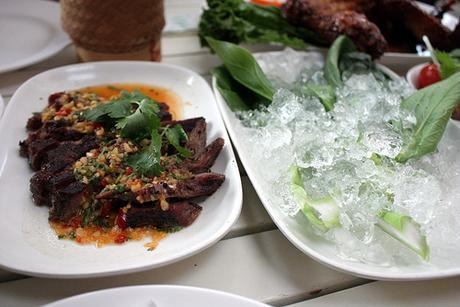 Photo by Krista
I love Pok Pok. They serve what may be my favorite dish in all of Portland with their chicken khao soi, a curry soup flavor bomb. And who doesn't love their fish sauce wings? We're talking some of the best wings you've had anywhere, period. But for those stepping out of their culinary comfort zone, might I interest you in the boar collar with chilled mustard greens? Sounds scary, but boar is just a more flavorful cousin to pork. Pro-tip: you can get the boar collar at the flagship Pok Pok in Southeast Portland, but if you don't feel like waiting a zillion hours, head up to Northeast Portland where you can order it at Pok Pok Noi.
6. Crabflake Soup at Ha VL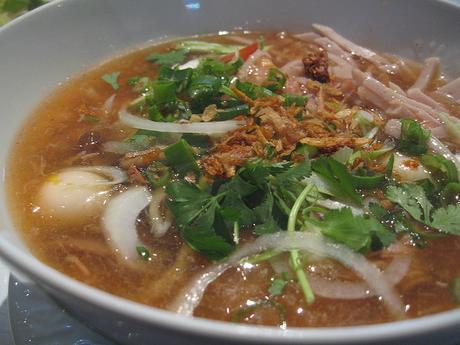 Photo by Ron Dollete
Speaking of getting there early, Ha VL serves up the most coveted soups in all of Portland. While their official hours are listed as 8am-4pm, if you get there any later than 11:30 in the morning, you can kiss your shot at their amazing soups goodbye because they'll be sold out. Ha VL serves two rotating kinds of soup Wednesday through Monday (closed Tuesdays). While they have some soups that sound really out there (Thursday you can get Snail Noodle Soup, which is their most popular soup), stop by on Monday for their seafood soup duo anchored by their delicious Crabflake soup. A rich pork broth with crab, shrimp, eggs, pork, and mmmm….
7. Short Rib Tartare at Lincoln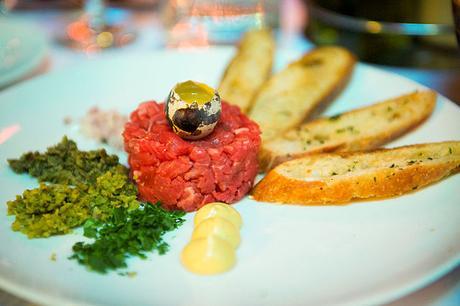 Photo by Mark Mitchell
I find it interesting that nobody bats an eye at eating sushi, but eat raw beef, and they'll call you a crazy person. Well, I'm here to tell you that tartare done right is De. Lish. Us.
Lincoln in North Portland is one of Portland's hidden dining gems. Italian by way of Portland, this place will surprise you with its playful, adventurous plates. They do have plenty of accessible things to chose from, but those looking for new experiences should take a chance on the short rib tartare or maybe even the grilled octopus!
8. Charred Octopus at Aviary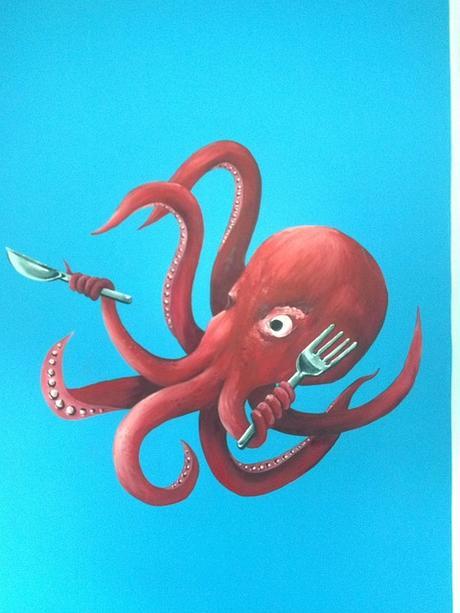 Speaking of octopus, now we're getting into the real culinary adventures. While I'll admit that at bad sushi joints, the octopus can taste like a rubber ball on rice, the culinary wizards at Aviary have found the sweet spot for our eight-tentacled friend by charring on the grill. It's chewy, but not rubbery; I promise it doesn't taste like a tennis ball. Oh, and did I mention the irresistible molten ricotta pudding and red curry jus?
9. Asado Argentino at Ox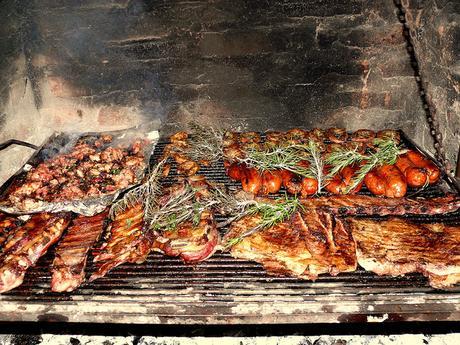 Photo by PABLO GONZALEZ
One of the most respected restaurants in town, Ox boasts delicious grilled Argentine steaks and an array of amazing side dishes. If you're there with an adventurous partner, go for the Asado Argentino platter for two. It has a few steakhouse favorites (the short rib is out of sight), but they also serve up a blood sausage and the piece de resistance, sweetbreads. Feared by picky eaters everywhere, sweetbreads (the pancreas and thymus glands of the calf) are the kind of food that people wrinkle their nose and twist their mouths at. "How can you eat that?! Yuck!" But if you take a teeny tiny bite of Ox's sweetbreads off of this platter, I promise you'll devour the rest of them and then seek them out in the future. They are out of this world delicious. Just be prepared to wait a long time for a table. They don't take reservations, so expect a wait in the 90-minute range.
10. Ruskie Zakuski Experience at Kachka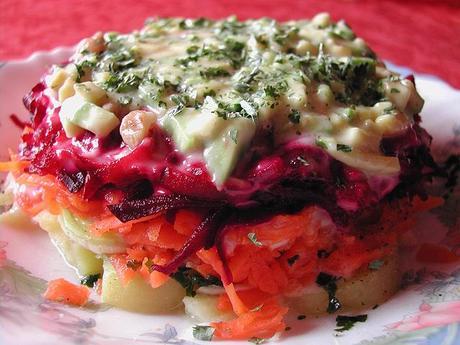 Photo by Alex Ex
I'm not going to lie, to the picky eater, reading the menu at Kachka is just about the least appetizing thing you can do. But when it comes to expanding your culinary horizons, there's not a more delicious way to do it than at this Russian restaurant in Inner Southeast Portland. If your taste buds are sheltered from adventure, nothing here is going to sound good to you. It's going to take an incredible leap of faith on your part. Luckily, Kachka has a solution for you: the Ruskie Zakuski Experience. For $25 per person, they will just start bringing you all sorts of crazy Russian drinking food. It's pickled and salty and delicious, and it goes perfectly with vodka!
You may not like everything you try, but now that you've put your tastebuds at risk, I bet you've found a few things you liked that you never thought you would, right? And maybe it pushes you to try a few new things in the future. If you have a chance to try any of these, let us know what you thought.
Do you know of any other crazy-sounding delicious dishes we missed? Let us know in the comments!