Planning a full kitchen renovation? Or, simply looking to update your kitchen radiator and need some ideas? You have come to the right place. 
Finding the best radiator for your kitchen can be a difficult job. There are plenty of factors to consider from storage space to heat output and design. 
So to make it easier for you to choose a kitchen radiator, we've collected our top 10 kitchen radiator ideas and customer favourites to inspire your next project. Get your moodboard ready.
1. Vertical kitchen radiators
Vertical radiators are the most popular kitchen heating options amongst our customers. But why is the vertical design so desirable in the kitchen? The main reason is the space-saving capabilities. 
Vertical column radiators and vertical designer radiators utilise the height of the wall instead of the width. This is particularly helpful in the kitchen since the main priority is the cupboard, surface and seating space. 
If you have a small kitchen with limited wall space, a vertical radiator with a narrow, minimal design is the ideal central heating option. 
Here we can see that @switching_kitchens_at_45 have made the most of their available wall space in the small kitchen and dining area with a slim vertical radiator. 
The modern flat panels of the Milano Alpha design sit flush to the wall and leave plenty of storage space on the other side of the kitchen. Plus, the clean lines and anthracite finish match the breakfast bar perfectly.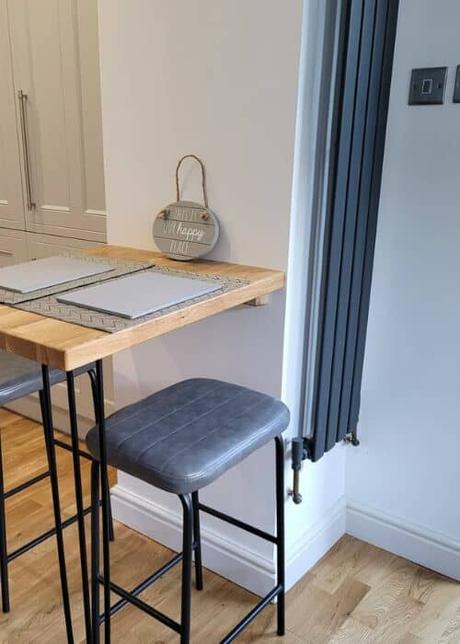 Claire over at @clairejl has also made a great use of space at the end of her long galley kitchen with our anthracite Milano Urban vertical radiator. We love how the tall radiator makes a bold statement feature and draws the attention in the center of this modern kitchen.
If you are looking to heat a large open plan kitchen, vertical radiators can make an artistic statement feature whilst also providing a powerful heat output. 
We love how @the_gemini_renovation had the idea to create a symmetrical design with two vertical radiators to frame the doorway in their open plan kitchen. This contemporary layout doubles the heat output and complements the kitchen decor with the smooth white Aruba panels.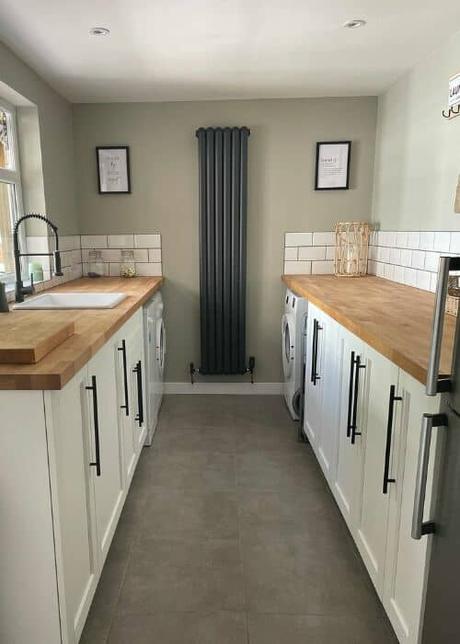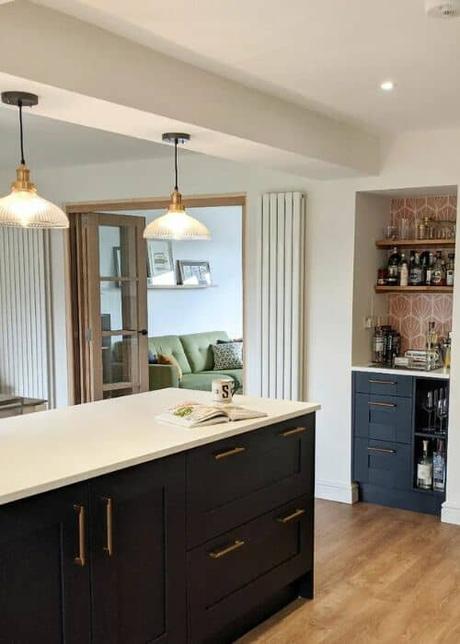 2. White column radiators
Classic white column radiators are another fan favorite for kitchen heating. The curved, vintage-style columns make the kitchen feel warm and cosy. But they also bring a comforting aesthetic that is perfect for the heart of the home. The timeless column design complements both clean modern and rustic country kitchen decor. 
Jess @prettynumber48 and Mel @melaniejadedesign both went for a space-saving vertical column radiator to heat their large kitchens and complement their personal minimalist and maximalist styles.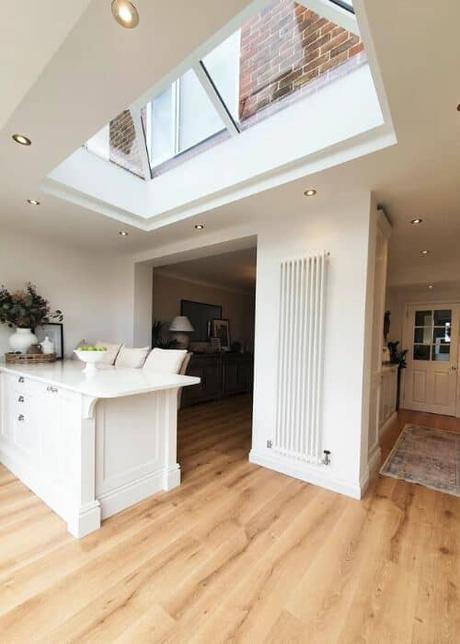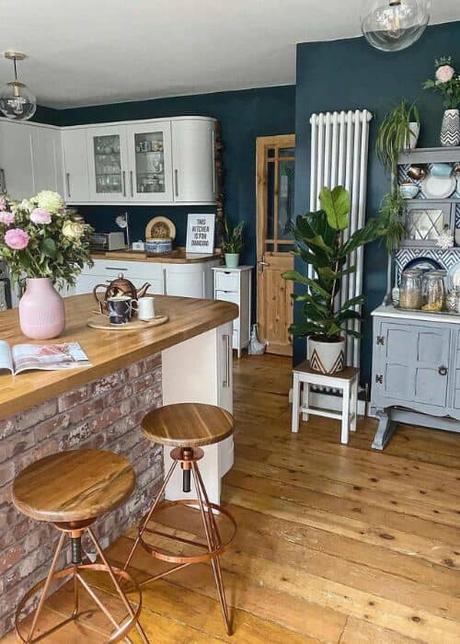 Hanna @ocean_terrace_1884 and Jess @thehoppyhome decided to opt for the classic horizontal column radiators in their beautiful bright kitchens. While Steph @thecheshiregreyhome chose to go for a low level white column radiator to use the space under the window and complete the clean, modern country look.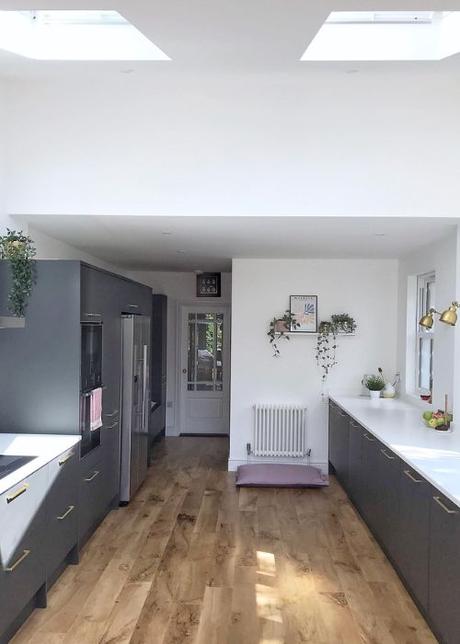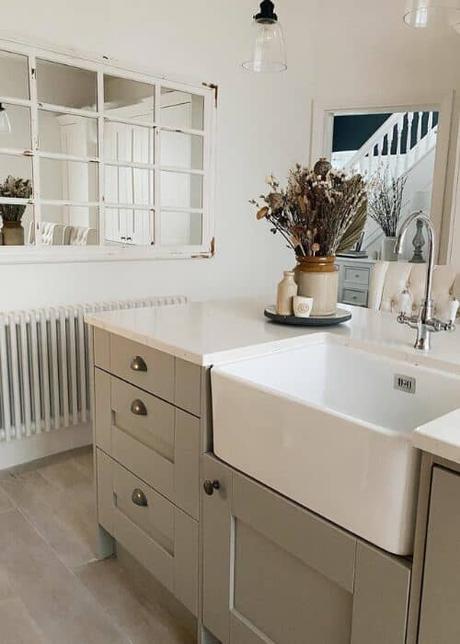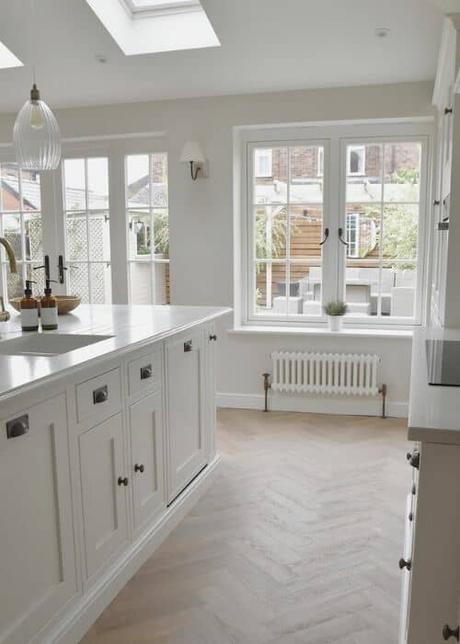 3. Anthracite column radiators
Whether you love modern industrial-inspired kitchens or cosy country-style decor, anthracite column radiators work perfectly in the kitchen. @littlehouseofdaisy, @bakewells_and_baskets and @theturnerhouseproject have all opted for anthracite vertical column radiators in their kitchen from our Windsor collection. The tall contrasting dark gray columns against the lighter backdrops make a striking yet understated feature in the neutral scheme and provide powerful heat outputs up to 11253 BTUs.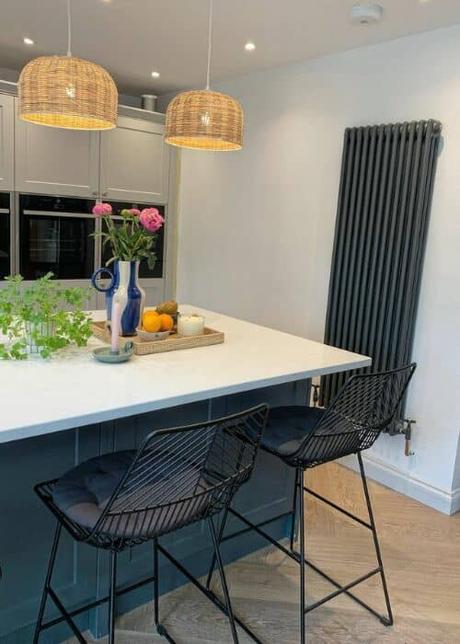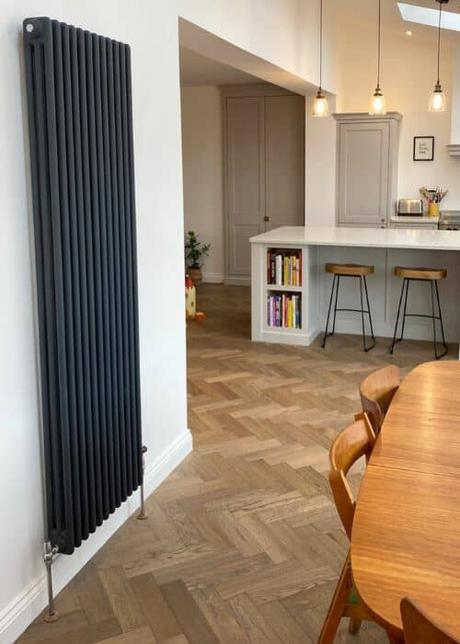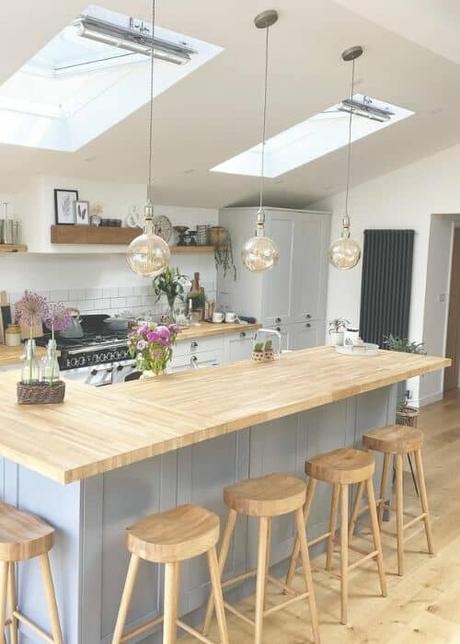 4. Colourful kitchen radiators
From mosaic tiles to pretty taps and countertops, the opportunity to add color and personality to the kitchen is endless. And now it doesn't have to stop at the radiators. 
Kopal at @pinklondonhome has taken full advantage of this idea. With beautiful pink and green Moroccan style tiles and a dreamy pastel scheme, Kopal decided to go for our sage leaf green Aruba radiator to create an additional piece of art on her gallery wall. Colourful kitchen goals right here.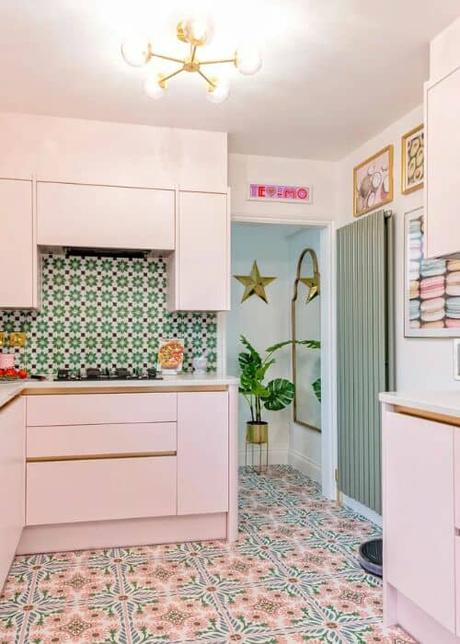 Kitchen decor is all in the details. Why not match your kitchen radiator to the fixtures and fittings with beautifully designed metallic column radiators? @whenthewallscomedown21 have done just that with our vertical gold Milano Windsor to match the pretty gold plug sockets. 
@the_nelsons_at_number_10 had a similar idea with our vertical copper Windsor to complement the copper cupboard handles and stools. Over at @istedproperty Naomi designed her dream kitchen with our beautiful bronze Windsor radiators to accompany the bronze lighting and accessories. Want to see Naomi's full renovation? Head over to her home tour.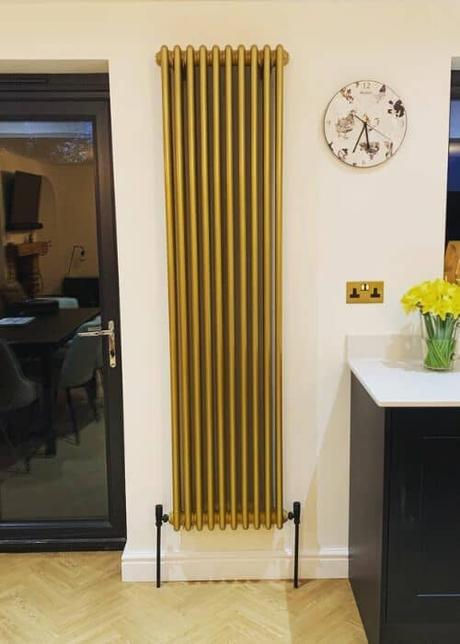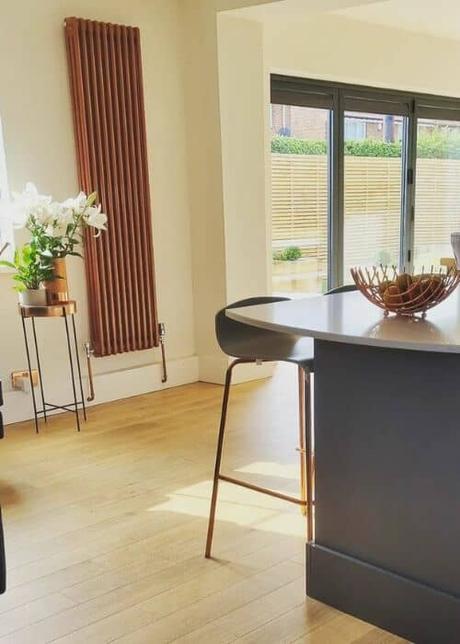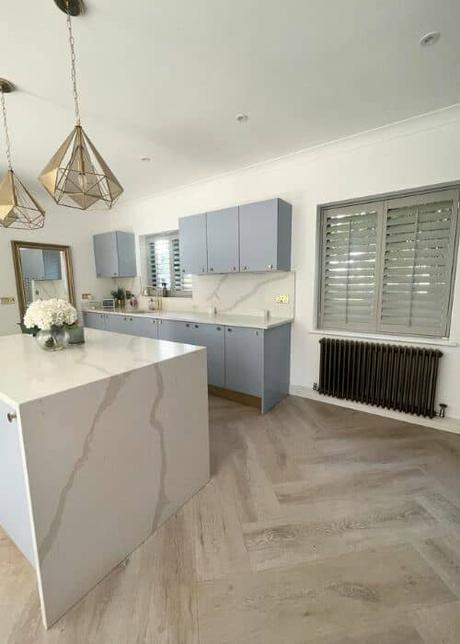 Another popular kitchen radiator idea is to match the radiator finish to the unit color like @interiors_by_jacksonheim with a vertical matt black Aruba for a sleek, coordinated scheme. Claire over at @park_view_palace has also color matched her timeless blue kitchen cupboards to our deep sea blue Aruba for a serene cooking space. We think the birthday girl approves!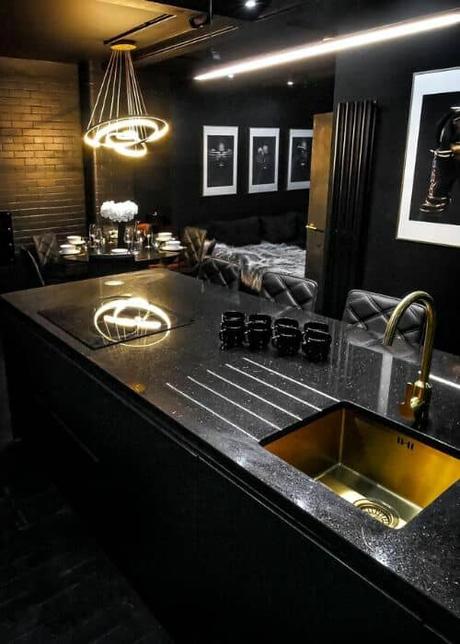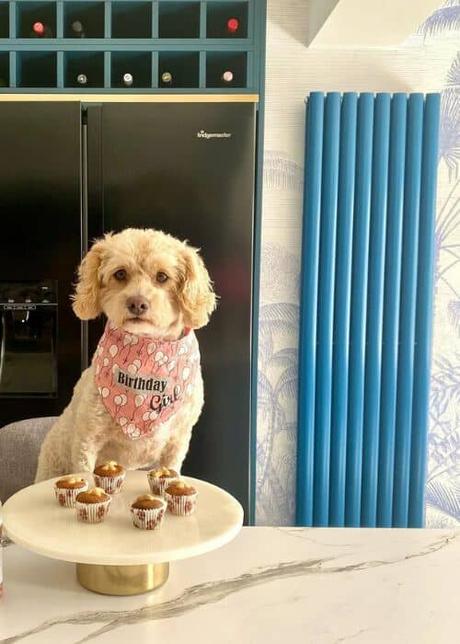 5. Farrow & Ball kitchen radiators
If you have ever painted your home before, you will have probably heard of the stunning Farrow & Ball collection. But did you know that you can now color match your kitchen to our beautifully crafted cast iron radiators? Choose from a range of real cast iron kitchen radiators from minimal to ornate in elegant Farrow & Ball finishes. Find out more about our Farrow & Ball cast iron radiator range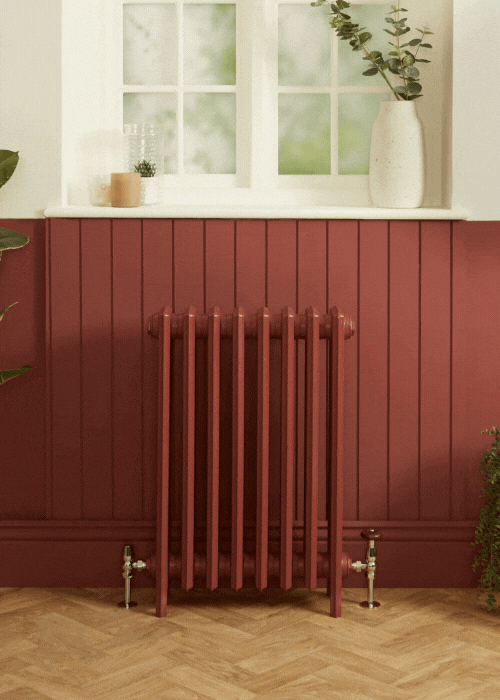 6. Mirrored and chrome kitchen radiators
If stripped back, stainless steel kitchens are more your style with clean lines and raw materials, chrome vertical radiators are great heating options. 
With a reflective chrome surface and modern minimal vertical design, the stylish chrome radiators from the Alpha collection complement chrome taps and appliances for a professional kitchen look. 
Want to continue the chrome theme, make the kitchen feel bigger and create a unique statement feature? Our mirrored Icon, Aruba designs make fantastic industrial kitchen radiator ideas.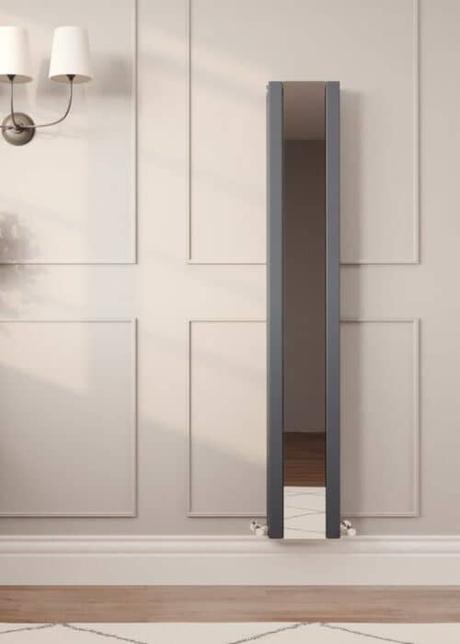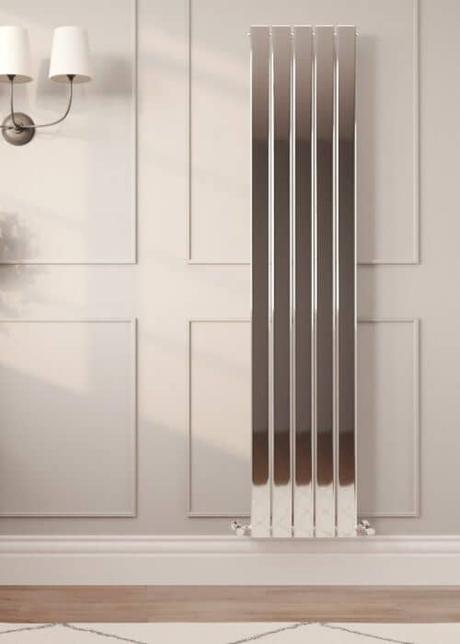 7. Aluminium kitchen radiators
Lightweight, powerful and super fast to heat up, aluminium radiators are excellent options for every room including the kitchen. The light design makes them suitable for installing on both internal and external walls and a variety of styles provide plenty to choose from for your dream kitchen.
Love clean contemporary kitchens? Why not opt for an aluminum designer radiator from the Milano Aruba or Skye collections with sophisticated minimal details? Or, give your kitchen a conversation starter with the memorable Milano Motus tubular design?
If timeless, vintage-style decor is more to your taste, you will love our classic collection of aluminum column radiators from the Milano Esme range. Combining the popular rounded columns with a light aluminum construction, Esme kitchen radiators are the ideal choice for homes wanting the period property look but are not able to hold the weight of steel or cast iron radiators.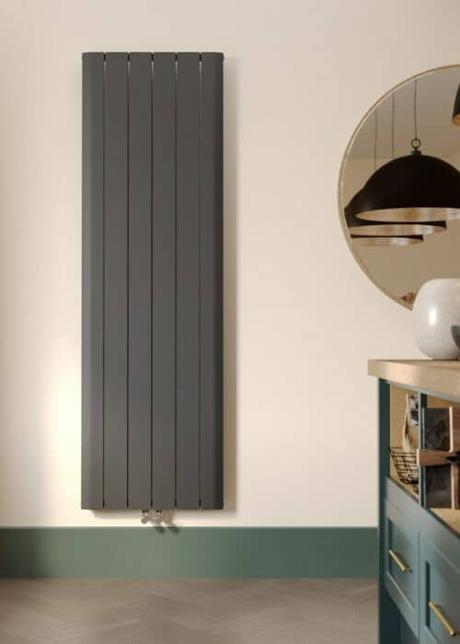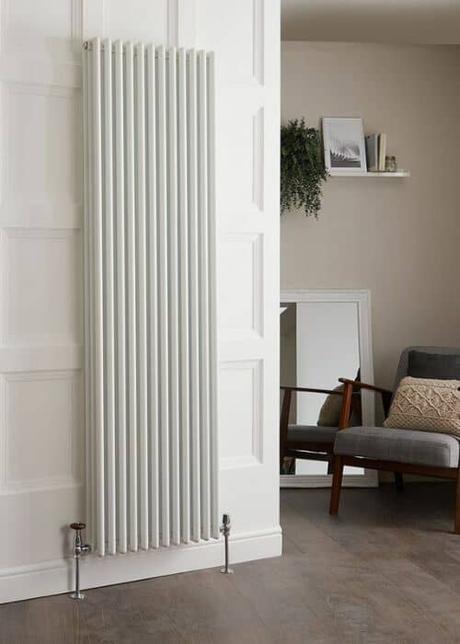 8. Kitchen heated towel rails
Another popular kitchen radiator idea is to go for a heated towel rail instead of the usual radiator design. Combining form and function, heated towel rails provide plenty of storage space to hang and dry tea towels, aprons and dish cloths to help keep your kitchen warm and tidy. 
The good news is, you can color match your kitchen towel rail to your taps and fixtures with our curated collection of black, chrome, metallic and vibrant heated towel rails.
You can also consider how the towel rail design complements your kitchen decor. If you have traditional style taps and cupboard handles, you might want to go for a classic column towel rail or exposed pipe rail for an underrated industrial look. For more modern kitchens with minimal details, you might prefer the contemporary ladder style heated towel rails to enhance the clean lines in the space.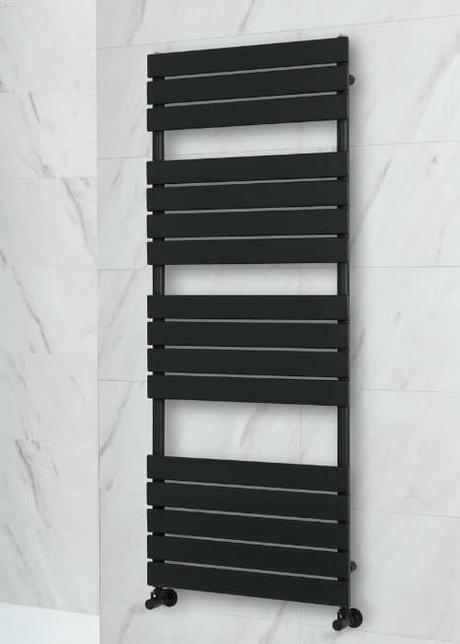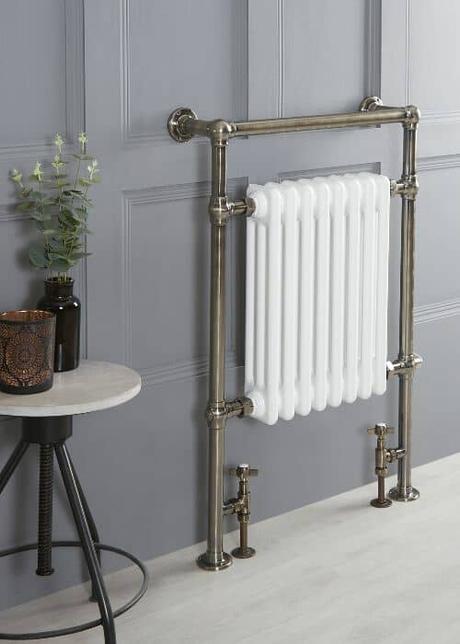 9. Electric kitchen radiators
Electric radiators and towel rails are extremely useful heating options for the kitchen. But why is electric heating such a popular idea in the kitchen? The main reason is because electric radiators work independently from your central heating system. 
You can turn them on to add a boost of heat where you need it without wasting heat on the entire house. This means that you can heat the kitchen efficiently when you are drying clothes on a maiden. Or socialising around the island and want to make the room warm and cosy.
Electric radiators have also come a long way in terms of aesthetics. You can go modern minimal, timeless classic, vertical or horizontal. No matter how big or small your kitchen, you will find a suitable electric heater for your available wall space. Considering going electric? Head over to our electric radiator running cost guide.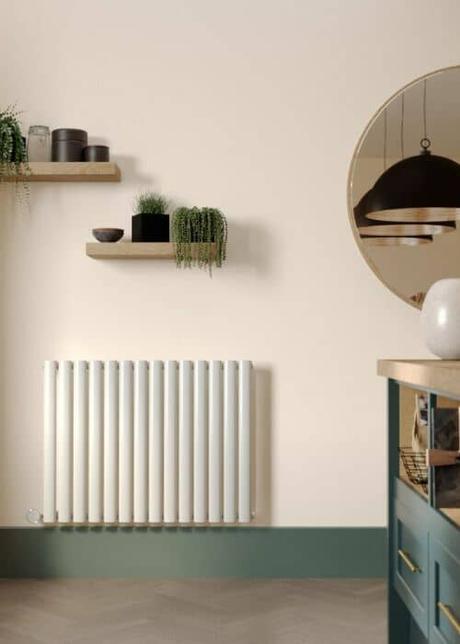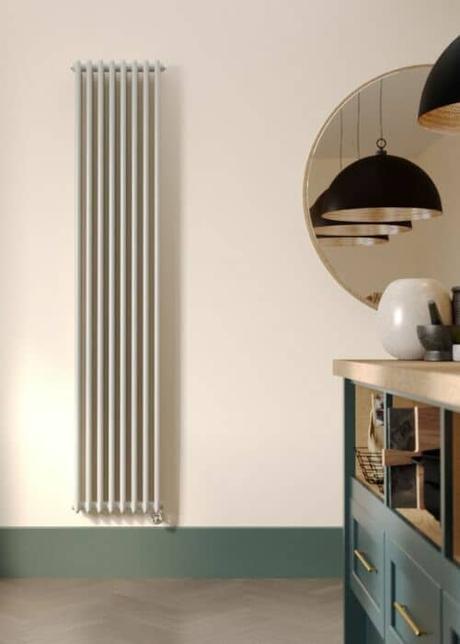 10. Kitchen underfloor heating
Last but not least, let's talk kitchen underfloor heating. Our Wi-Fi connected electric underfloor heating systems are the perfect way to turn cold kitchen floor into warm inviting surfaces and bring an element of luxury into your cooking and dining space.
Plus, opting for underfloor heating means that you are saving even more wall space for additional storage cupboards and surfaces to enhance the flow and function of your kitchen.
Whether you have timber, tiled and concrete sub-floors, our electric heat mats are quick and easy to install and control. You can even adjust the temperature by connecting the system to your Google Home or Amazon Alexa. What more could you want in your dream kitchen?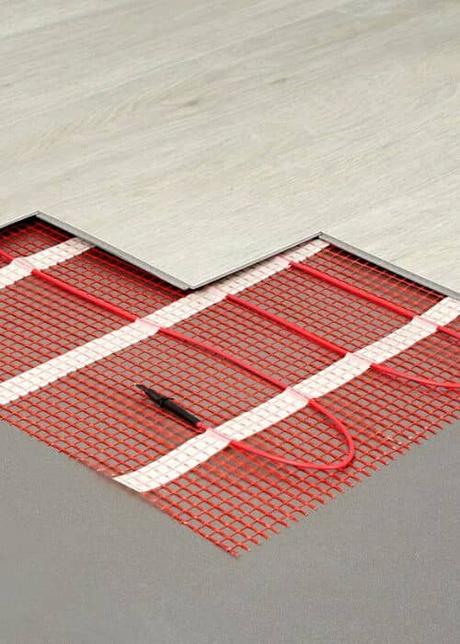 Want more kitchen radiator ideas?
We hope we have given you some inspiration with our top 10 kitchen radiator ideas! If you are still unsure which heating option to go for, why not check out our kitchen radiator buying guide. Or, head over to Instagram for more dreamy kitchen inspiration from our cool customers.