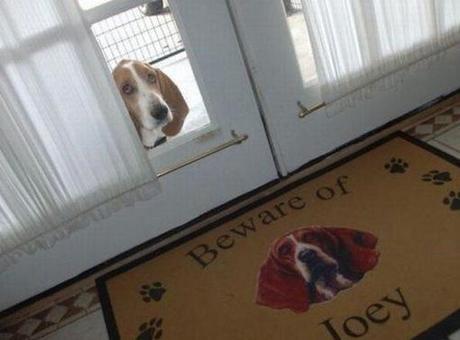 Top 10 Funny Beware of dog Signs
Sadly my own dog is an avid postman chaser and we have had to hang a "Beware of the Dog" sign up at the gate. Often he isn't outside, but now and again he likes to sit out the front waiting to pounce on the next delivery person. Luckily he is not a big dog (border collie cross) so has never actually bit anyone yet, just likes to give it a load of mouth. So our sign that is suppose to be a warning is often seen as a laugh to those that know he is all mouth. I don't think it is funny at all, but here are some that are….
Top 10 Funny Beware of dog Signs
..

Click Here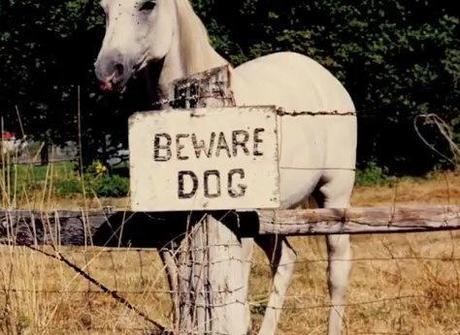 Beware of dog Sign: And the horse is deadly!
10 – What is this "dog" you speak of?
If you should ever fear something more than a dog it is a horse. Over the years I have been bitten, head butted, ramed, shoved and almost trampled to death by horses. Dog bites? Horse bites are often worst because they will only do it after they have eaten all the food you had for them!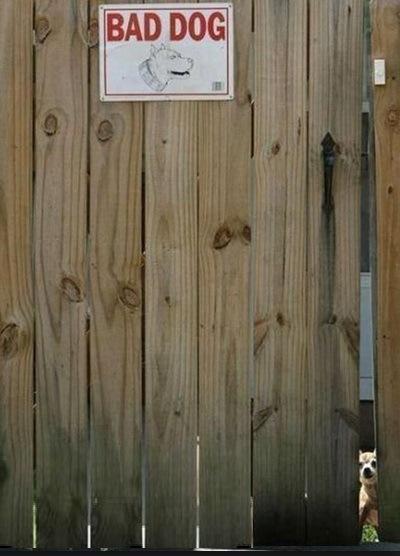 Beware of dog Sign: Tiny dog behind the gate
9 – Little Bites
Little dogs are often the worst kind when it comes to nipping people. But with a beware of dog sign on the fence it would be best to repair the fence and his little face poking out kind of gives the game away. But it sure does make me laugh.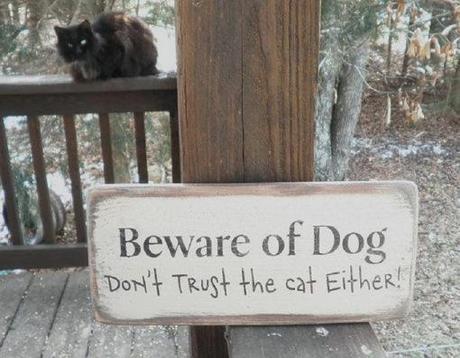 Beware of dog Sign: And maybe the cat as well
8 – Cat Attack
There are lots of beware of the cat as well signs, but for me this was the funniest because the cat in the background really does look rather scary! I don't know what the dog is like but I will keep my eye on the cat regardless.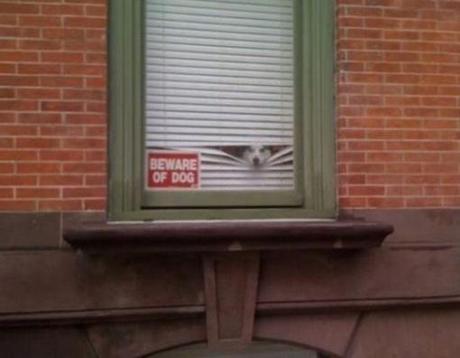 Beware of dog Sign: Dog in the window
7 – Window Watcher
At least this dog is inside the house! And lets face it, the home is not going to be burgled in a hurry, and that is why a lot of us have dogs, a pet to love and play with, and protect the home while you are away.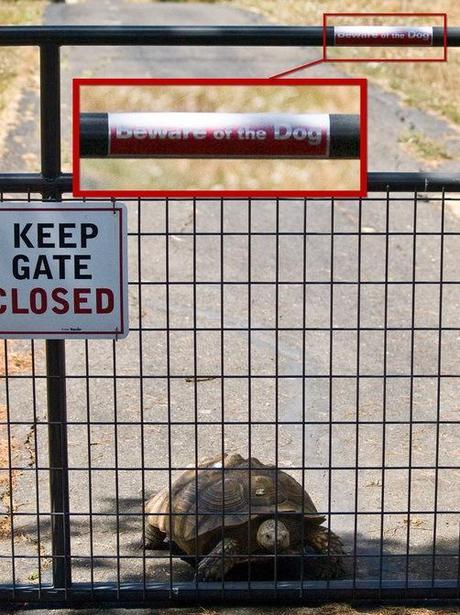 Beware of dog Sign: But the tortoise is a biter
6 – Slow Bites win the race
Maybe the tortoise ate the dog or the dog is scared of the tortoise! Whatever way round it is the dog is no-where in sight, and the tortoise is left to guard the property. But I know myself when a tortoise bites, it really, really hurts.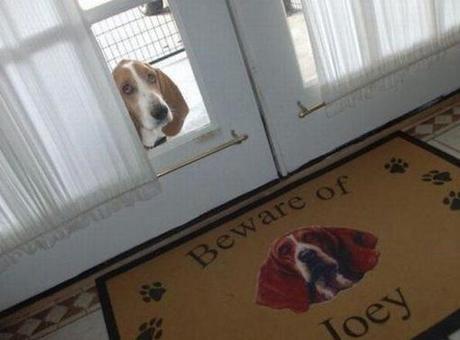 Beware of dog Sign: Beware of Joey
5 – Joey the mauler
It has to be said that Joey here doesn't not look like the vicious dog the welcome made is trying to make out he is. I think at best he might drool over you but that is about it. Then again any dog can turn nasty if it wants!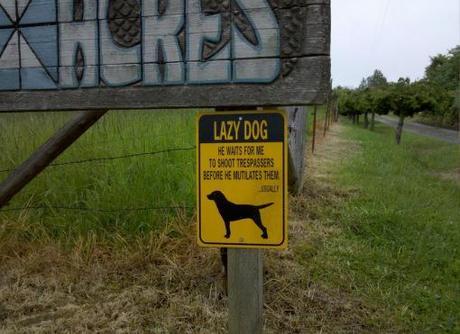 Beware of dog Sign: The lazy dog
4 – Lazy Bones
It comes to something when you have a choice between getting shot or mutilated! But this sign sure does make me smile even if part of me wonders if it is true.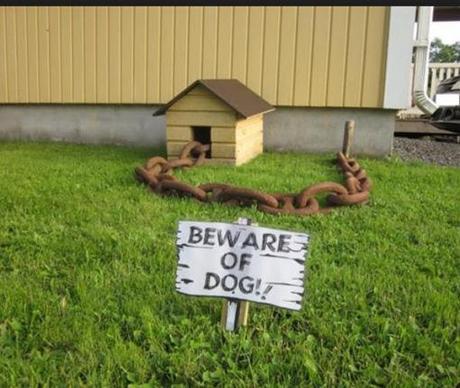 Beware of dog Sign: And a very scary dog it is.
3 – Meet Butch
The small dog house with the massive chain going into it for a trick is always good for a laugh. But the little cartoon sign kind of spoils it. I would have done a small wooden sign with a bite mark out of it.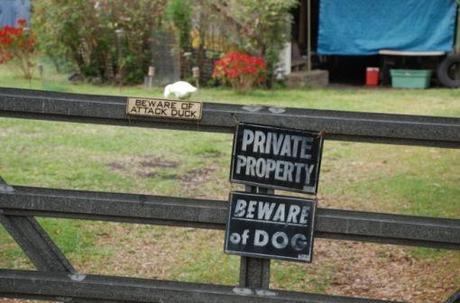 Beware of dog Sign: But the duck is the real problem.
2 – Duck Attack
Sometimes it is better to read the small print, rather than the large lettering. For all of those reading this who have been duck feeding in a local pond, you know that an attacking duck can be very scary indeed. So probably best I take some bread to throw.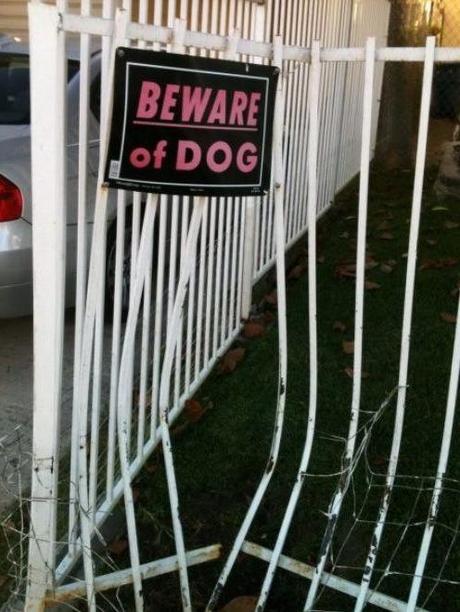 Beware of dog Sign: But the dog is no-where to be seen!
1 – Breakout
I do have to feel sorry for postmen and women. After all they have a very physical job and the last thing they need is a dog bite to round the day off. But in this image I am more worried about how strong the dog is! If I was out delivering the post, this is the last thing I would want to see.