If you're interested to know about the sports activities of famous celebrities, follow this list of the top 10 celebrities famous for their sports activities.
Despite most celebrities' busy schedules with all the shoots, interviews, and gigs, some find time to engage in fun physical activities like sports. And mind you, some of them are pretty good at them. In fact, some were even recruited for the national team. 
Even before they found the limelight, some celebrities have been playing sports for their schools and universities and have been neck-deep in competitions, such as Uzo Aduba of Orange Is The New Black who even broke a record in a 55-meter race.  
And you wouldn't have guessed that some of the busiest celebrities, such as pop singers and comedians, have a fascinating side to them. This post will introduce you to some pop singers who skateboard and others who engage in sports like football and diving. 
These celebrities may want a medium to release the tension of their demanding careers, and sports are something they can get breathing space from. Engaging in sports can take one's mind away from problems, issues, challenges, and the release of endorphins can make one feel good. 
To find out more, here are ten celebrities and pop singers famous for their sports activities: 
Top 10 Celebrities Famous for their Sports Activities
10. Kanye West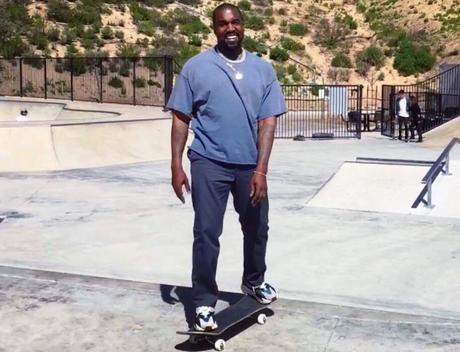 Who would've thought that rapper, entrepreneur, and fashion designer Kanye West should also have skateboarder under his name? Photos of him doing skate stunts at Calabasas, California, surfaced on social media recently, and people wondered, does this guy even rest? 
See also– Top 10 Hottest Female Tennis Players in the World 2022
9. Miley Cyrus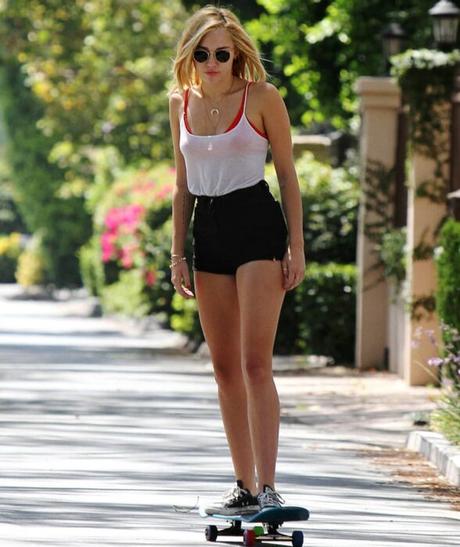 Photos of popstar Miley Cyrus skateboarding in the streets of Los Angeles frequently trended on social media. And a video of her performing amazing stunts at a skatepark in Brownsville, Texas, made people realize how good she is at this thrilling sport. 
Miley's love for skateboarding is not lost on her fans because she even tweeted about it in 2012. The trending tweet: 'I just wanna skateboard' and the next one even tagged Pharrell is asking for a custom skateboard from a luxury designer brand became the hot topic in entertainment news the next day.
8. Sheryl Crow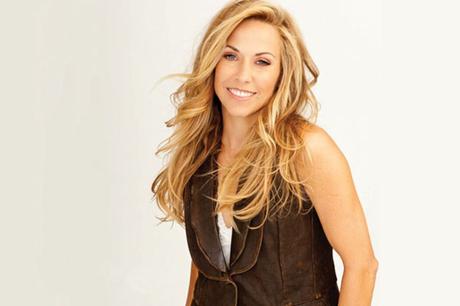 In high school, Sheryl Crow collected medals for her competitions in track. She also participated in state championships. A rock star in her own right, singer, and songwriter Crow won a medal in the 75-meter hurdles for her school in Missouri. At the same time, she's a member of the honor society. So, while singing 'All I Wanna Do', you can imagine Crow slaying it in quiz bees and track and field in her high school. 
See also– Top 10 Beautiful Wives of Cricketers in the World
7. Jason Statham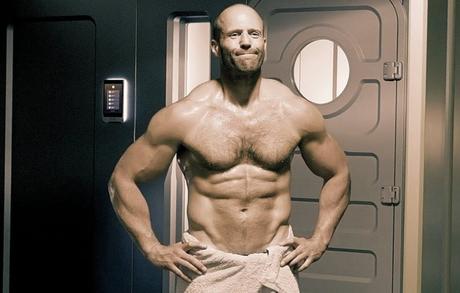 Statham has been known to play hardcore and violent characters in most of his movies. But the British actor was actually a member of the Britain national diving team before stardom caught up to him. Though he didn't qualify for the Olympics, he participated in the Commonwealth Games, which is a massive feat. 
6. Tommy Lee Jones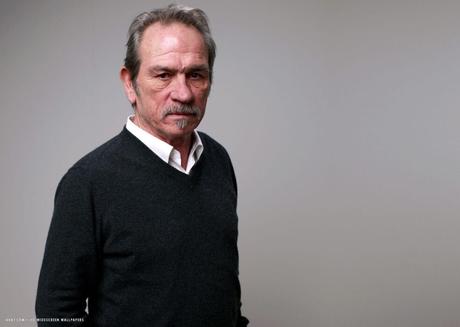 Did you know that great actor Tommy Lee Jones belonged to one of the most prominent and extraordinary Ivy League schools? He played on the undefeated 1968 Harvard football team.
One of the most memorable games against Yale in 1968 starred Jones as an offensive guard. The game ended in a tie and was so contested that until today both rival Ivy League schools talk about it. 
Even in high school, Jones played football so well that he went to an exclusive boarding school in Texas for it before being accepted into Harvard University, where his roommate would be the future Vice President of the United States, Al Gore.
5. Terry Crews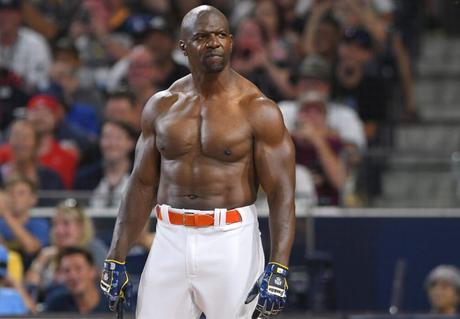 Funny actor Terry Crews' bulky physique isn't just a product of intense bodybuilding but because he's been a full-fledged football player since high school and college. And after graduating, he played professionally for the Los Angeles Rams, San Diego Chargers, and the Washington Redskins.  
His role as Latrell Spencer, a professional football player in the funny movie White Chicks seemed like a spinoff of his real-life persona. The movie catapulted him to stardom and people will never forget the funny antics he did there. In fact, he never misses the opportunity to reenact some scenes from the movie every chance he gets. 
4. Tina Fey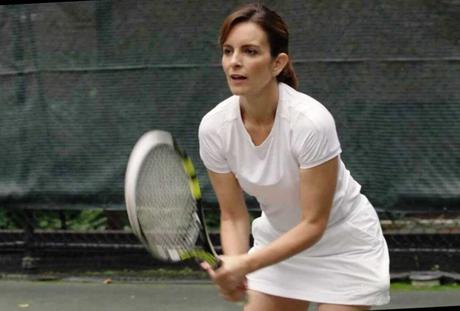 Funny comedian and witty host Tina Fey was active in high school and was busy with the drama club, the school newspaper, and tennis. She loved the sport so much, and even at her age and busy schedule today, she said yes to star in an episode of Modern Love all because she'll get to learn tennis lessons. 
3. Jane Lynch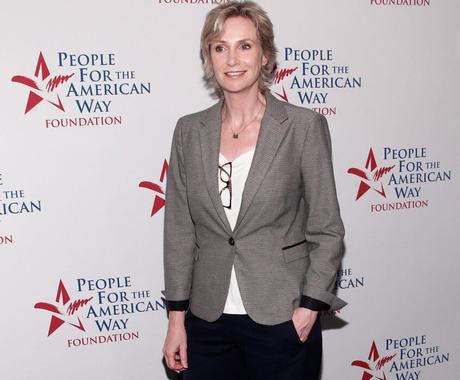 Star of the TV series Glee, Jane Lynch's height made her eligible to play for the high school basketball team. Being six feet tall, it was almost automatic for her to get in.  Lynch played center on the Thornridge Girls basketball team in Dolton, Illinois.
2. Justin Bieber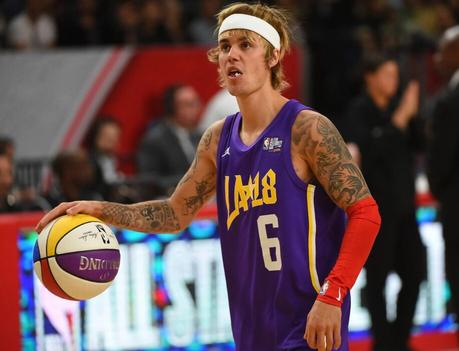 Justin Bieber rose to stardom because of his incredible vocals and good looks. He started as a star on a social video-sharing site gaining millions of views from fans when he was still a tiny kid. But unbeknownst to many, he's a skateboarding enthusiast. Though he may not be a pro, his passion for skateboarding lets him roam free and do stunts on many skateparks in the US, where fans spot him having fun. 
1. Hugh Grant
 
Hugh Grant isn't just a regular audience at Wimbledon, but he plays tennis too. He's one of the most prominent celebrities that play tennis. His love and agility for the sport earned him the right to play and win at the Swedish Open Championship for Veterans. 
He won two straight-set victories against a formidable opponent. Turning 60 on the year of the match made him qualify for the tournament for veterans, and being married to a Swiss and having a residence there were also enough to count him in.  
Conclusion 
It's nice to know the other side of celebrities you all admire. And knowing that they could be doing normal things like you makes you believe they're humans too. The likes of superstars Hugh Grant and Tommy Lee Jones, who have made names for themselves in showbiz, can still surprise you with their stellar past.
&version;
The post Top 10 Celebrities Famous for their Sports Activities first appeared on Top 10 List of Best Product & Services of Each Category.