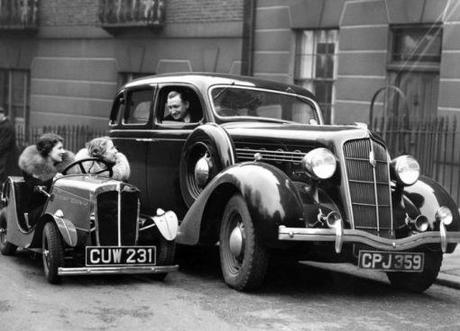 Top 10 Big Things and Small Things Together
This post has come about because sadly I have a rather annoying song stuck in my head from a British kids TV show called Big and Small. And the lyrics go something like this:"It doesn't matter if you are tiny or tall, it doesn't matter if you are big or small." Well it seems that putting big things next to small things can look rather funny…
Top 10 Big Things and Small Things Together
..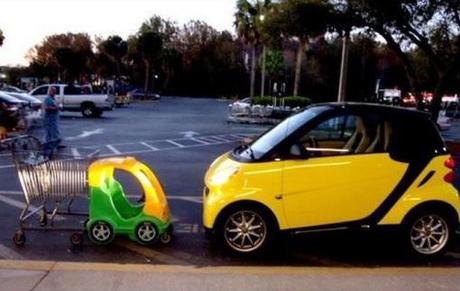 Smart car and a shopping cart car together
10 – "Are you my mummy?"
Normally a smart car is the smallest thing in a car park, but not this time. This time it is the super-market trolley car that wins the small vote, but strange they do look very similar indeed.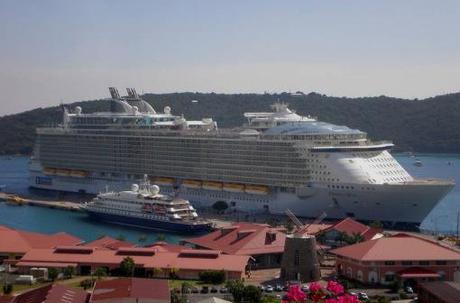 Big and small cruise ships
9 – "Are you a lift raft?"
Growing up right near a shipping port I got to see most the worlds biggest cruise ships, so being the nerd I am I know that the big ship is the Allure owned by Royal Caribbean and can hold about 5,000 people. But I have sadly no idea what the small one is. But I bet it is cosy inside!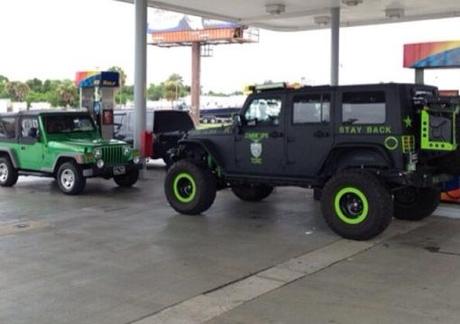 Big Jeep and a small Jeep together
8 – "Do you even Jeep bro?"
I am kind of hoping that it is just a matter of the angle this photo was taken at rather than someone actually driving around in such a big (or indeed tiny) Jeep. It could have been worse I suppose, it could have been a monster truck next to that tiny Jeep!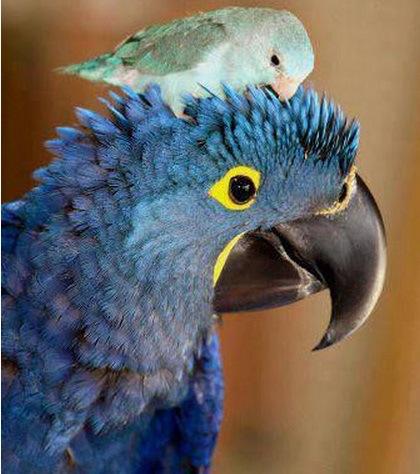 A small bird on a big birds head
7 – Bird Brain
It might not be the biggest bird, with not even the worlds smallest bird on its head! But I think it perfectly captures the big and small aspect of this post. Like I always say, this blog is nothing serious, just something to make people smile. And I think this image does just that.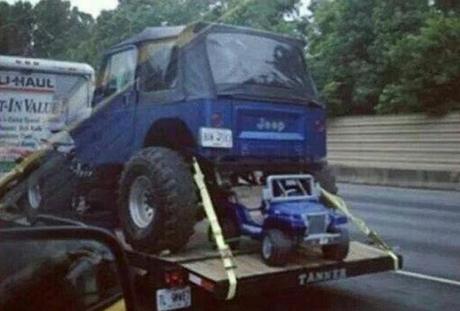 Normal Jeep next to a toy Jeep
6 – And that is how babies are born.
It really does look like the real Jeep is giving birth to the toy one! Well if that wasn't strange enough they are roughly the same color and style as each other. Maybe it was a freebie when they brought the Jeep!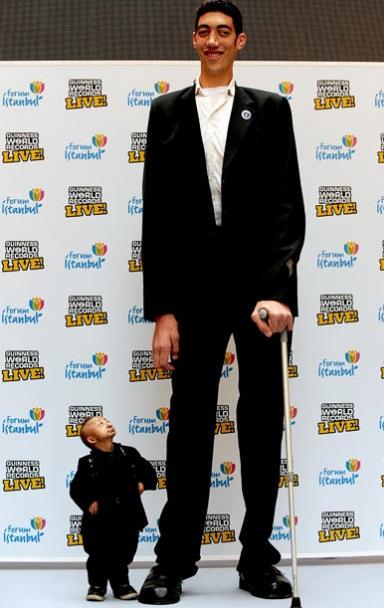 Worlds Tallest and Smallest Human
5 – Ono big difference for mankind.
This post would not have been the same if I had left out this photo of PingPing (the world's shortest man) and Sultan Kosen the world's tallest man. Sadly PingPing has since passed away, but I always loved the fact that these two openly said they hated each other.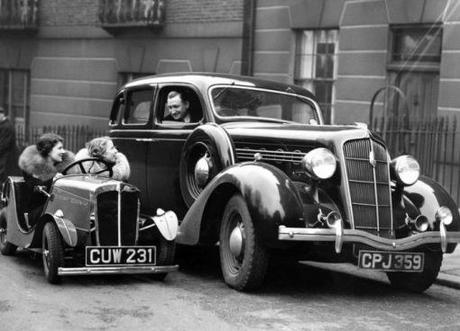 Big and Small vintage cars
4 – Retro Upgrade
This amazing image shows that they really don't make em like they use to. I really love that there are 2 women in the small car, but yet Mr Loads Money gets the big one all to himself! Looking back it is probably best things have changed.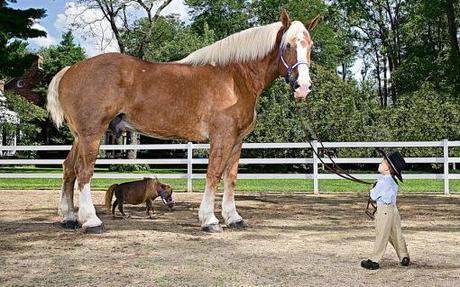 The worlds tallest horse meets the smallest
3 – Long Faced Friends
The small horse you see is appropriately called Thumbelina and she really is the World's Smallest Living Horse. And that beast of an animal next to hear is Radar, is a Belgian draft horse who is official the Worlds Tallest Living Horse.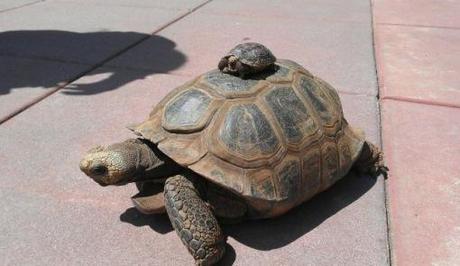 Big & Small Tortoise
2 – Shell Shocked
Apart from Woking that the big one is a Giant land Tortoise, I sadly am not too sure what breed the small tortoise is. But I am going to say it is the more domesticated of the species. Well it doesn't really matter what they are called because I think they are both cool. I always wanted to own a tortoise as well.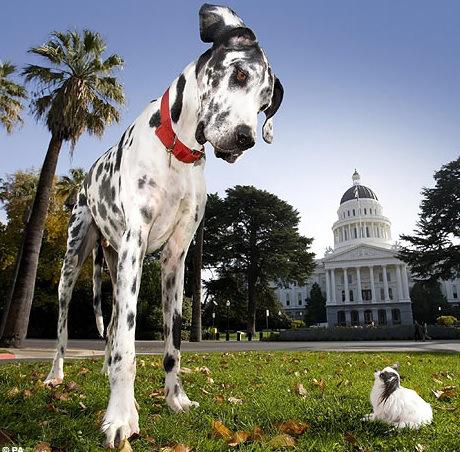 The worlds tallest dog meets the smallest
1 – "Are you my bone?"
When current world record holders Gibson the Great Dane and Boo Boo the toy Chihuahua meet it was always going to be a bit of a laugh. But I think it is also rather sweet and really shows the size range in a single species.