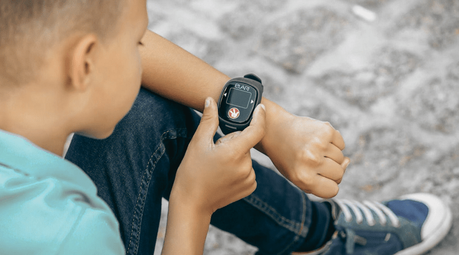 Smartwatches for kids are less powerful and more affordable than regular smartwatches, and they are designed specifically with younger age groups in mind. They are packed full of apps and games to keep your little ones occupied, and some even have built-in cameras for snapping selfies. Others are full-fledged communication gadgets that support phone calls, texts, and GPS tracking.
Most smartwatches for kids do not rely on a data connection, but for teens, we have listed a handful of smartwatches in this guide that do sync with smartphones or have an independent data connection so that your child can send messages with their loved ones.
A smartwatch is an excellent middle ground for kids who are constantly begging for a smartphone. Our picks do not offer unrestrained access to the internet like a phone would, most are not susceptible to data charges, and all of our recommended models will serve as an excellent transition into giving your child more independence with tech. Even better, they are much cheaper than smartphones. So, shop the best smartwatches for kids right now!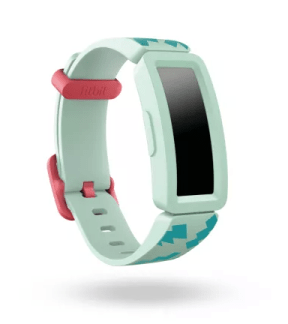 Fitbit Ace 2 is designed to help kids ages six and over learn healthy habits at an early age and encourage them to spend time that is more active with family and friends. Ace 2 has a swim-proof design with a useful bumper to protect the screen during kid-related activities all day long.
The Ace 2 is available in a selection of fun and bold kid-friendly colours. It debuts new animated clock faces, motivating challenges to keep kids moving, and colourful avatars and cover photos to personalise their profiles within the Fitbit app. Additionally, parents can stay on top of their kids' activities with a Fitbit family account.
SPECIFICATIONS
Best for: Fitness tracking
GPS: No
Water resistant: Yes
Battery life: 5 days
Pros
Great durable design
Reliable brand
Fitbit app
Animated faces and challenges
Cons
Battery life could be longer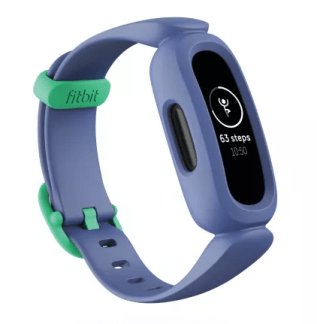 We loved Fitbit's Ace 2 fitness tracker for kids, but the new version – the Fitbit Ace 3 – builds upon an already near-perfect tracker by adding lots more battery life. Yes, it is slightly chunkier and pricier, but the Ace 3 boasts fresh looks and more features thanks to a heart monitor under the hood.
The biggest boost is battery life. While the Fitbit Ace 2 had five days of battery life, the new version has eight, which seems pretty conservative, since the watch we are testing is still going strong on day nine.
While it packs a punch feature-wise, the watch also looks great, and because there are no specific character or movie tie-ins, it offers longevity. It may even be acceptable to teenagers (maybe).
SPECIFICATIONS
Best for: Fitness tracking and style
GPS: No
Water resistant: Yes
Battery life: 8 days
Pros
Great battery life
Soft, super durable strap
Responsive touchscreen
Makes exercise and healthy habits fun
Cons
Not many games
Black and white screen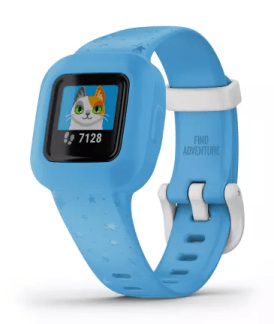 The Garmin Vivo Jr 3 is not just a fitness tracker for kids. It is a handy wearable that unlocks games and adventures when paired with a phone app, which should get every miniature couch potato moving and delight constantly on-the-go kids too.
As well as being fun for kids, the device allows parents to keep an eye on their kids' activity levels, counting their steps and sleep, and of course, children can use it as a watch too.
The gadget is packed with features to help parents out too. When it's connected to an app, they can view their kid's activity and sleep, as well as see if a child has completed their goals, including 'chores'. The watch lets parents assign tasks and chores and designate a reward virtual coin value, which can be redeemed by a child for agreed-upon rewards. They can also program the watch with their kid's emergency contact information, which could be useful, although hopefully never needed!
Available in different colours and even Marvel and Disney editions, there is something to please everyone.
SPECIFICATIONS
Best for: Disney and Marvel branding
GPS: No
Water resistant: Yes
Battery life: 1-year
Pros
Character options from Marvel and Disney
1-year battery life
Swim proof
Parents can manage goals
Cons
Child could grow out of character
Screen could be brighter
Vodafone neo smart kids watch
The Neo manages to do just about everything you could want from a smartwatch, while putting Disney characters and safety features at its core. If you want to stay in touch with your child 24/7, then this is the one for you, with voice and messaging functions.
However, the smartwatch is considerably more expensive than its less feature-packed rivals, with a large upfront cost as well as a monthly subscription. The Neo may also lose some of its magic for those that like their gadgets slim and sleek, as well as efficient when it comes to battery life.
Children are almost guaranteed to be wowed by the incredible clarity of the screen and fun features such as the animated Disney characters, however.
The Neo Smart Kids Watch, along with its data subscription, is now available at Vodafone.
SPECIFICATIONS
Best for: Staying in touch
GPS: Yes
Water resistant: Yes
Battery life: Up to 24 hours
Pros
Interactive Disney characters
Built-in camera
Safety features
Ability to make calls
Cons
Monthly subscription
Large size
Short battery life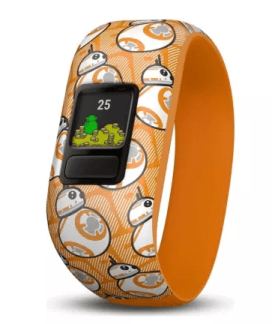 This Garmin kid's smartwatch has a whole range of functions, which can make every day a little bit of an adventure. It is a durable watch that is fine to be bashed around, and you can award points for doing daily tasks and chores. The idea is these can then be traded for treats, so your children have an incentive to brush their teeth or play nicely with their brothers.
The color screen and strap are customisable, and the latter is soft and stretchy, designed to be comfortable to wear both day and night. The VivoFit Jr 2 will not need charging because the battery lasts for 'up to' a year. It actually seems to be more like 6-7 months, but that is not bad, and will vary depending on use.
SPECIFICATIONS
Best for: Durability
GPS: No
Water resistant: Yes
Battery life: Up to 1 year
Pros
Parents can monitor via mobile
Many functions
Disney/Marvel designs
Very long battery life
Cons
Additional bands required to unlock more games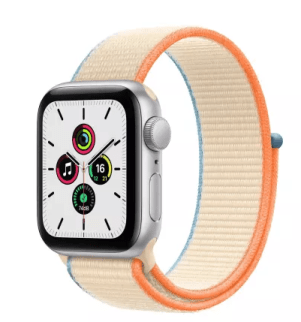 The Apple Watch SE is a truly excellent smartwatch for adults and children. It looks great and it is comfortable, making it perfect if you have a style-conscious teen.
Where Apple has cut back for the more budget price, your child will not notice (unless they are really into taking ECG readings). It feels like the full-fat Apple Watch experience, with all the advantages that it brings in communication, fitness tracking, and health and safety features.
You will also want to use Family Setup, which is particularly well suited to younger children, as it gives you more control over what they can do with their Apple Watch.
Family Setup turns the device into a GPS tracker that also allows you to talk to them through the smartwatch. That is ideal if you want to communicate with them while they are out, such as by giving them a heads up that they need to come home soon from visiting a friend.
SPECIFICATIONS
Best for: Older children and teens
GPS: Yes
Water resistant: Yes
Battery life: 1 day
Pros
Great performance
Comfortable
Clear and bright screen
Advanced health features
Stylish
Cons
Pricey if lost or broken
No Android phone support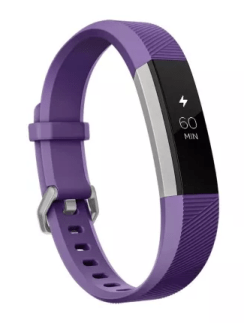 Essentially a Fitbit Alta with a simplified app that allows parental supervision, the Fitbit Ace is a great way to encourage and motivate kids to get moving.
This slim kid's smartwatch is designed to track daily steps and make it fun by providing rewards and badges for hitting certain goals.
It is water resistant so you do not have to worry about them going out and ruining their new bit of tech at the first sign of rain, and battery life lasts up to 5 days so it is perfect for wearing all week to school. You can set up a family account if you all have Fitbits so you can view your children's progress easily, and they can customize their watch face with 10 funky clock designs.
SPECIFICATIONS
Best for: Fitness tracker
GPS: No
Water resistant: Yes
Battery life: 5 days
Pros
Syncs with iOS and Android
Long battery life
Affordable
Cons
Not a very kid friendly design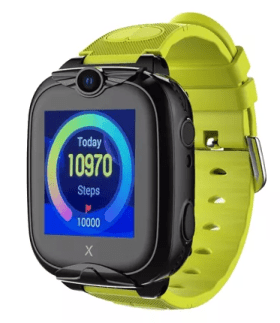 If you measure this watch simply by its features, the XGO2 is one of the leaders of the pack. It offers more flexibility than the Vodafone Neo when it comes to sending messages and making calls, making it the leader of all the kids smartwatches and trackers we have tried when it comes to this feature. It similarly offers more security features than its competitors.
However, the watch overall is a little lacklustre and joyless. It does many things adequately, but little with any pizzazz. Photos are grainy, there is little animation on the watch face, and the extras are pretty boring, so it feels quite pricey for £99, not forgetting you will need to pay for a SIM too.
If calls and safety are a priority (or your kid fancies themselves as the next Alan Sugar) this watch is a good bet, but otherwise, there are more fashionable and fun options out there.
SPECIFICATIONS
Best for: Safety
GPS: Yes
Water resistant: Yes
Battery life: 2-3 days
Pros
Makes phone calls
Camera onboard
Tonnes of extra features
Cons
Really bulky
Requires a SIM
Vtech kidizoom smart watch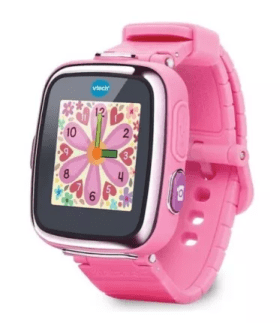 VTech have created the ultimate kid's smartwatch, that has many cool features but will not burn too much of a hole in your wallet. This watch has a camera for taking photos and videos, a motion sensor for tracking activities, and has a range of games and apps to use.
There are over 50 different 3D-effect clock faces- both digital and analog depending on your preference and you can download all your favorite games and apps to customise this kid's smartwatch.
SPECIFICATIONS
Best for: Apps and games
GPS: No
Water-resistant: No
Battery life: 2 weeks
Pros
Take photos and videos
50 choices of clock face
Cons
No
Kurio watch 2.0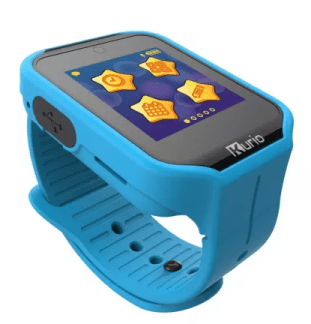 This kid's smartwatch is practically a smartphone for the wrist. Just like an adult smartwatch, it features a range of apps, a camera for photos and video, and the ability to send messages. Other features include a media player, activity tracker and a hands-free kit for use with a smartphone.
It comes with two interchangeable straps for personalisation- one of which is a thermal color changing one! You can expand the 256mb of memory to 32GB so you can store a wide range of apps and media on this device.
SPECIFICATIONS
Best for: Messaging
GPS: No
Water resistant: No
Battery life: 3 days
Pros
20 pre-loaded apps
Integrated camera
Cons
No
---
Investing in the best smartwatch for kids is an excellent idea, whether your child is young or old. There are loads of options, and they offer great convenience for children who are not mature enough for a phone.
When you start searching, consider which features are necessary. For young children, we recommend GPS trackers, SOS buttons, and two-way calls. For older kids, smartwatches with fitness trackers are ideal for making sure your youngster stays active.
You may be interested: Best COVID face masks for kids
The post Top 10 Best Smartwatch for Kids in 2021 first appeared on Greatofreview.