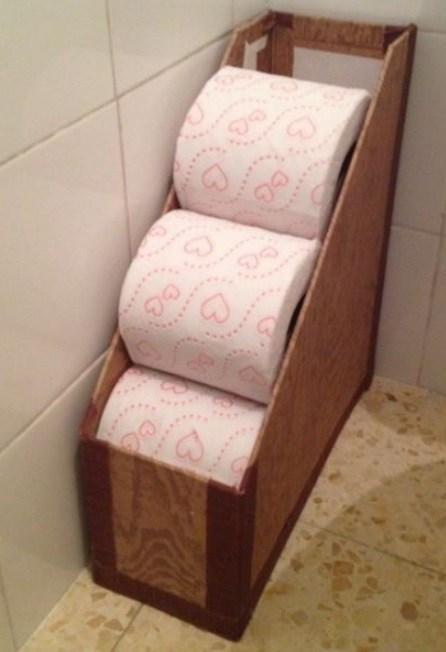 Top 10 Amazing And Unusual Toilet Roll Holders
Are you like me and like to save some money by buying toilet rolls in bulk? Well you know the pain of having to find somewhere to store those excess rolls. The good news is that I have found 10 ways to store them, and some of them are free…
Top 10 Amazing And Unusual Toilet Roll Holders
..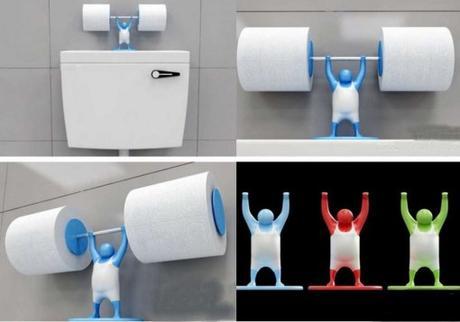 Strong Man Toilet Roll Holder
10 – Strong Man
While using the shape of a loo roll as a weight lifting bar is clever I really can't think of a bathroom theme that this would fit! Maybe the toilet down the local gym.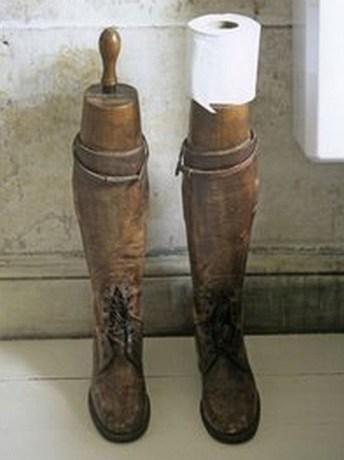 Vintage Boots Toilet Roll Holder
9 – Vintage Boots
In fact this is so much more that some old boots its vintage boots fashioned with old wooden rolling pins stuck inside! This is creative recycling at its very best.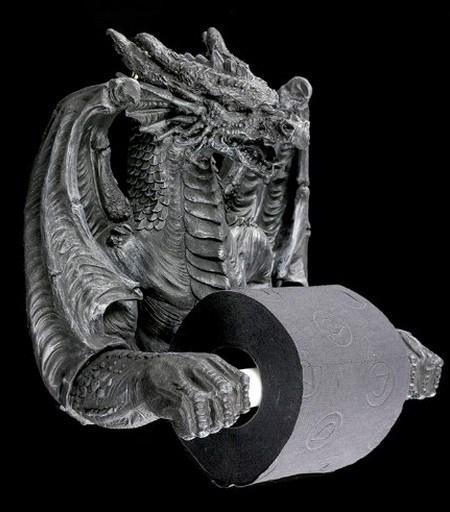 Black Dragon Fantasy Toilet Paper Holder
8 – Black Dragon
Sure it looks amazing, but you are going to need a very Gothic style bathroom for this to fit in with the theme of things. But if you have a dragon/medieval themed bathroom fair play to you!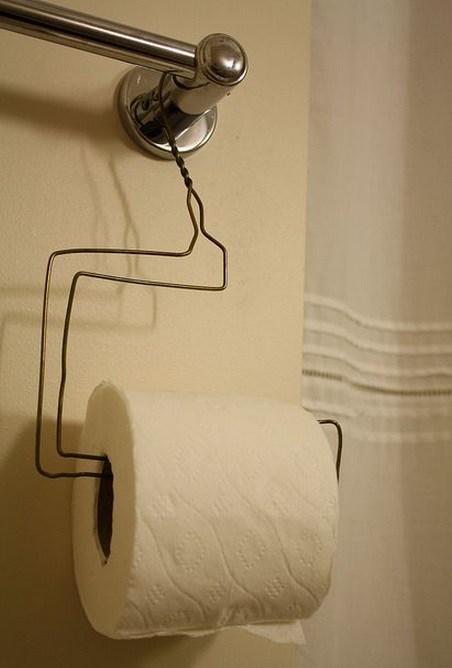 Toilet paper holder made from a clothes hanger
7 – Clothes Hanger
When you haven't got much money you tend to get creative with what you got, and this is one of the most creative uses of a coat hanger I have ever seen.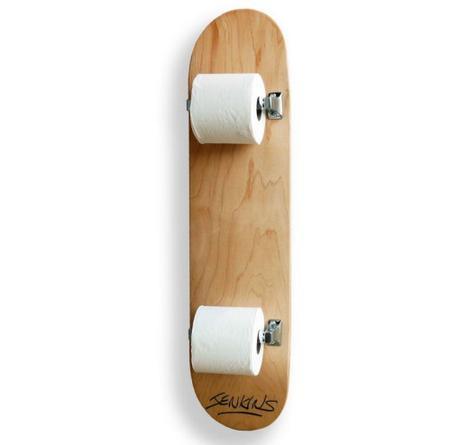 Skateboard Toilet Paper Holder
6 – Skateboard
Just when you thought the ideas in my post "Top 10 Ways to Repurpose a Skateboard"  covered them all along comes another idea. This would be perfect for any skater themed bathroom.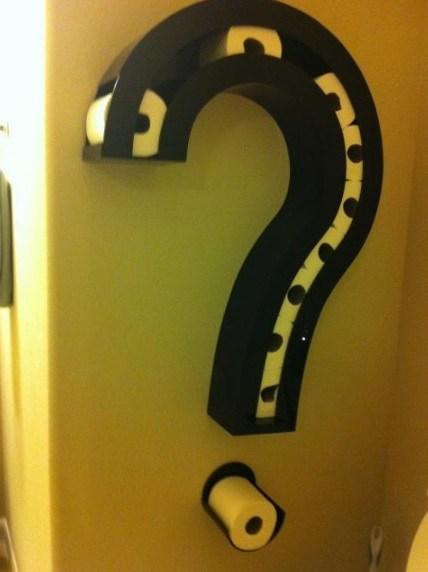 Question Mark Toilet Paper Holder
5 – Question Mark
I'm not sure what style of theme of bathroom this would fit in, but I love it! If only as the old roll was used the next one dropped down, now that would be impressive.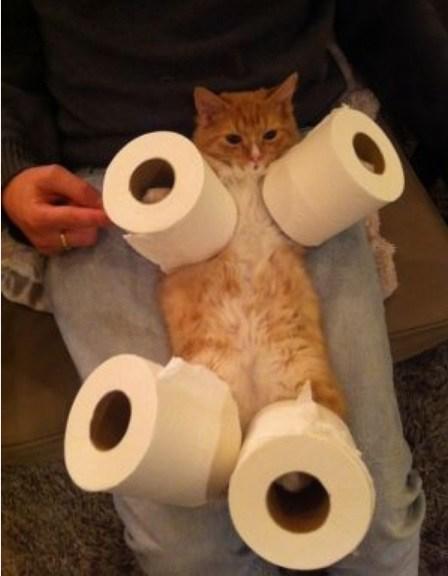 Cat Toilet Paper Holder
4 – Cat
It won't stay in one place, it will keep shaking the rolls off and it will likely claw at the rolls when they are on the dispenser. But I just had to include it because it cracked me up.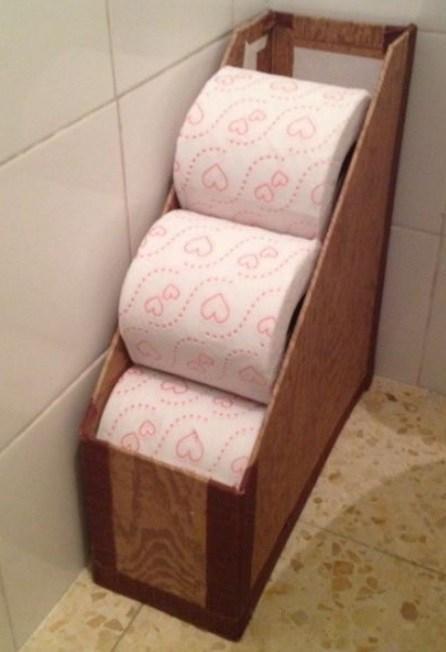 Magazine File Toilet paper holder
3 – Magazine file
A big magazine file can be used to store a good amount of spare toilet paper rolls it seems. I love this idea just so long as I can find a magazine filer big enough.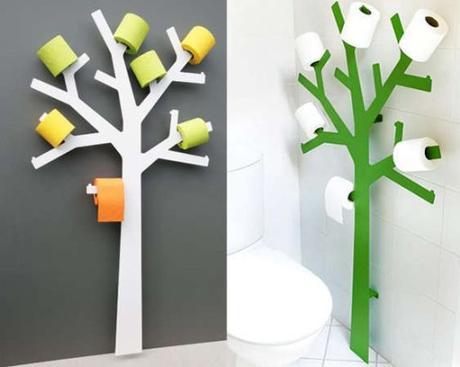 Tree Toilet Roll Holder
2 – Tree
Don't let the simple design of the toilet roll tree fool you, it is a very clever design and its lightweight lacquered steel being wall mounted means it can look great in any bathroom.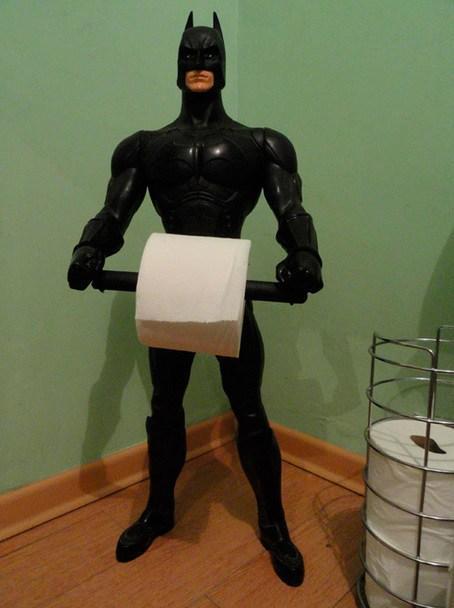 The Batman Toilet Paper Holder
1 – Batman
How rich do you have to be to get Bruce Wayne to stand in your bathroom and hold your loo roll all day long? Poor old Batman, He used to be a billionaire, but in this economy, he'll take whatever work he can get.

So Now For Today's Question: Where Do You Keep Your Toilet Rolls?