Alarm Clock! For someone, Alarm Clock is like hell because it compels you to get out of bed. Sometimes it happens that you got late for your school, college, office, and gym because you are not able to get up in time in the morning. it may be due to your slow ringing Alarm Clock.
All you need a good Alarm Clock with a wide assortment features. While choosing the top Alarm Clock you will have to keep your requirements in your mind like if you are a heavy sleeper. You should also consider these points like the cost of the clock, size of the clock along with their individual preference. Here in this article, you will get an overview top 10 Alarm Clock for heavy sleepers.
Top 10 Alarm Clock for Heavy Sleepers
1. Sonic Bomb With Super Shaker
This one will be useful for persons of all ages who are having a fear that they might not be able to wake up in the morning. At 113 decibels, this Alarm Clock will definitely vibrate your windows.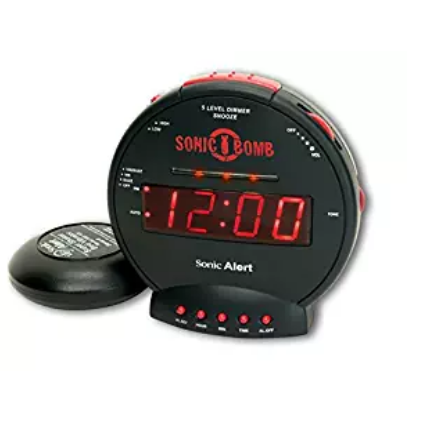 If the Alarm Clock's sound is not able to wake up then you will automatically wake up due to the thumping alerting light. Here this Alarm Clock for heavy sleepers has exploding noise along with a throbbing pad that can easily place on your pillow.
When the alarm goes off the throbbing pad will start vibrating. Here with the brutal noise along with the powerful vibration, this Alarm Clock is able to wake the heaviest sleeper.
2. Philips Wake-Up Light Alarm Clock
Here with this Alarm Clock, the wake up light structure uses basically a steady movement of light. The light will become brighter and brighter as the wake-up time is nearer.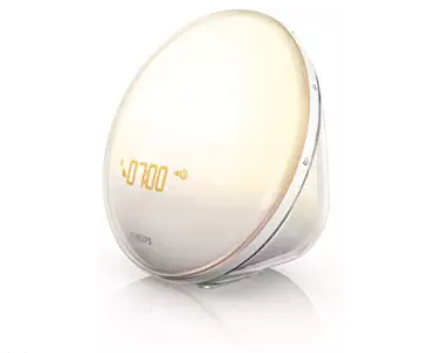 The best part about this, Alarm Clock is, it offers you to set your favorite radio station to wake you up in the morning. This clock will be able to wake heavy sleepers. It has colored sunrise stimulation Alarm Clock for heavy sleepers will wake you gradually with natural light. This clock comes with 90 days hassle-free money back guarantee from Philips.
3. ILUV- Dual Alarm Clock with Bed Shaker
If you really don't want an exploding sound to wake then this Alarm Clock is just for you. Here this clock uses many senses to get you up from the web. All you need to do here is just add the song in which you want to wake up.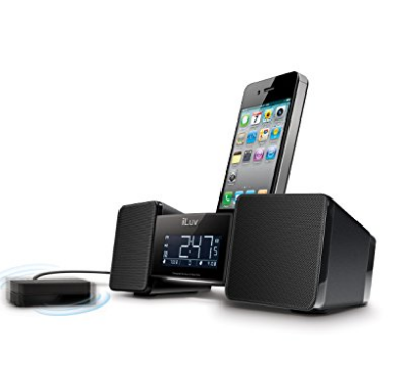 It doesn't come with 113 decibels but it has its adaptable sound that will be enough to wake you up form the bed. Here you will also get a pulsating pad, you can place it beneath your pillow. This ILUV Alarm Clock is not having the greatest quality speakers but it is certainly superior enough to wake you up.
4. The Bright Talking Kitten Cat Alarm Clock
No doubt, this Alarm Clock is sufficient enough to actually get you standing on the bed. It's really a frustrating Alarm Clock. Here when you will give a straightforward tap then the Alarm Clock will give you the time.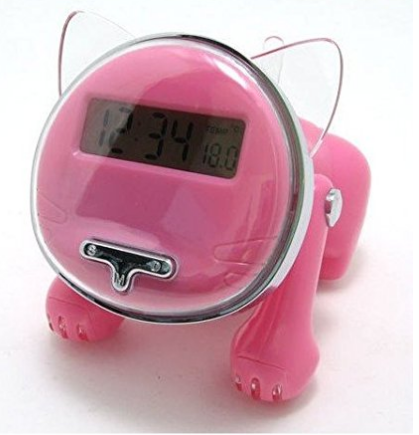 This Alarm Clock is eccentric enough to be played. When you easily tap on the back of the Alarm Clock, then the ear will turn to blue. This Alarm Clock is activated by 2 xAAA batteries. You will also get LCD along with blue illumination and it also displays time and temperature.
5. Wacky Wake-Up Alarm Clock
This Alarm Clock sound will be like a hangover, the mind will still appear to be snoozing even after waking up. Here you will have to wake up because it will use 7 weird saying from your clock.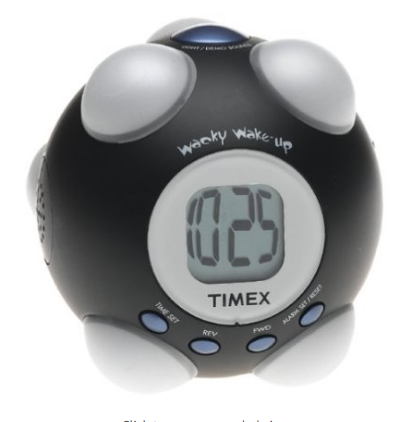 If somehow you still don't wake up then, shaking action will definitely get you moving. You can also modify the volumes of the Alarm Clock along with a LCD display. It also uses 3x AA batteries in the main system.
6. Clocky Robotic Alarm
This is one of the recommended Alarm Clock for heavy sleepers. Just to get out of your bed nothing is better than this Clocky robotic clock. Here this Alarm Clock has wheels that rotate so that the clock spins off the desk and it will continue running on the floor until you get up.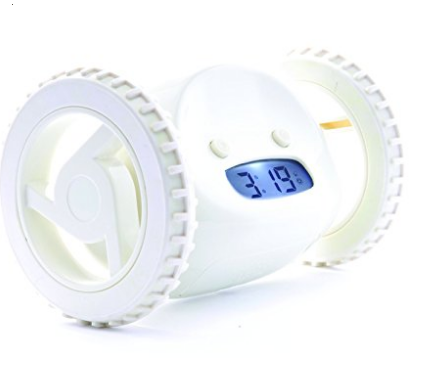 It comes with digital display along with snooze button. The choice is yours, you can turn on/off the turning wheel. Here you will have no other choice to get out of bed and run around the room to turn the Alarm clock off.
7. Target Alarm Clock
No doubt, this one is the best Alarm Clock for heavy sleepers along with offering a great way to begin your day. For switching off this Alarm Clock you have to aim and fire just to hit the bullseye, I mean at the precise midpoint.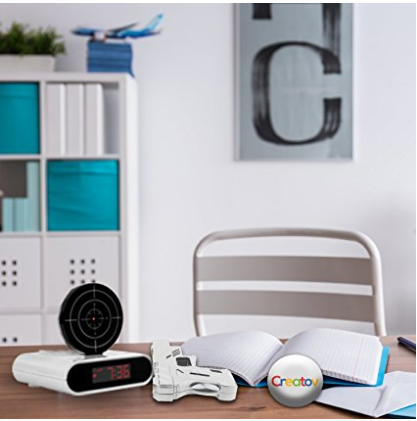 It allows you to adjust the Alarm in 2 different modes. The first one is Easy Mode when you want to switch off the Alarm Clock in a single tap. Now here comes the difficult mode, when you want to switch off the clock after hitting the target 5 times. It also has two types of shooting games just to test your accuracy.
8. Reizen Jumbo Super Loud Alarm Clock
It comes with 2 inch LED which really makes it simple for deep sleepers along with them who requires glasses. It comes with loud Alarm Clock, with the 2 volume levels along with 9-minute snooze alarm.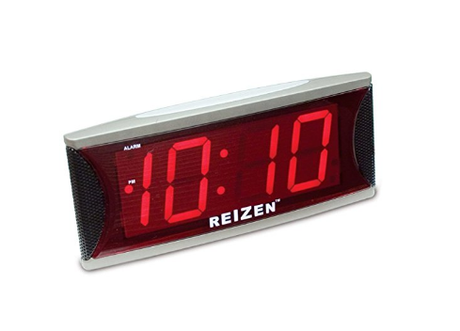 Here the pulsating aspect is a pleasant addition for those who really have some difficulty hearing. This alarm is simple to interpret and here the digits are large and clear. It has easy setup process.
9. Wake Assure Alarm Clock
This clock is basically designed for people who have poor vision along with those who are heavy sleepers. Here this Alarm Clock comes in 3 diverse alarms along with vibrating feature that is added as the benefit.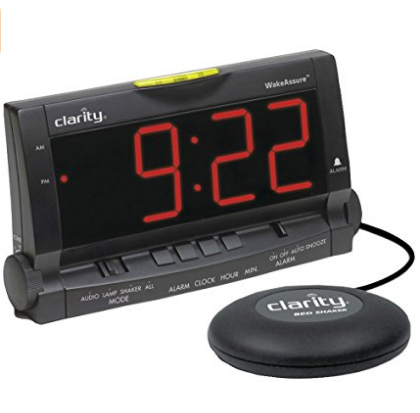 You will get protection timer that will switch your lamp on or off. Here you will get a snooze button that will allow you to sleep more for just 5 minutes. You will also get a protection timer that will switch your lamp on/ off, which is really a handy feature of this Alarm Clock. This clock is really useful for heavy sleepers.
10. Amplicom TCL-200 Digital Alarm Clock
If you are deep sleeper then this Alarm Clock is for you. This Alarm clock comes with modifiable volume and quality controls. The best part of this clock is the fashionable knob controls.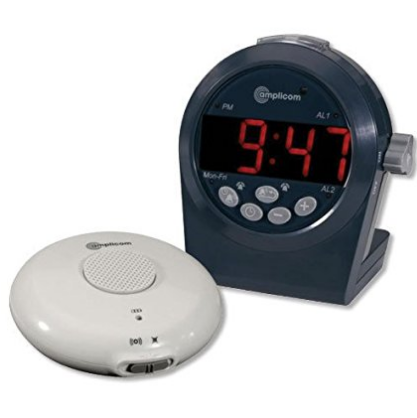 It has a very notable interface that is appropriately illuminated, which makes it easy to read. You can choose over 5 different Alarms. This clock will definitely deliver clear tone, date and time which is the basic requirements. People who are having a limited vision then they should try it once.
Here with this Alarm Clock, you will get snooze knob that can be programmed between 5 to 15 minutes gap. It also has the pulsating platform, which will lightly shake any person for deep sleep.
Digital Talking Alarm Clock Landline Telephone Accessory[/easyazon_link]"_blank" position="center"]Check Out Amplicom TCL-200 Now
Alos. read:
EndNote: Alarm Clock for heavy sleepers
Now, you will never get late because of Alarm Clock, as you have got the list of best Alarm Clocks for heavy sleepers. These clocks may have exploding noise that may damage your eardrums. So make sure you are buying one of them according to your requirements.
I hope this purpose suits your purpose well. Share this post on all trending social media platform.