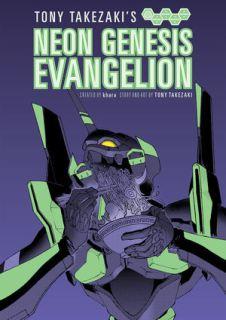 Title: Tony Takezaki's Neon Genesis Evangelion
Genre: Comedy, Parody
Author: Tony Takezaki
Publisher: Dark Horse (US) / Kadokawa Shoten (JP)
Serialized In: Young Ace
Release Date: May 27, 2015
Review copy provided by the publisher.
Is there such a thing as "Evangelion fatigue?" If so, the fandom certainly hasn't felt it, as the manga spinoffs just keep on coming. Oddly similar to my recent Oreimo: Kuroneko review, we're tackling another Evangelion spin-off two years after my last review, as this time Dark Horse brings us Tony Takezaki's Neon Genesis Evangelion. Takezaki contributed to the other mostly comedic spin-off title, Neon Genesis: Comic Tribute, but this time around he brings his brand of comedy and obvious love for the Evangelion franchise to a full-sized volume. As with any parody one has to ask: Is it funny? Is it accessible to new fans?
The thing about Takezaki's NGE is that it's unevenly funny but when it's funny, it's really funny. 26 pages in, and we have Shinji mentally apologizing for hating Misato's packed lunches, "…This is about human evolution. And humanity hasn't evolved to the point of surviving your cooking." We have Shinji trying to get Rei to smile, and in turn her demanding that Shinji actually do something funny to earn it. Some of the jokes seem to take key moments to their oddly logical conclusion as the punch line: When an Eva eats an Angel, what happens when it has to…use the restroom afterwards? The strength of the collection comes from Takezaki's fanatic love of the franchise; readers can tell he knows the series and its fans. Especially funny are any of the one-offs about Misato, whether it's about her relationship problems, her cooking, or her parental issues.
When the series doesn't hit the right comedic note, which is a bit more often than I would have liked, it really drags. The jokes suffer from being too long on the punchline or being too short to really pack a punch, though it winds up being a lot more of the former than the latter. I'd also argue that some of the enjoyment of this collection is going to come from how recent Evangelion is in your memory; the franchise is probably in most anime fans collective consciousness, but if it's been years since you've seen the series, will you really get the obscure joke reference? Granted, I'll give the collection some points in that it made me want to go back and rewatch the series.
All that being said, Takezaki's fanatic love of the series and its key moments and character relationships make it absolutely inaccessible to a fan unfamiliar with the franchise. Normally, I'm able to slightly straddle the fence with that one, but this collection is truly for Eva fans only. For those that know the series you're rewarded with some genuinely funny jokes, which makes the not-so funny ones feel even more like a big miss. Ultimately then, the uneven jokes make Tony Takezaki's Neon Genesis Evangelion better read in small spurts, if just for the higher probability that you'll hit something genuinely funny each time you pick it up.