Philippine Daily Inquirer, 06.25.2012


WHEN HE INTRODUCED Gantimpala Theater artistic director Tony Espejo at the Philstage Gawad Buhay! awards night last year, which honored Espejo for lifetime achievement in Philippine theater, writer-director Jose Javier Reyes recalled how he first met the honoree:
"Kaunti lang ang nakakaalam na mas nauna pa ang impluwensiya sa akin ni Tony Espejo, bago pa ang Bulwagang Gantimpala. He was my second year high school drama guild adviser. Isa siyang bago at batambatang teacher sa La Salle Greenhills, at nakilala niya ako... Dahil sa kumpiyansang ibinigay niya sa akin, sa paniniwala niya na makakayanan ko ang magsulat at maging bahagi ng teatro, minulat ni Tony ang isang mundo na hindi ko akalaing mararating ko."
That early friendship led to Reyes' entry first into theater, then, most triumphantly, into TV writing and film. "Si Tony ang nagbigay sa akin ng kauna-unahang pagkakataon na sumulat bilang isang propesyunal ng isang dinner-theater play--ang 'Boys in the Band' in Taglish, sa Hotel Mirador nun, and it went on forever and ever, and gave birth to dinner theater in the Philippines. Si Tony rin ang nagbigay-buhay sa isa kong karakter, si Doña Buding. Again, as popular entertainment, it went on and on and on. Dahil sa dalawang sulat ko na 'to na ibinahagi sa akin ni Tony, nagkaroon ako ngcareer bilang isang writer sa telebisyon at sa pelikula."
Like Reyes, many other artists in theater, film and the allied arts will be reminiscing about Espejo in the coming days, following the death last Thursday of the founding light of Gantimpala Theater (Bulwagang Gantimpala in its early days), at 35 years old now one of the country's oldest and most established professional drama companies. Espejo succumbed to multiple organ failure following cardiac arrest last week. He spent his 64th birthday at the intensive care unit of the Manila Doctors Hospital last June 15.
Commercially viable
Javier Reyes' 1977 Taglish adaptation of Mart Crowley's seminal gay play "Boys in the Band" was so successful that it "established Espejo as a commercially viable director," said the CCP Encyclopedia of Philippine Art. That year, he also established Bulwagang Gantimpala as an in-house theater company at the CCP, "to present original Filipino plays, prizewinners in the annual CCP contest, mainly to student audiences in a small, flexible, experimental theater in the CCP basement" (the space is now called Tanghalang Huseng Batute).
Lighting designer Joey Nombres, who also counts Espejo as a mentor, revisited those years in a 2006 press announcement by the Aliw Awards, which gave Espejo its Lifetime Achievement award for Theater that year: "Many are unaware of this, but Tony Espejo was not only the first Filipino but also the first Asian scholar in the Royal Academy of Dramatic Arts in London [with a diploma course in Production and Stage Management]. When he came back, he started Gantimpala. And I was fortunate to be part of his original group, together with Rey Albano and Ed Murillo...
"What Tony and the plays of Gantimpala did was to bring the masses into CCP. The CCP had a playwriting contest and it was Espejo's company who gambled on and staged untested Filipino materials. If I remember it right, during our first production, it was Boni Ilagan's 'Katipunan: Mga Anak ng Bayan.' Our working budget for two weekends, six shows, cast and production cost was only P2,000. We did not expect that it would be the start of something big, that 'Katipunan' would become a hit and the company would grow and become one of the most respected theater companies in the land."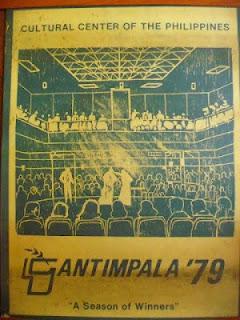 Essential productions
Starting with "Katipunan" in 1978, Espejo unveiled in Bulwagang Gantimpala a succession of plays that are now essentials in the Philippine canon. Among those listed in the CCP Encyclopedia are Bienvenido Noriega's "Bayan-Bayanan" (1979), Rene Villanueva's "Hiblang Abo" (1980), Jomar Flores' "Kanser" (1980—an adaptation of Rizal's novel "Noli Me Tangere"), Tony Perez's "Bombita" (1981), Javier Reyes' "Kung Papano Binabalatan ang Butong Pakwan" (1982), Perez's "Rebecca Defensor" (1983), Lito Casaje's "Editoryal" (1987), Villanueva's stage adaptation of Balagtas' "Florante at Laura" (1989) and "Ibong Adarna" (1989). Gines Tan's landmark musical "Magsimula Ka!" (1983), although directed by Nestor Torre, was a product of Gantimpala's playwriting competition.
Since 1988, Espejo had mounted and put on tour "Florante at Laura," along with "Ibong Adarna" and Rizal's "Noli Me Tangere" and "El Filibusterismo." Known as The Four Classics, they are student-oriented theatrical productions designed to augment school curricula on these classic Filipino texts.
In 2005, we took stock of "Florante," then on its 17th year and using a tighter, more streamlined version of the poem by National Artist Virgilio Almario: "The show has had five Florantes and four Lauras (acclaimed actor Tommy Abuel was the first Florante), 17 costume changes for the leads (which are done yearly), about half as many set renovations, and, at 15 performances per season with an estimated 125,000 students from all over the country as audiences, nearly 2.1 million young people since 1998 who have seen a difficult, often obscure literary doorstop come alive onstage with fun, freshness and a hip sense of pageantry."
Much-admired pillar
Cherie Gil was 15 years old when she made her first stage appearance. It was with the late great Adul de Leon in a Bulwagang Gantimpala production of "Sundered Selves," she told us in a 2006 interview.
Bernardo Bernardo, too, has his own memories of working with Espejo: "Even as I mourn the passing of a good friend, somehow memory has a way of playing peculiar tricks that bring me back to when I first met Tony as a serious and slightly nervous theater student at the Ateneo. It was early '70s. And as I recall, Tony was quiet, wild-eyed and pale. And who wouldn't be? Tony was designated stage manager-cum-floor director for the legendary Rolando Tinio--and his guest stars for their TV production class were Nestor Torre, Celeste Legaspi and, fresh from his US studies--moi, BB, as the eponymous host of 'The Bernardo Bernardo Show' (kuno), their class project.
"For the show, Celeste sang an over-the-top drunken diva's version of 'Cry Me a River,' Nestor and I did a scene from 'Look Back in Anger' (I think), then I had to strip for a quick change in front of some nuns to sing 'Spinning Wheel' with Barge Ramos, Boy Saulog and (not quite sure) Dudu Ulep and Jaime Lim as my backup dancers—'Go Go Boys' shimmying in unison… Now, looking back, who would have thought that from that team of wide-eyed gangly youth, one would become a much-admired and multi-awarded pillar of Philippine Theater?"
Champion
And Alexander Cortez, artistic director of Dulaang UP, recalls on Facebook: "My first encounter with Tony Espejo was in Upsilon Sigma Phi's production of 'Operetang Tatlong Kusing,' directed by Tony Mabesa at UP Los Baños. Fresh from London, Tony shared with us his expertise in stage management. Later, he would direct Imee Marcos in 'Mirandolina' in Pilipino for Dulaang Kabataang Barangay…
"Tony Espejo's contribution to Philippine theater is immeasurable through Gantimpala's award-winning plays. At Tanghalang Batute and later at the Manila Metropolitan Theater and of late at the Luneta grandstand were some of the most significant productions in Philippine Theater. He championed Philippine theater through [such] original Filipino plays."
The Natatanging Gawad Buhay! paid tribute to that trailblazing work with these words: "Tony Espejo is one of the pioneers of theater-in-education through his mainstreaming of the Four Classics of Philippine Literature and other masterpieces of world literature in the repertoire of Bulwagang Gantimpala and the Gantimpala Theater Foundation. He has mentored hundreds of now-popular and multi-awarded actors and technical theater practitioners and has directed hundreds of plays at the CCP, Metropolitan Theater and other venues in Metro Manila and the regions."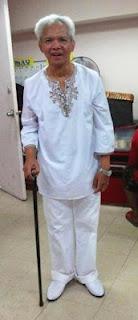 Quiet rewards
But, for Espejo, even as "Yes, the performing artist needs to be told that he or she is doing well…and has to be given a pat on the back—or a kick in the butt" (as he wrote in a contributed piece to the Inquirer a few years back), the best rewards were often quiet and personal.
On the occasion of his company's 30th year in 2008, he told People Asia magazine: "It's something to be proud of… We don't have much corporate sponsorship. The most challenging part is how to go from one season to the next. But I'm very proud that in 30 years, I've not canceled a single show."
Earlier this year, Gantimpala's announcement of the start of its 35th season caught its founder in a ruminative mood: "When we were still at the CCP, I was going out for lunch one day when a utility man approached me—an elderly guy mopping the floor. He said, 'Mr. Espejo, congratulations at salamat po.' I asked him why. He replied, 'Kasi lagi po akong nanunuod ng mga plays ninyo lalo na pag historical, kasi hindi po ako nakapag-aral so kapag gusto ko pong matuto, lagi po akong nanunuod ng mga productions ninyo.' That really touched me."
"It amazes me that the effects of the plays are multiplied tenfold. Until today, there are bank tellers who, when I present my passbook, recognize me and inform me that they have seen the Four Classics. Just the other day, a man went out of his car, approached me and thanked me. He recently saw my picture in one of the papers and said that in high school, he saw all our plays. And now, it is his son who watches them. These recollections make me smile, because they are affirmations that we must be doing something good."
National soul
In the last decade or so, even as he got frailer due to fading health, Espejo continued to mount the works of the country's National Artists, such as Severino Montano's "Parting at Calamba" and Wilfrido Ma. Guerrero's "Wanted: A Chaperon" (2003); Nick Joaquin's "May Day Eve" and Alejandro Roces' "Kiko's Super Cock" (2004—adapted by Jose Victor Torres as "SuperManok"); F. Sionil José's "The God Stealer" and Joaquin's "The Queen's Jewel" (2006); and Guerrero's "Forever" and "Call Me Flory" (2007). There was also a restaging of Villanueva's "Hiblang Abo" (2008) at Luneta's Concert at the Park, a production we took note of as "mining abandonment and hopelessness with unblinking ferocity."
"For me, the soul of one's culture is its literature," he said. "If you go back to the libraries of earlier civilizations, what you immediately look for is their literature. You always go back to the roots. If you are an Eskimo and would like to know about the Philippines, you have to read something about the country and its people. If you manage to read a play about us, then you will have a better understanding of us... If no one writes about us, how can anybody learn about us?"
Sharp mind
At the Gawad Buhay! night last year, Espejo walked with a cane and, onstage, had to be helped to a chair. But he revealed a mind still sharp with detail, wit and vision. One of the presenters, Cesar Cosme (Bro. Willie to Isko Salvador's Brod Pete in the TV hit "Ang Dating Doon"), who also started with Gantimpala, had earlier introduced himself by saying perhaps Espejo no longer recognized him. When Espejo took to the mic, he thanked Cosme and added--"Cesar Cosme…na taga-Cavite; umattend pa nga ako ng kasal nila. Mag-on pa ba kayo?"
And then the man, already "A titan of contemporary Philippine theater," as the citation dubbed him, closed with: "My vision for Gantimpala has always been to discover new plays and new writers, and that happened here at the CCP. The second phase was to become independent and financially feasible, which happened when we were at the Met [Metropolitan Theater]. The third vision I'd like to share—and see if we can work together—is to create a training school for our performing artists. [Because] we are all diamonds in the rough."
The words, it must be said, of an unceasing artist. Take a bow, Sir Tony--and so long.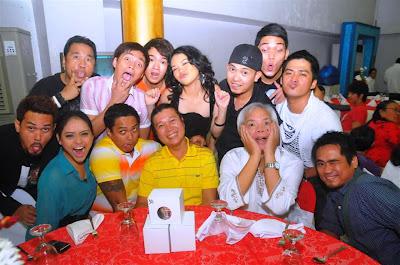 PLUS: From my baul--Tony Espejo receives the Natatanging Gawad Buhay! for Lifetime Achievement at the 2010 Philstage Gawad Buhay!, CCP Little Theater: