Today is another training day for Nanay Dina. Mila had been feverish and cranky the whole night because of another tooth bursting. She's feeling alot better today and really active which is a relief. As part of Nanay's training, she needs to spend the whole day with Mila so the little get will get used to her care. Hubs and I will have to "hide" upstairs because everytime she sees us, she starts crying as if she's being tortured. Otherwise, she's as behaved as I can ask for.
Because of the long night, I'm feeling a little lazy. I'm also confined in the bedroom so I started browsing through my Pray. Eat. Love. album. The title stands for "I Pray that they Eat my food and Love it". Haha. I think my first photo there was back in 2010 when I started learning how to cook.
I've noticed that out of all the food pics in the album, it's the Tomato Pasta with Basil and Longanisa Meatball that had the most comment and had been requested multiple times. It's my take on Jamie Oliver's recipe from his old show Jamie at Home. I love simple recipes and the meatball trick made this my go to pasta.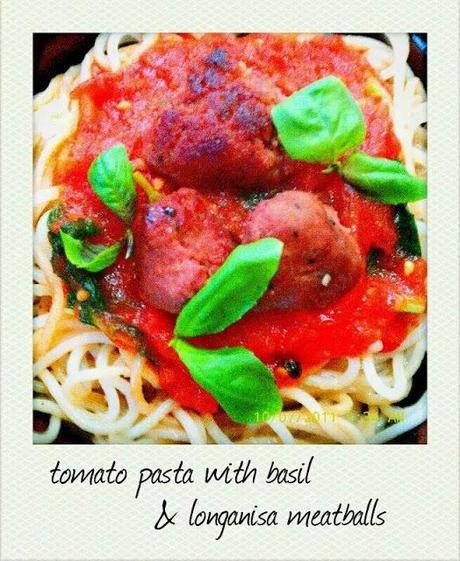 Ingredients:
400 grams Spaghetti1 400 grams can Whole Peeled Tomatoes (I use Dona Elena)4-6 pcs garlic Longganisa3 cloves garlic, finely choppedbunch of basiloil for fryingItalian Seasoning1/2 teaspoon worcestershire sauceblack olives (optional)Parmesan Cheese
Procedure:
1. Remove meat from the longanisa skin and combine in a bowl. Make 1-inch sized meatballs. You can make it bigger depending on your preference. Leave about 1/2 cup of meat for later. Fry your meatballs in a hot pan for about 1-2 minute, until slightly brown. I sometimes just squeeze out the meat, roll it on my hand and directly drop into the pan. Set aside.
2. Using the same pan and some of the oil used for frying, saute the garlic. Add the meat you set aside from earlier. Stir fry for a few minutes until meat is brown.
3. Add the tomatoes. We love them a little chunky so I just press the tomatoes by hand just to get the juice going. Lower the heat and cook for 15-20 minutes or until you get the consistency you want. Add water to thin it out, or cook longer to make it saucier.
4. Put the olives, worcestershire sauce, and a dash of Italian Seasoning. 
5. Use salt and pepper to taste. Add the basil and simmer for 5 more minutes. 
6. Serve pasta and sauce, topped with your longanisa meatballs. Add cheese.
Yield: 4-6 servings